Title : ADF FOOD LTD : Ready to ride Upcoming Growth of Urban Consumer Spending in Processed Food like Ready to eat and Frozen Food Market in India and International market.
Started in 1932 ,on Mar 1992 the company was incorporated as public limited company.

ADF Foods Limited (ADF), promoted by the Thakkar Family, is a manufacturer and
exporter of food products primarily to US, UK and Middle East. Its product offerings include pickles, chutneys, spices, ready‐to‐eat meals, sauces, frozen snacks/ parathas/vegetables/ samosas, mango pulp and slices, and cooking pastes. It markets its products under the brands of Ashoka, Truly Indian, Soul, Nate's, PJ's Organics, Aeroplane and Camel.

ADF exports its products to almost 52 countries with the help of 180 distributors. Its offerings in US constitute of core brands like Nate's, Ashoka, Truly Indian and PJ's and in UK as Brand Soul. ADF has been successful in launching new products in major supermarket chains and natural grocery stores across US. Similarly, its brands Camel and Aeroplane have strong presence in Middle‐East.

ADF has proven track record of developing domestic brands like Mothers recipe (Sold off in 2005) which today is 200 Cr brand. It has re‐entered the domestic segment under its umbrella brand SOUL and is available on most traditional outlets. This segment currently is ~5% revenues and is incurring losses at EBIDTA level. However, management is confident of ramping up the domestic business with special focus on distribution and product extensions.

Last 4 years Company Top Line growth was almost nil ( 208 Cr in FY 18 compared to 207 Cr in FY14) However PAT increased from 4.5 Cr to 18 Cr on Improvement in Operating & net Margin due to Product Mix &Product sale strategy change. Stock has not performed in last one year , Now with Topline Growth with Improved Operating Margin and Net Margin , Company can be multibagger.

New CMD Bimal R. Thakkar who have taken change in FY2018 is more aggressive for growth and looking for More Opportunities is Domestic as well as International Market.
Mr. Bimal Thakkar (MD) is a Commerce Graduate and has done a Course in He has played an instrumental role in ADF IPO, subsequent private placements, settings up of factory at Nasik, expansion of factory at Nadiad, introduction and promotion of the ADF's products in domestic and international markets, development of Brands and new products, tapping new markets for the products,international acquisitions, setting up of subsidiary companies in U.K., Mauritius and U.S.A.
Promoter Stake decreased from 51% in FY16 to 30.3% in June-18 Quarter in open market sale hence stock was continuously under pressure in last 1 year. Reason for selling of share by outgoing Management /Promoter Families due to person fund requirement.

However Present Promoter and CMD willing to increase Promoter stake. In Last Buyback offer in FY2018 promoter didn't participated hence promoter stake increased to 32.31 % in SEP2018 from 30.3 % JUNE2018.

Very Important :- NBFC company "mentor capital limited" promoted by Sanjay Dangi has 9.45 % stake in SEP2018 & it is continuously increasing stake in company in last 4 quarters,

Also Many Individual like Sanjay Dangi ( 5.83 % stake in SEP2018 by Wife Name Alpana ) and Elite invetors like Lashit Sanghvi, Ashwin Kedia has 2.5 % stake Total & All these have taken Good Stake in companies in last 1 years during Promoter stake sale

Many Recent Launch of Ready to eat & other product and Launch in ecommerce sites like FlipKart online supermarket , Bigbasket, Grofers will provide explosive growth in coming years.

Frozen Product has good Margin and % share of this product is increasing in Domestic and international market , In last one year it increased from 25% to 40% of Total Revenue.

Present revenue comes from International market (95%) , Domestic account for (5%) only. New management is very aggressive to increase revenue share in Domestic market as well and part of that strategy they launched product in Ecommerce like flip kart supermarket, big basket

Many Ready to eat & Frozen foods Product of ADF food which have high margin business has now also listed in Many US, UK and Middle east Online grocery website recently which boosted sales and further Sales may rise.

Promoter are honest and Reward Shareholder in Form of Buyback of Shares or Dividend consistently. It is Debt Free Company.

Present Market Cap is only nearly 488 Crore at CMP@ 244, So smallcap company having Good Growth scenario ahead

The Company has launched new products under PJ's Organics and Nate's brand in US.The Company's US operating subsidiary i.e. ADF Foods (USA) Ltd. has engaged a co-manufacturer in California in addition to the existing co-manufacturer in order to enhance the production capacity

International Business: The appointment of new country managers for Europe, Canada, GCC, Levant Countries, Asia Pacific & Africa has strengthened the Sales team and the same will expand our reach to these markets.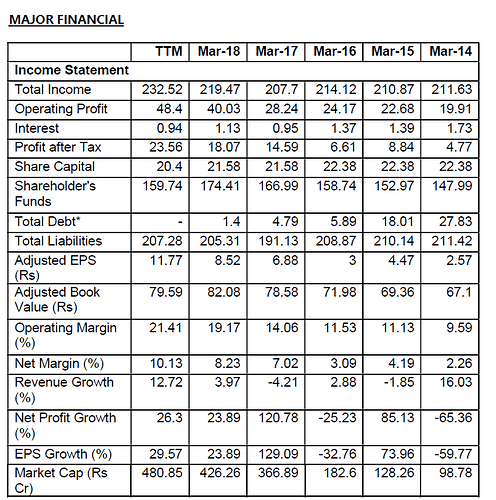 Risk Analysis :-
RAW MATERIAL PRICES :- Business margins depend on favourable Raw Material prices In the past due to seasonality, ADF have faced significant challenges on account of volatile RM prices due
to poor availability or adverse demand‐supply situation in its key RM like raw
mango spices, sugar, oil etc.

Effect of exchange rates on Export Revenue
since 95% of business is exports denominated in USD/GBP, exchange rates play a key role in safeguarding margins.

Tough Competition from other Organised player in Domestic Market
Tough Competition from other Organised player in Domestic Market has been there from ITC, Kohinoor, MTR, Gilts in Ready to eat Segment and From Tasty Bites in International Market.
Disclosure :- Invested 10% of Portfolio