Hi everyone, I am a newbie to investing and have started learning actual investing.
The key idea of the post is to learn from previous bear markets and the ongoing one to prepare for future.
I found this interesting image which shares around how long the bear markets have lasted.
Like the 2020 Covid-19 was the shortest one stint of bear market.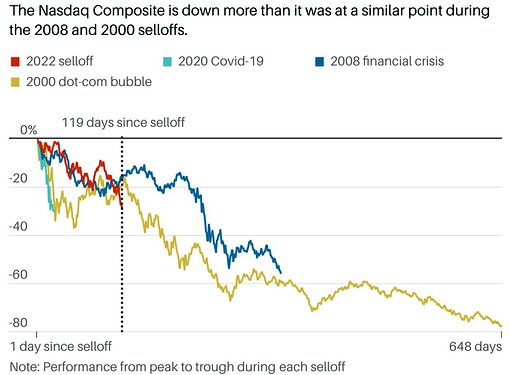 No matter how long the bear market lasts markets have always retracted back.
For example:
2000 dot-com bubble - lasted for almost ~2 years recovered in just 1 year with similar levels.
2008 financial crisis - lasted for ~1 year and recovery took 1 year 4-5 months on similar levels.
2020 Covid-19 - lasted for ~1 month recovered in 7 months.
So, what I think lead to a market crash in 2022?
a prolonged period of rising stock prices → a market where price–earnings ratios exceed long-term averages
extensive use of margin debt and leverage by market participants. → Not sure about this, any thoughts?
Aspects such as wars → russia and ukraine
large corporate hacks → Not that I heard of just Oil India hack
changes in laws and regulations → Recent deflationary policy of increasing interest rates
natural disasters/calamities → Covid19, maybe
All above points have been mentioned in wikipedia.
Would love to know any other data points about previous bear markets which have lead to them?
Few questions for my fellow VP members that I am confused about is:
What is the advice to do during this period? Sell off the whole portfolio? Since once the market starts falling the options with better valuations occur.
How is inflation related to market (haven't got any solid answer on the internet)? Does inflation occur only when governments print a lot of money like for Covid-19?
Markets move when big institutional investors move, are there any indicators to look for like recently in the news about FII moving out money? Here also, haven't got any solid answer.