Hi,
I would like initiate a discussion on 20 Microns Ltd, a specialty inorganic chemical company. It's a 160 crores Mcap company with annual revenue of 410 crores and has EBITDA margin in the range of 13%-14%. It has seven manufacturing facilities and sizable part of revenue is derived from domestic market. For more detail about the business one can visit the website - http://www.20microns.com/ 17
Historical sales and profit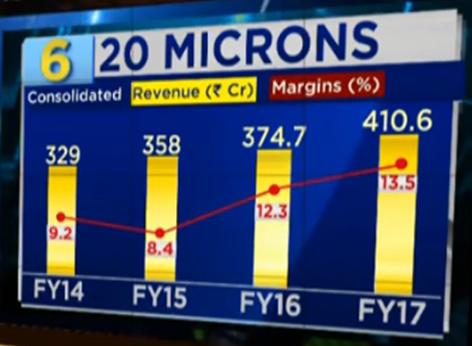 End Markets: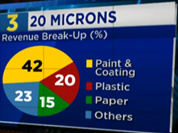 In paints and coatings they have come up with a prodcut named Lithoma which is somewhat substitute for TiO2. TiO2 is a key raw material for paint companies, but the prices are very volatilie and supply of TiO2 is unpredictable.
Asset Base
9 captive mines that has mineral reserves for 25 years
- Annual sales is 4 lakh tonnes while mineral reserve is 100 lakhs tonnes
Geographical diversity; Export market -14%, domestic: 86%
Key customers: ITC, Pidilite, Asian Paints, Berger, Akzo Nobel, nerolac,
Competitive Advantage - Niche specialty chemical player with no major competition, good entry barrier given long term mining leases. consistent growth in revenue and profit in recent historical years.
Valuation:
(all figures in crores)
EBITDA of about 55, Mcap -160 + debt of 130 resulting in EV/EBITDA of around 5.3x, manageable. This is comparison of specialty chemicals EV/EBITDA of 10x-12x
Growth Opportunity and Key triggers:
Consumption play like paints and coatings, food ingredients (though I dont have exact break up)
Reduced Debt to 130 from 155 in last two years
Started generating free cash flows
Negatives
Promoters holding at around 43%, of which 55% are pledged
Debt seems to be slightly on the higher side = Debt to EBITDA = roughhly 2.5x
No major investors as of now
Conclusions
Seems to be undiscovered story with reasonable degree of moat around the business, no direct competition, multiple use of the products and hence no concentration risk in terms of products or customers.
Would be great to get the views/opinions of the member in the forum, given their expertise and profound knowledge of the subject, thanks!