---
Is anyone tracking this stock?
---
@hitesh2710, Sir, Are you still tracking this scrip?
With XELA at US$ 6.9 and with the exchange rate of 1 US$ =INR70, HOVS has 19% stake in XELA works out to INR 1250Cr. Current mkt cap of HOVS is only 290 Cr. Is it a Deep discount bargain or value trap?
---
This is the HOV services calculation with XELA at $6 & rupee at 70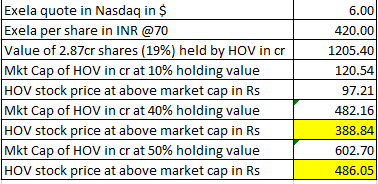 Currently, XELA trading at $6.9, so the holding value is 1400 cr and the current mcap is 270cr…trading at huge huge discount…
---