One more risk to be considered for the company
Sorry for asking a doubt from an old message.
I liked your thoughts on the ESOP and also the way you calculated the impact of dilution.
"Pursuant to the approval by the shareholders, the Company can grant up to such number of stock options convertible into equity shares, not exceeding 7,70,000 "
I read the above statement from the company's annual report. So does that mean that sometime the stock options might be lower than 770,000 and the dilution could be less than 5%?
VST net sale is up from 245cr to 275cr yoy , flat qoq ,PBT also reasonable yoy considering last year company had withdrawn most discounting schemes. Wonder why the company still doesn't want to give the proper dividend payout.
Co is hoarding unnecessary cash which belongs to shareholders, In the AGM the chairman was evasive about the reduced payout & did not give a satisfactory answer.(He cited the pandemic concerns for not paying more dividends). Company ETHOS seems to have changed ever since this new anglophile chairman took over.
Anyone with AGM recording??
Have attended the agm , probably the worst and the most sickest agm I had ever attended . It seems that the management calls people to praise them and I guess when someone asks some very important questions you are timed out . I guess attending agms is just a waste of time is what I felt after attending a few this year .
Nothing particular of note . Probably dividend distribution will return to 70 % of net profits . They want to increase market share in cigarettes which is around 10 % now . They were questions on cash on the books and why it is not being paid to the shareholders . They want to probably invest in future new brands , but I don't think they need so much cash . So don't expect on the money coming back . Regarding options 8-12 executives will be paid in esops . There were questions on executive pay increase over profit increase in terms of cagr , they just gave their routine answer .
Ms Bijapurkar earns more from vst than from Icici bank - she is an independent director in both boards . But I guess she is the only one who deserves the pay . I couldn't compare others bec they are not on boards of other companies .
After attending AGM, asking question to management and getting reply from the managmenet, I decided to exit from my investment in VST Industries. Find enclosed questioned I asked to managment vide email along with my working file.
Email extract:
My name is X, DP ID Y Customer ID: Z.
I have already registered as speaker in AGM through KFintech Website.
Find enclosed my working and queries:
1 Reason for decline in payout ratio for shareholder when every other stakeholder have adequately rewarded. Considering no DDT payable, the dividend has declined majorly despite improvement in profit and salary and ESOP? In FY2021, total Dividend paid is Rs 159.05 Cr as against total Dividend cash outflow of Rs 176.85 Cr in FY2020. In last AGM, management did try to explain COVID related issue for reduction in dividend payout ratio, however same has to borne only equity investors and not other stake holders? I would sincerely recommend company declare interim dividend and also do share buyback for excess liquidity remaining in balance sheet at the earliest.
2 Why to design Annual report not in A4 size single page in PDF? Have anybody attempted to read PDF annual report I can say from my experience it is very cumbersome.
3 ESOP given to employee upto 5 per cent of equity capital. Rationale for same. While not against adequately remunerating employees, why can not same be paid by cash compensation? How many employees would be eligible for ESOP?
4 In Initial part of report, various parameter like market coverage, wholesaler, brand wise sales have considered FY2015 as base year. What is specific reason to take only FY2015 as base?
5 When Total amount to be spent on CSR is not spent to extent of Rs 229.96 Lakhs, what is rationale to sitting fee of Rs 80,000 per meeting per director for CSR committee? Appreciate if board can genuinely provide reasonable explanation for same. The company spent Rs 4 Lakh as CSR meeting sitting fees with result being nearly 1/3 of eligible amount being not spent. Would it not make sense to link the sitting fees to actual amount spent?
6 Reason for keeping Rs 884 Cr in investment in total Balance sheet size 1485.78 Cr, nearly 60% of funds which also adversely affect return on capital employed and Return on networth. Does management has any view of utilise/distribute this fund by way of buyback of shares?
7 Page 112, Current Advance receivable in Cash of around ~ Rs 200 Cr as on March 31 2020 and March 31 2021. Can you please provide reason for such a large Advance? What are purpose and who are the counter-party?
VST Industries Dhiraj Workng July 2021.xlsx (15.1 KB)
The reply management was giving was not at all making sense to me to be invested in the company. Mr. Lahiri, who left company in FY2021 was a key person driving the show of Cigaretter business which company has also highlighted in the annual report indirectly by commenting on market share gain and among most succesful brand named Total from the company. He left the company for ITC. Now, we get a new MD who is coming from Godfery Phillip and immediately implement ESOP plan with kind of 5% of equity capital.
What was the most worrisome was reasoning of the management. When question asked about lower dividend, they cite COVID related uncertainity as a reason. However, during same time, they find no issue in increasing Director remuneration at an extremely high rate !!!. I specifically put the table which provide details of cashflow to all stakeholder. As compared with FY19, cash outflow from Dividend (including Distribution tax) was lower in FY21, when all other stakeholder has benefited disproportionately.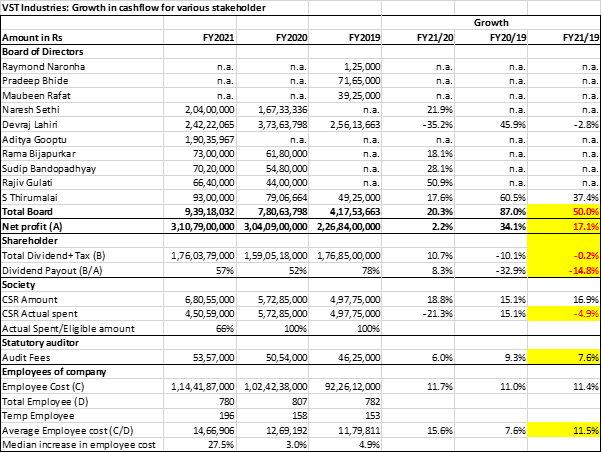 Personally, It was a very difficult decision to exit from the company. I have been holding this company share since 2009, as it is my second oldest holding in portfolio. My reason to invest in the company was that it was rewarding shareholder adequately by Dividend. However, since last 2 years, depsite everthing being fine, the company has reduced payout ratio from 70% stated in dividend policy to around 50% and also reduce total cash outlfow on account of dividend when DDT is included in FY2019 distrubution. However, at the same time, Directors and employees have wonderful rewards in form of ESOP and hike in pay. While I am not against providing good remuneration to Employee and also Independent directors, In case of VST Industries, I did not find any merit to reward Non-executive director at such higher rate when dividend is maintained or increased marginally. Even the management did not provide any satisfactory reply to Rs 800 Cr cash which carried on balancesheet. Couple of more shareholder raised some concern, but BAT controlled management, proababaly, still leaving in era pre 1947 and feel that they are not answerable to Indian minority shareholder. While they may be right, I can not accept same and hence exited this investment.
I shall be looking at ITC/Embassy REIT to invest this fund partially in short term.
Disclosure: My view may be biased due to my recent decision to divest my holding after more than 12 years being among my core investment. Reader shall do his/her own duu diligence. I am not SEBI registered advisor. I am not recommending any investment decision in the company. I have proven wrong in my investment decision mutilple time and even this action I may regret in future.
Did you get any answer to point no. 6 and 7 raised by you. If yes, what is it?
Yes, that is what I understood from that phrase too. The upper limit is 770,000.
Thanks for bringing to my attention about point 7. The actual Advance receivable in Cash or kind is not ~ Rs 200 Cr but ~ Rs 200 Lakh (i.e. Rs 2 Cr). Considering Rs 1400 Cr balance sheet, Rs 2 Cr on this account is normal and shall not be consider adversely in my view. My apology for error of making Lakhs and reading same as Crores.
Hello,
Did anyone attend the AGM. If yes, could you post a summary.
Is the AGM video or audio available.
Thanks
BREAKING NEWS-Radha Kishan Damani now owns 32.54% stake(Sept qtr) in VST industries ltd,an increase of 1.13% QoQ.British American Tobacco(current board control) holds 32.16% +0.2% ESOP trust in the company.Latest Shareholding updated post market hours.
disclosure - FULLY invested
Is he (R. K. Damani) trying to acquire a majority control of the company? Has he got his nominees on the board of the company?
R. K. Damani's stake + DII stake in VST Industries now comes to nearly 48.45% of the total shareholding. A bit more acquisition by any of these groups (either DII's or R. K. D. or both) can easily push their holding beyond 50%. That can be a prelude for management change, provided DII's stand with R. K. Damani. Non-performers and those who stand as an obstacle in the growth path of the company, can be kicked out with change of management
Key Risks:
Extreme Taxes - Makes illegal cigarettes' 7X cheaper. Despite just 11% share of tobacco consumption, legal cigarettes contribute 85% of tax revenue (~43000 Cr.).
No public advertisement under COTPA (Cigarettes and Other Tobacco Products Act). However, Pictorial/Graphic warning covering 85% of the pack is mandatory.
Recurrent Public Interest Litigations
Despite the above and other major events (global financial crisis (GFC), demonetization, GST, COVID etc.) in the last 19 Yrs., CAGR of sales has been in single digit while profits in double digit .In this period, ROE never fell below 20% and equity capital remained 'AS IS'. However, equity can be diluted up to 5% in the next 3 yrs due to recently implemented ESOP plan.
Details shown below -


Will the govt. ban the industry?
India is 2nd largest tobacco producer and a major exporter. Studies by the Central Tobacco Research Institute (CTRI) indicate that on account of agro-climatic conditions, there is no equally remunerative alternate crop that can be grown in the FCV tobacco growing regions of the country.
Cigarettes contribute 85% of tobacco tax revenue (~43000 Cr.)
You can make your own conclusion!!!
Sources: ARs of VST Industries Ltd, Godfrey Phillips, and ITC. BSE for yearly stock price.
Disclosure: Not invested but interested as not many business show such tenacity to withstand consistently harsh operating environment. This business reminds me a quote from English philosopher Bertrand Russell - "The chains of habit are too light to be felt until they are too heavy to be broken."
Finally government seems to have realised the necessity to have a stable tax regime on cigarettes. A committee has been constituted to look in to taxation of cigarettes. Read details about it by clicking here
Dear @dd1474 ji,
Would love to know your thoughts on the latest quarterly results. To my untrained eye, they seem a bit subdued.
Thanks
@sarthakkumar19_
Thanks for your kind message. Please note that I have exited from the company Post AGM and I am investor in ITC (a competitor to VST Ind). My view may be biased and I am not SEBI registered advisor.
As an investor, I generally invest in the company with 3-5 years horizon. While I do keep track on quarterly performances, One to two bad quarters are not really worrisome unless there is fundamental change in industry dynamics. On positive side for management, the company have issued media release after Q2 results. On Negative side, despite decline in RM cost as per cent decline by 400 bps (compared with Last Sep 2020 results, source screener: VST Industries Ltd financial results and price chart - Screener), Operating margin remained stable at 38% which indicate almost 400 bps jump in Overheads. In my view, on need to understand whether same is due to promotion of product in new territory like Gujarat or new variant launches. If increase in overheads are for new product launches in new geography, I would not be much concerned.
Second point which need more attention is decline in Sales over Q2FY21. As per media statement issued by the company, it was due to COVID related issues as per my interpretation.


While VST Indicate that market situation was not great, ITC has seen improvement in Cigarette sales YOY of around 10%.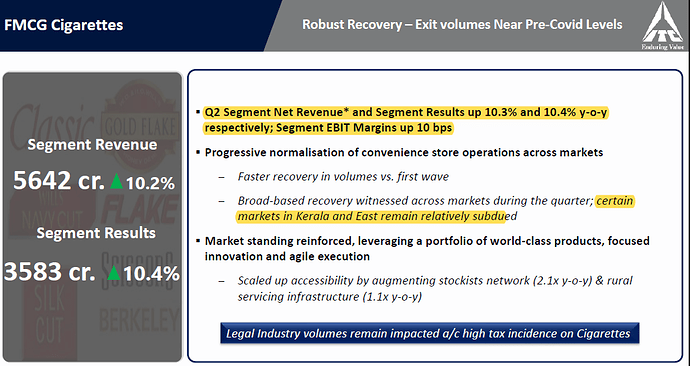 ITC press release also indicate that market in Eastern and Kerala was relatively subdued. VST Industries have major market share in Southern India in my understanding and hence that could explain the subdue performance.
Going forward, as in investor, I shall look at sales growth, operating margin and overheads as per cent of sales. If sales continue to grow at lower than other players consistently for say 2-3 quarters, then It may be concern.
Q3FY22 update-
VST net sale up 20.8% QoQ & up 14.3% YoY. Excise paid increased 15.4% QoQ & 10% YoY indicating an uptick in Volumes. Apart from better price realisation there also could be an element of increase in tobacco leaf exports. The new Royal Twist variant of TOTAL brand seems to be doing well. Co also setting up a 1MW solar power plant @ factory (will meet 20% of cos energy needs).
A note that I put in my investment journal on VST ind
Positives
Tobacco stocks have been going down globally for past many years. so nothing wrong with company in particular.
Most focused tobacco company. (Godfrey has 24x7, ITC has …)
RKD holding major stake.
Valuation cheap.
No cess increase in this budget
Negatives - ESG. Perception of dying industry.
Why I disagree with Market
I believe ESG is a product of easy money times
Tobacco industry is not dying. Many countries shifting to e-cigs. In India, for the moment, e-cigs not allowed. Even if they become legal, e-cigs still use tobacco
Even if total cigs market in the country does not expand, VST (and Godfrey) can expand geographically. e.g. VST has entered Gujrat
What I expect will happen – as money becomes expensive, flimsy concepts like ESG will go for a toss, NEW AGE businesses will be derated, raw material price will not increase much for vst and market will rerate the business.
Condition for selling – Not selling until tobacco gets rerated. Enjoy 3.5% dividend in the meantime
-International Big tobacco stocks have been outperforming the general markets in the current downturn. BAT & Philip morris are at multi year highs.
-VST payout has reduced to 55% , if its goes back to its normal 70% then the yield is more like 5% currently.
I quite agree with your overall thesis.
Discl- Invested