Dont limit to few. Let people use it & give feedback to you.
New Feature Update: Filtering on Alternate Data
You can use this to run queries such as:
Companies with Market Share > 25% and
Revenue from USA > 5%
https://www.tijorifinance.com/filter/
We've pulled out the query results from the data indexed from annual reports, investor presentations etc.
Do check it out & let us know what you think.
Thanks again to all who volunteered to test out the filtering feature, we have made some modifications based on the feedback.
Update: Financial Ratio's
10 yr historic view for financial ratios are now available on Tijori. A few things you can check out that's different:
Every ratio can be drilled down into its factors (by clicking the + icon). Eg: Net Profit Margin can be drilled to net profit & net sales.
On drilling down - you can see the factor driving the trend of the ratio.
Eg: Wipro's net profit margin has been trending down over the last 10 yrs. This was caused by its sales increasing faster than its net profit during the same period.
https://www.tijorifinance.com/company/wipro-limited#fr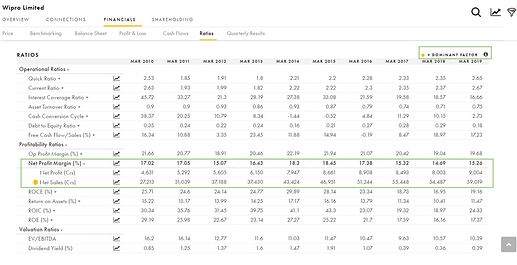 Hi
Revenue from UK > 5%
I think there are some companies missing eg TCS as per ET Now
1 Tata Communications 8.0% revenue from UK 10,317
2 Hinduja Global Soln. 7.0% revenue from UK 1,168.22
3 Rico Auto Inds 7.0% revenue from UK 534.38
4 Mastek 69.0% revenue from UK 782.84
5 Majesco 5.0% revenue from UK 1,185.02
6 Prime Focus 41.0% revenue from UK 1,657.47
7 Mirza International 39.0% revenue from UK 651.46
8 Firstsource Solution 38.0% revenue from UK 3,258.79
9 Vaibhav Global 23.0% revenue from UK 2,610.62
10 Tata Motors 17.0% revenue from UK 36,380.59
Hi Salman,
Thanks for pointing this out.
We get our data from annual reports & investor presentations, and we're constantly scanning company filings to see if any updates are provided.
But since we scan documents of different formats there is a chance our system may have missed the latest data point for some companies.
Currently on our systems we have 12 companies that get more than 5% revenue from UK. Will try and analyse the source of ET now's data & if its from a company filing we will add it to our database too.
Surprised to see absence of Tata Elxsi in list. JLR (based in UK) is their biggest client with >30% contribution to revenue.
Yes your right Kamlesh, but let me try & highlight some of the issues we face with respect to the data we receive.
Your right about the point about Tata Elxsi & JLR (based in UK) being their biggest client and therefore Tata Elxsi must receive revenue from UK.
But if you go through the annual report of Tata Elxsi - they never mention UK being an important geography for them. But they clearly state that Europe is a significant geography from where they derive ~43% of overall revenue.
True since we have all the data points about Tata Elxsi (Revenue from Europe + its relationship with JLR) we can imply that they get revenue from UK. But for now we have taken a call not to make such interpretations of the data & only display data as mentioned by the company filings.
Due to this - Tata Elxsi will not appear in the list of companies with revenue from UK but will appear in the list of companies with revenue from Europe.
Will re-look at how we handle these kind of data interpretations and see if there is a better we can highlight such points.
https://s3.ap-south-1.amazonaws.com/stockdiscovery/2018/Tata+Elxsi+Limited/AR.pdf#page=107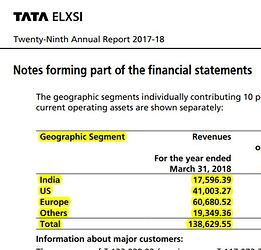 Thanks for detailed reply.
Your reasoning makes perfect sense. There will always be some exceptional cases of false negatives.
motherson sumi is missing in both lists
Hey Akshada,
Motherson gets about 2% revenue from UK and it's appearing in the search query:
https://www.tijorifinance.com/filter/?q=&qb=companies%20with%20revenue%20from%20UK
Can we have list of stocks at lifetime low PE ?
Hey,
We do not track historic PE as of now, but you should be able to find this on screener.in
Hi Tijori team,
Is it possible to also provide Pie chart for PAT wise product wise break-up. Currently what you show is only on revenue side.
Regards,
Saurabh
Hello Tijori Team,
Is it possible to get the following data added on the website also
Stock Beta
Market Share of products (Not Added for A Few Stocks)
Credit Ratings of the Company
Hey Saurabh,
Unfortunately we haven't indexed this data - but will certainly look to incorporate PAT wise product break-up during the next data extraction cycle.
But you could check out screener.in for this. They recently rolled out this feature.
Hi Ayush,
Thanks for the great suggestions. Stock Beta & Credit rating is possible but will take us some time since we're working on some other features & currently have limited resources.
Regarding Market Share - we are constantly scanning company filings for any new market share data points & will add them as & when we spot any new info. So basically this would always be an on-going but slow process. But do point us to any new market share info that you come across which isnt on Tijori & we'll have it indexed right away.
Never seen a beautiful website like Tijori…
great graphics ,easy to understand,simplistic,pleasant to eyes too…
watta hardwork.
long way to go,
just the beginning,
extraordinary efforts.
Would it be able to index annual reports.
For instance, Black rose makes polyacrylamide and its there in their annual report. If annual reports were indexed it would bring up the paragraph mentioning polyacrylamide in blackrose annual report
Not all companies give all products on p&l but most single product companies do.
Yes we are indexing annual reports, but currently have not enabled key word search. Working on opening this out. Will keep you posted.
Thanks Karthik: )
And we have recently added a features page to showcase some of the core features available on Tijori: