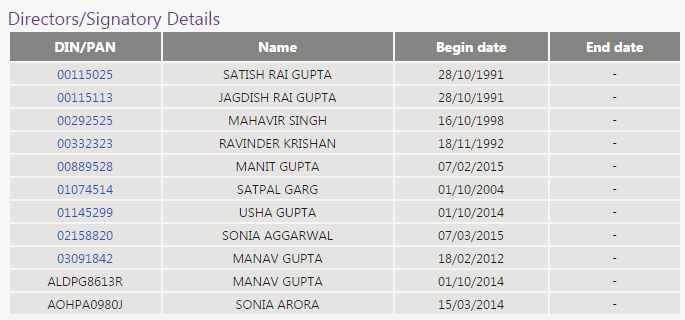 As per the data available in MCA, Looks like both Manav Gupta's are different.
What a crazy move…


with today's up move PE reached 30. Now there is no valuation gap… lets see how profits move up from now.
Disc: Invested at average price of 100
The share price continues to rise. In terms of valuations it is getting expensive now. In my opinion, the positive impacts of GST are getting built in. Numbers for coming quarters will need to hold else it would be difficult to hold these levels for the share price. With only around 4000 public share holders (which means on an average 1 shareholder holds around 700 shares), I am getting jittery with each increasing Rupee in share price.
Disc: Invested from 250 levels
Capex of 60Cr for 60 Lakh sheets/annum of capacity expansion expected to start in July 2016 which is yet to announce. I expect rally in the stock in last few days is majorly because commencement of capacity. Valuation fairly priced now.
Disc: Exited 75% holding, which invested at 250 level
In results commentary by Century Plywoods, they mentioned softness in exports markets for laminates business division. And after the rally in Stylam, and the valuation it is quoting at now, will be cautiously waiting for the results.
Disc: Invested, will look to exit at these levels.
And continued deterioration in Balance Sheet.
Disc - Exited
this is not a recommendation forum.
promoters have pledged more shares

I am hopeful that the management will use land sale to reduce the debt. Is the company obliged to publish when it is sold and the amount it is sold at , or is it just going to be in the 'other income' section in the next quarter report to the sale ?
Hi,
Looking at the announcement, it looks like that the sale is just 'proposed' as of now. So, keep a track on its sale. Also, till it gets sold, no other income, and possibly no reduction of debt. after it gets sold, it will be other income.
Thanks
An interesting article on Stylam Golden Chem-tech merger
depreciation has more than doubled this quarter ? Is it on possibly on account of commissioning of the new plant ?
Additonal capacities are expected to come into production by April, 2019

Full report: http://www.careratings.com/upload/CompanyFiles/PR/Stylam%20Industries%20Limited-03-11-2019.pdf