About the company:
Somany Home Innovation Ltd (SHIL) was formed by the demerger of Consumer Products & retail divisions of HSIL Ltd and further marketing and distribution of Building products of HSIL has been vested into Brilloca Ltd which is now a 100% owned subsidiary of SHIL. The company got Listed on 26 Dec 2019.
There is a thread on Valuepickr only about the demerger deal
The company's strongest brand is Hindware and it has helped the company grow sustainably by expanding into new categories.
The company has 3 Product Segments:
Building Products: (71% of Revenue)


In this segment, Company has decades of experience and has an iconic brand in sanitaryware Hindware. Products range consists of sanitaryware, faucets, plastic pipes and fittings, premium and super-premium tiles.
Consumer products: (26% of Revenue)


Retail: (3% of Revenue)
The Retail portfolio, through the brand EVOK, consists of a range of products across categories, such as furniture, home décor, and furnishing, wall fashion, modular kitchen and wardrobes, and engineered wood furniture, with modern designs that cater to different styles and needs of the customers. With the presence of physical stores, franchise business partners, and robust developing platform www.evok.in, EVOK is on the path of becoming the most promising omnichannel brand in the furniture, modular kitchen, decor, and furnishing categories.
SHIL has grown its Total Addressable Market to 40000 Cr by diversification into new product segments consistently.

Financial Highlights:
Financials and annual reports for the company are available only for the last 2 years. Financial information collected from the last 2 years annual reports: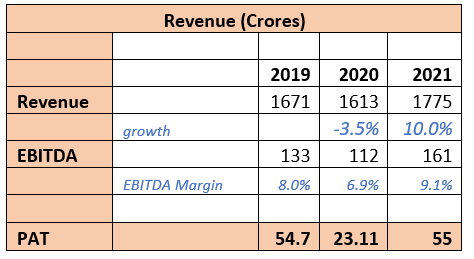 Revenue from building products has been stable and muted growth in the last 2 years. The Consumer Products division increased its revenue by ~50% and increased its share of revenue from 18% to 26% and also turned EBIT positive. Retail segment has been significantly affected by store closures due to Covid and Lockdowns.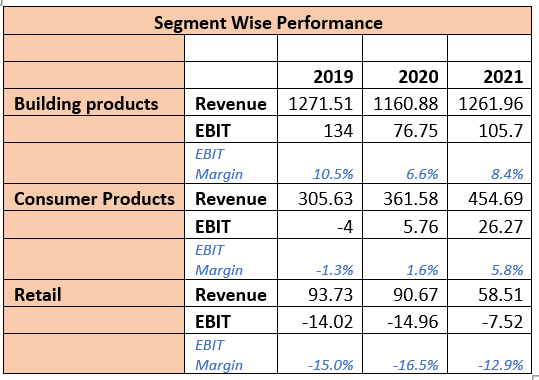 One thing that can be observed from here is that Building Products is a stable business with stable margins and has room for margin expansion as the closest competitor CERA has its EBIT margins in its lower teens. Consumer Products division has been expanding aggressively not at the expense of margins but with improving margins, which is a good sign. Finally the Retail division which is a small % of revenue is a loss making venture for the company now but this shouldn't be a major concern for investors at this point.
Let's delve deeper into each category and its products:
Building products:
The Building Products division has some marquee institutional clients
Plastic Pipes and Fittings:
Plastic pipes and fittings segment, through the brand TRUFLO by hindware, comprises Chlorinated Polyvinl Chloride (CPVC), Unplasticised PVC (UPVC), Soil-Waste-Rain (SWR) pipes and PVC pipes for potable water & overhead water storage tanks


Concall snippet about TRUFLO:



TRUFLO by Hindware is a direct competitor to Astral and the SHIL is very aggressive in marketing and holding many campaigns with plumbers just like Astral. I personally met few stores and received positive feedback on the product and there is a good amount of traction here. Management says that they expect the size of pipes and fittings business to do a turnover of 1200-1400cr in the next 5 years
2021 annual report says TRUFLO is the fastest-growing pipes and fitting brand in India.
Key figures on the pipes & fittings industry from Astral annual report: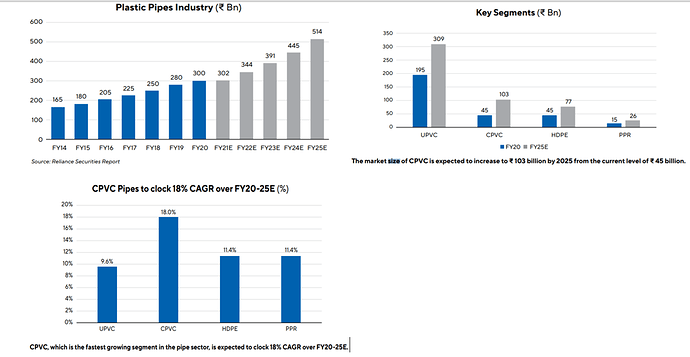 Sanitaryware & Faucets:
Sanitaryware market was pegged at 4800 Cr in 2020 and expected to grow at 7.4% cagr between 2021-2027. The Faucets market was pegged at 9000 Cr.
Hindware as a brand has a leading market share in sanitaryware and Faucets. The top 3 players have more than 90% market share among the organized players. A snippet from reliance securities on CERA and Sanitary & Faucets:



This is from CERA Concall where management says it's difficult to precisely estimate the market shares for the sanitaryware segment


TILES:
Overall Indian Tiles industry is estimated to be 35000 to 40000 Cr in 2019 with exports comprising 35% of revenue. The tiles sector is largely unorganized due to limited product differentiation. However organized players are slowly increasing their market share. Exports for tiles doubled in the last 3 years and are expected to continue the strong growth.
Indian Premium Tiles market is estimated size of 10000 Cr and is at an inflection point. During 2019 SHIL forayed into Premium & Super Premium Tiles and sells under the brand NEOM. The portfolio consists of Glass vitrified, Ceramic, Full-bodied vitrified, Super-slim, Cladding & Parking Tiles.
Tiles is a commoditized business and premiumization is the only way to play here without losing margins
Consumer Products
The Consumer Durables market in India is estimated to be 76000 cr and likely to be double to 1.5 lakh crore by 2025 at a 11.7% CAGR according to Frost & Sullivan.
Home appliances are the fastest-growing segment in the Indian market and there are vast untapped opportunities in appliances like Kitchen Chimneys, Water Heaters, Air coolers, Microwave ovens, food processors, refrigerators, water & air purifiers, ceiling fans, and others.
Let's delve into all Consumer products which SHIL sells:
Water Heaters:
A Frost & Sullivan Report from 2019 says that the market size was 2500 crores and is expected to grow over 10.5% CAGR to 4100 Cr by FY2024. Electric water heaters dominate this category by 82% market share and the rest in Solar. Solar heaters are expected to witness a higher growth ~17% cagr FY19-FY24
Hindware is the #6 player as per the latest investor presentation, which is commendable progress. In the year FY21, a JV has been established with Groupe Atlantic which has decades of experience in Water heaters. More details are below: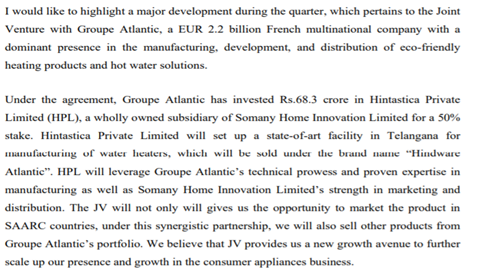 Personally feel the water heater business to scale up further by leveraging on the export market.
Kitchen Chimneys:
In FY20 Kitchen Chimneys also had a market size of ~2500 Cr and is also a fast-growing segment and expected to reach ~5200 Cr by 2025 at a ~16% cagr.
Kitchen Chimney Market Share


Source (StoveKraft RHP)
No Sign of Hindware here but the latest investor presentation says SHIL is the #2 player in the Kitchen chimneys segment.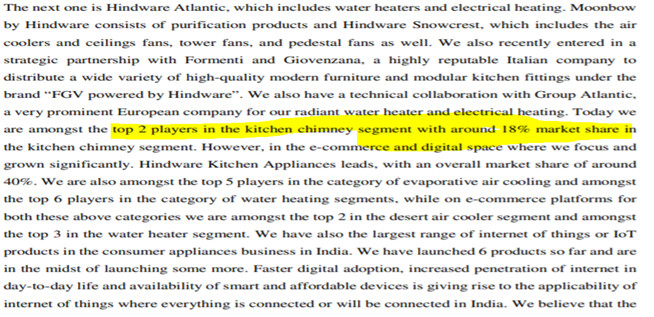 Built-in Hobs:
Market Size for Built in Hobs is 473 Cr and is expected to grow to 800 Cr by 2025 at a ~11% cagr .
Market share for Builtin Hobs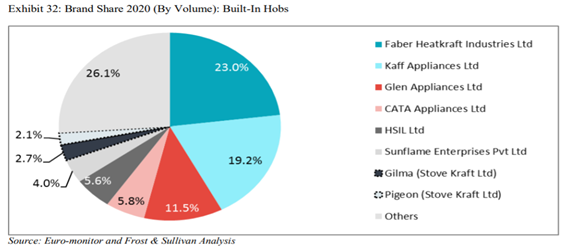 Source (StoveKraft annual report)
SHIL Previously (HSIL) featured here with 5.6% market share making it the 6th largest player in this category.
Cooktops:
Cooktops as a segment has a market size of ~2500 Cr and is expected to reach 5300 Cr at a 15.5% cagr by 2025.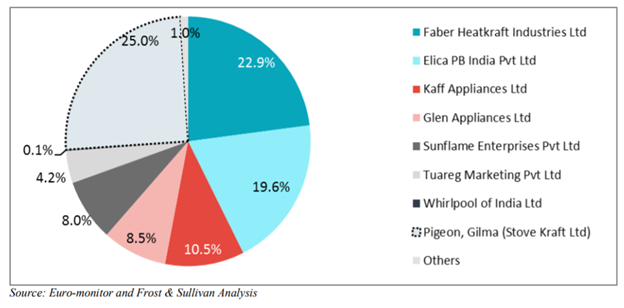 Air Purifiers:
Air Purifiers is a ~430cr market as per a report from Frost and Sullivan and the demand for air purifiers is concentrated around NCR and its not expected to grow.
Water Purifiers:
As per a report from Frost & Sullivan, Water Purifiers Market is a 4200Cr+ market and growing at a fast pace of 14% cagr.
Air Coolers and Ceiling Fans:
Every company has launched 100's of SKUs of Air Coolers and Ceiling Fans. I see an intense competition here from multiple companies. In the Air coolers segments, there are incumbents like Symphony, Kenstar, Crompton, Orient, Bajaj, Havells, Voltas. Hindware also has products across multiple price points and Products also look aesthetically good and have a good rating on Flipkart & Amazon. Air cooler's market size is expected to reach 9000 Cr by 2025. Symphony having a 50% market share among the organized players. Competition intensified in this segment which is visible from Symphony's declining Operating margins.
Concall snippet: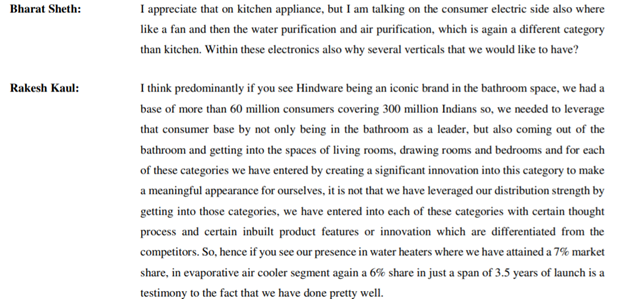 Ceiling Fans also have competition from the same players but the premiumization of products could help here. This segment is a fragmented space and getting a market share of higher single digits is also a commendable job.
Management guides a revenue CAGR of 20-30% in the medium to long run for the whole consumer products basket.


Management guiding 14-17% margins in the next 3 years for both Building products and the Consumer business.

Investment thesis:
The Sanitaryware is expected to grow at a CAGR of 7-8% for the next 6-7 years. the company's leadership position and launch of premium and luxury products can help to improve the margins
In the PIPES and fittings segment TRUFLO is a very fast-growing brand and management expect the sales from it to clock 1200 -1400 cr in 5 years
The Consumer products division looks more promising from the management commentary. From what they have achieved in a short span of 6 years if they continue the growth guided by management and improving margins, SHIL can be one of the biggest players in the segment in few years.
Valuations: Closest competitor in the Building products segment is CERA sanitaryware and Its 2021 sales were 1224 crores and SHIL revenue alone from the Building products segment is 1262 crores.
CERA Market cap= ~5800 Cr and SHIL market cap= 3000 Cr The valuation gap is huge and with a fast-growing consumer products division that demands better valuation I believe SHIL deserves better valuations
Risks:
Management giving very optimistic guidance and might not be able to execute
Given the demerger has happened recently limited financial history is available for any forensic accounting checks
Disclosure: Holding a tracking position