This guy sounds like a massive fraud! The more he talks, the more he sounds like a fly-by-night operator.
The MD has no Answers and has no clue on nos etc.
Discl: Just following the story a total AVOID stock but lot of learning here…

For all facts and numbers, his answers were "I have to go back and check".
If the basic breakup of sales and debt you don't know what do you know ?


He couldn't answer debt they have.
He couldn't answer how sales imporved 10x in 4 years.
He couldn't answer how much percent of total sales was Shilpi Cabletronics forms.
He couldn't tell which client contributes how much of revenue.
Only answer he gave was "Might be import is more than export".
Can any one share the research reports of brokerages that recommended "buy"
for this stock. Even those could be a part of interesting case study,
I just happened to watch the interview of Gravita India CEO right after Shilpi Cable one (someone had posted on the Gravita board). The difference was night and day! The Gravita CEO seemed to know exactly what he wanted to do and had the basic numbers of debt, sales, capacity expansion, utilisation, margins etc. right on top of his head. I doubt if anyone who has listening to Shlilpi's Manish Goel talk would ever invest in his company.
my first post…and what a shame…i went in and bought some shares of Shilpi yday
(poor) rationale -
tho the latest news was not inspiring, I'd done some basic research a month back only using the numbers available
then the price fell below the book value
saw the "clarification" from mgmt, so felt there was a margin of safety
had called their office a week back and talked to a person from accounts dept
THEN I read the posts on this thread (was not aware it was followed on valuepickr), the interview with MD, ICRA report and realized what a foolish move I'd made. now, looking to square off at the first available opportunity
one question tho - given yearly audits, how much reliance can one have on the reported book value of a company? what (if any) margin of safely does the book value provide, if the company does get liquidated? I feel if mgmt is unfit (inadept/corrupt) then any margin of safety from assets/receivables can easily be nullified by various means. Any thoughts?
Normally once a company will file for bankruptcy stock will go to below 10rs and trade there. The company liquidation doesn't happen often in Indian scenario as mostly promoters will prefer to escape. So later the stock may stop trading altogether…
E.g REI Agro and SUDAR industries. Have first hand experience in both…
They did not resign but were asked to resign (in other words… were fired…)
Equity holders will never get any penny. The stock will ultimately stop trading like kingfisher and likes…
This is the famous Tombstone Chart Pattern. Highly profitable setup if you know when to buy and when to short.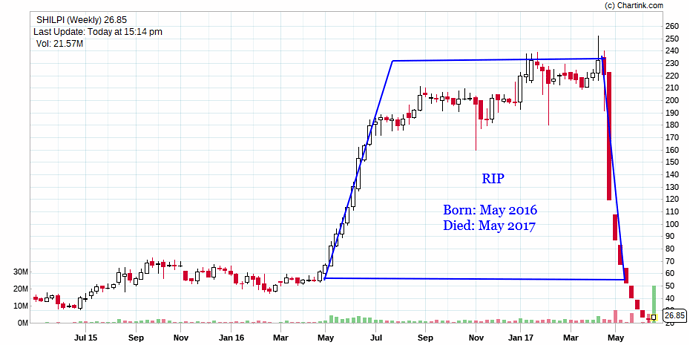 For unaware investors like me, please help and elaborate on when to buy and when to sell. What is the take away from this pattern? will it rise back? Will it fall further? Is it a dead cat bounce we are seeing at present?
Cheers
G1
It will not rise again because this tombstone pattern includes the Gravestone Doji!!!
Seriously, the above post was just for fun…I hope you don't invest your hard earned money based on tombstone pattern (which I invented just a few hours ago).
The downslide seems to have stopped (at least for now). no change in fundamentals (rather am not aware if there is any) and some changes at the help few weeks back. stock is trading at ridiculously low PE of 2 presently. need to find out how the business is running orders/deliveries/outstandings/cash-flow
disc. - invested
IMHO, In such cases, we should be prudent now rather than repenting later. May be a lot of insider activity could be one of the possible reason for the stock to rise unabatedly.
Disc: not invested
there is no doubt that sustained increase in delivery is a otherwise positive sign but in my very humble opinion
One should try to find such patterns in companies where there is some proven business & promoters are ethical. I am sure you can find many such positive threads on this forum.

Most of us are bollywood fans where there is mostly a happy ending but turnarounds are not very easy. There may not be a 5-10% ratio of successfull turnarounds. That means for every successful one there would be 9 failures.

Such scripts (if not already) become heaven for operators so one has to very cautious.
At the end of the day your risk and your hard earned money. Please do your due diligence as to what is the business doing, do scuttlebut, try to get in touch with employees etc, analyze assets before you plan to invest or increase your allocation.
P.S - I reserve my right to be wrong and wish that shareholders losses are recovered.
Completely agree. One of my friends invested in this company and had asked me for my advice. After going through their last audited Annual report, could find quiet a few issues which unsettled me and reminded me of an earlier experience with Opto Circuits!! Lot of related party transactions, group cos set up to record sales (with rise in receivables) etc. With lot of scuttlebutt on Opto at that time, could figure out the company fully and avoided the stock. Unless, we have a complete hang of the company, management one should not try their luck with investing in these companies!
The company released its annual report after a long extension(http://www.shilpicables.com/pdf/Shilpi%20Cable%20Annual%20Report%202017) . Some nuggets here to read and digest from the auditors report and financial statements. In short, AVOID, a lot of pain ahead
overseas debtors amounting to 258.97 crore are outstanding for more than one year.Further sale of 344.69 Cr has been done to these overseas debtors even there is no realisation in these accounts for last more than one year._ the provision for bad & doubtful debts for 17694.62 lakhs has been made and receivables have been written off amounting to 17739.25 lakhs(These are ADDITIVE and not substitutes _Note 27)
Company has settled debtors of ` 181.15 crore against creditors by entering into tri-party memorandum of understanding (i.e MOU).Validity of the MOU is subject to vetting
An amount of ` 258.98 croreoverseas debtors are outstanding for more than one year as on 31.03.2017 but no consideration realised within stipulated prescribed time as laid down in FEMA
There is default of ` 95.42 Crore in working capital limit as on 31st March, 2017
Sales Tax demand 944.60 crore from Office of the Commercial Taxes Officer, Anti evasion department, Jaipur
Advance to suppliers 16,903.03 lakhs written off (Note 19, r/w Note 27)
Closing Stock inflated(Note 28 sub note 20(iii))-Closing stock has been reduced by ` 9483.59 Lakhs due to differnce surfaced between stocks as per books and stock physicaly verified difference
Waiver of Recovery of Excess Remuneration-Although the company has defaulted on its loans, it still expects the shareholders to waive recovery of remuneration paid to the promoters. This conduct is not "pain sharing" and is a cautionary situation