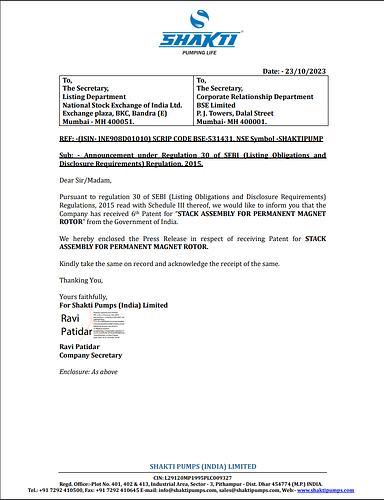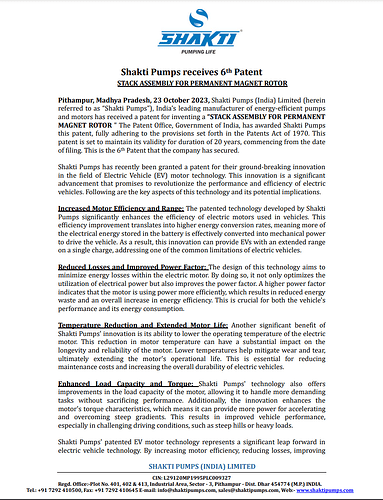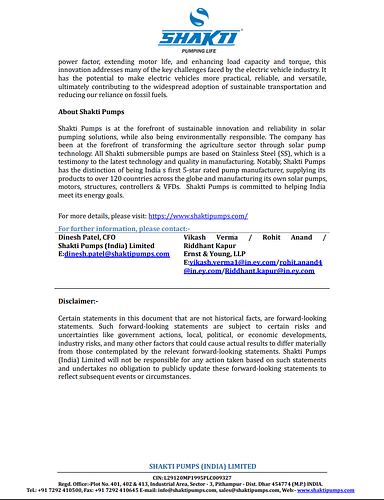 Subject of the Letter:
The letter is about Shakti Pumps receiving its 6th patent for a technology related to "STACK ASSEMBLY FOR PERMANENT MAGNET ROTOR."
Key Details:
Shakti Pumps has received a patent for their innovation related to electric vehicle (EV) motor technology.
This patent will be valid for 20 years.
This is the 6th patent the company has received.
Impact of the Innovation:
The technology improves the efficiency of electric motors used in vehicles, leading to better energy conversion and longer driving range for electric vehicles.
It reduces energy losses in the motor and improves power factor, making the motor more efficient.
Lower operating temperatures of the motor can extend its life, reduce maintenance costs, and increase durability.
The innovation also enhances the motor's load capacity and torque, making it more powerful and versatile.
About Shakti Pumps:
Shakti Pumps is known for its sustainable and reliable solar pumping solutions.
They are committed to transforming the agriculture sector with their solar pump technology.
The company manufactures products like solar pumps, motors, structures, controllers, and VFDs.
Shakti Pumps is focused on helping India meet its energy goals and promoting sustainable transportation.
In simple terms, Shakti Pumps has received a patent for an innovative technology related to electric vehicle motors. This technology makes electric vehicles more efficient, increases their range, reduces energy waste, and extends the life of the motors. It has the potential to make electric vehicles more practical and reliable, contributing to sustainable transportation and reduced reliance on fossil fuels.