I sent this appeal to Team Discourse, a couple of days back. The message is self-explainatory.
Request everyone at VP to give this a serious read (not only the Techies)
---
Hi Team Discourse,
First of all, a huge dose of gratitude from all ValuePickrs!!
You have built an amazing forum platform that our community loves, and has been using since 2015 (migrated from earlier Drupal based 2010 forum platform).
Average DAU/MAU is ~40% which is a benchmark we strive to keep improving every year.
(Daily Average User/Monthly Average User)
---
Started in 2010, forum.valuepickr.com is the only dedicated equity investing platform in India with a continuously chronicled dynamic history of the journey of micro/small/mid cap listed enterprises in India over last 10 years. Repository is full of well-chronicled success stories like Mayur Uniquoter, Astral Polytechnik. Ajanta Pharma, Avanti Feeds, PI Industries to name a few. ValuePickr members Ayush & Donald were featured in Forbes India Wealth Wizards Issue, July 2015. Them and several other forum members have been prominently featured in India leading business daily Economic Times over several years.

ValuePickr has survived a decade!
From a fledgling investing collaboration experiment in 2010, today we have grown to over 38000+ registered ValuePickrs - membership cutting across every professional domain, expertise ranging from newbies, learners, senior investors, senior academics, to professional analysts & fund managers, to deep domain experts - actively collaborating on businesses of mutual interest!
ValuePickr strives and thrives on 3 Principles - Democratic (will be always FREE), Accountable, provide Actionable Advice.
---
Thanks for bearing with our plug-in for India's top Investing platform!
We believe at the heart of user stickiness at ValuePickr is the User LIkes (Hearts) Reputation system of Discourse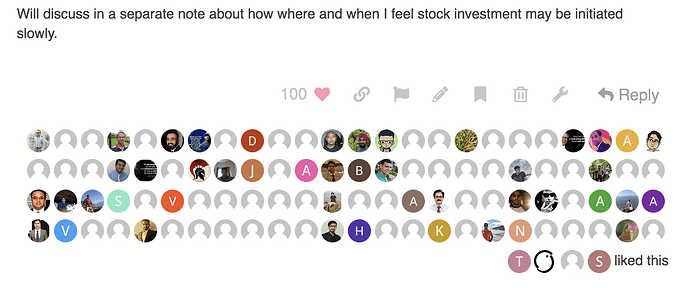 ---
The User Reputation System (Hearts - Likes based) has been very useful in showcasing Top Contributions as rated by Members themselves, and at an aggregated level the Top Contributors. However the need is acutely felt for 2 additional Appreciation buttons (emojis) along side the "Hearts" to appear
"Insightful"
Appreciation for higher-order contribution posts that are found to be insightful for members - that connect the dots picture for them, helps folks read in between the lines and/or the numbers in the business, brings out clearly say vulnerabilities in the business model or the strengths - essentially stuff that comes from deep domain expertise, or deep familiarity with a business and/or investing acumen, and stuff like that - you may not readily find/absorb from books/theory
"Actionable"
Appreciation for even higher-order contribution - call-to-action posts that translate investing theory to practical application - that anyone can easily understand, adopt, take forward - revealing scuttlebutt on a business, or industry, or a compact brief on a business, or a Management interview, or simple execution itself - ideas that are relevant, resonate well with a large number of folks, and/or are actionable in current investment environment. These are probably the highest contribution class of posts at ValuePickr in line with conceptual refinements brought to investment/analysis/valuation framework kind of posts.
Point is, today's Likes only User Reputation System of Discourse is proving inadequate for ValuePickr Platform needs as a growing platform, that will soon cross a 100,000 registered member mark.
We need a more sophisticated user reputation system that separates the wheat from the chaff even better. That accords highest recognition and visibility to the most insightful and actionable posts in member's-eyes, and at the aggregated level helps us highlight, spot, and recognises our most valuable Top Contributors (weighted by higher-order contributions too, not just by volumes).
The present quantitative-only system is also prone to gaming by some folks (posting/repeating mostly theory - shorn of real insights, or Actionables) - which has an audience too with large number of newbies joining in appreciating that), but NOT seen to be posting self-growth-inducing insightful and/or actionable posts - which is what we at ValuePickr strive to incentivise, day in and day out!
Critical time for a good mix of Quantitative-and-Qualitative user/posts Reputation System in Discourse Platform for ValuePickr, which we believe can be easily achieved by simple addition of these two additional appreciation buttons (next to Hearts) and integrated into the aggregated/summarised views currently available in Discourse. ValuePickr will find it extremely timely and useful, and so would millions of forum members on Discourse platforms, all over the world.
---
Kindly let us know
if Team Discourse has plans for these on similar lines, already planned, and timelines. If not, would Team Discourse prioritise that? And how can Team ValuePIckr help - specifications, etc.

If any authorised plug-ins exist for similar functionality that can be augmented with ValuePickr requirements? How can ValuePickr reach out to them and help develop/co-develop? Introductions.

If both not viable, how can Team ValuePickr go about developing an authorised plug-in that anyone can subsequently use for free? What kind of access/APIs will we need? Details
(ValuePickr has a big eco-system of Techies too, who might just be interested in helping the platform along).
Thanks for your patience in reading the rather long email. Hoping this receives an urgent and sympathetic hearing from Team Discourse.