I have not looked at it so far.
Any idea when Artemis is getting listed?They seem to be taking too much time
BSE/NSE in principal approvals:
New company website
http://aglsl.in/
Of much interest is the Management profile of (most probably Independent Directors on board)
Dr. Sanjay Baru
Dr. Sanjay Baru has doctorate in Economics from Jawaharlal Nehru University, New Delhi. He is director of Geo-economics and strategy at the International Institute of Strategic Studies (IISS), London and is a honorary Senior Fellow and member of Governing Board, Centre for Policy Research, New Delhi. In the past, Dr. Baru was the official spokesman and media advisor of the Prime minister of India and has also served as editor of the Business Standard, Chief Editor of the financial Express and as associate editor of the Economic Times and The Times of India.
Dr. Subbaraman Narayan
He has 4 decade of experience in public service in the state and central governments, in development administration. He was economic advisor to Prime Minister of India in 2003-04 and was responsible for implementation of economic policies of over 30 ministries
SEBI approval for listing
Any info on FY17 results of Artemis?
Can't see them on the new website.
The following results were published in Business Standard today. The structure of the company is
Artemis Global Life Sciences (AGLSL)(Parent)
Subsidiaries
Artemis Health Sciences (AHS)
Artemis medicare service (hospital) (AMS)
Athena Eduspark (AE)
Except Artemis medicare services everything else is pretty much insignificant. The following are the results of AMS as published in today's Business Standard: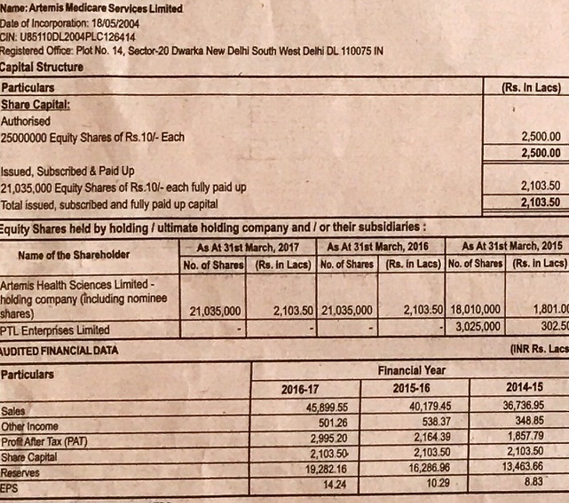 Thanks @tirumal for pointing to this.
Something more interesting that we should further dig into from the company's subsidiary website:
http://www.artemishealthsciences.com/health-education.htm
http://www.artemishealthsciences.com/research-development.htm

As far as results are concerned I think the education initiative has to do with Athena Eduspark but more digging and understanding from management is required.
Yes, it does look like that Athena Eduspark will be the vehicle for running educational institute.
See below, the image of Athena's corporate information.

Athena earned a revenue of 3.95 Cr in FY16 (PY 3.14 Cr). You can access the FY16 financial statements from here.
Out of which it spent 3.16 Cr as employee expenses (PY 2.78 Cr). Below is the image of employee expenses' footnote.


Regards,
Yogansh Jeswani
I find PTL undervalued at the moment.
Land valued at ~ 590 Cr
Lease rental per year ~ 60 Cr
Entire business valued at 310 Cr
Out of which, Cash + Investment (Shares of Apollo Tyres) ~ 60 Cr
On per share basis, P/E < 7 and Dividend > 4%
Income is steady rental business
Clean balance sheet
Only risk I see is discontinuation of lease contract after 2022, land value which is double current market cap is good cushion.
PTL does not have a good history of actions towards minority shareholders. It can be argued it has become better with demerger of Artemis, but it it is still debatable at best. It would, in my opinion, be false comfort to rely on the land value as a cushion because it is unlikely that the promoters will sell it. The plant is used by Apollo and will continue to be for the foreseeable future. Little to no likelihood of any benefits of that land value accruing to minority shareholders.
If the plant continues, it is great.
About 20% lease rental yield. Plus other income from investments.
History of regular upward revision of rentals.
More than 4% dividend yield.
If the price falls further it becomes more attractive.
PE is not an appropriate measure of valuation in this case, in my opinion. A better way to value it would be as a bond. You should see if it is undervalued from that perspective.
We should also see what are the possible future scenarios for this company after demerger.
Current scenario
on balance sheet
Land Value – 568 Cr ( evaluated in 2016)
Building & Road --16.5 Cr
Plant – 0.1 Cr
Lease rental - 60 Cr/ yr
Apollo group promoter acquired PTL in 1995, I am assuming since then plant is fully depreciated in PTL' books (not sure how it was then), except some residual value of building and roads. No new expenditure required on building and plant (?), as I believe all new expenditure on plant are in Apollo Tyre' book (not validated). or plant asset/investment will be insignificant compared to land value and annual lease rent.
Also as I understand it is just an associate to Apollo Tyre, not the subsidiary.
Last year they have distributed 20% profit as dividend and rest invested in the Apollo Tyres shares.
From AR
31(b) The Company has leased out its plant to Apollo Tyres Ltd. The lease is extended for a further period of 8 years up to March 31,2030 vide agreement dated August 1,2017. The lease rent, which is renewable annually as per the lease agreement at a rate to be mutually agreed, amounting to Rs 6,000 Lacs for the year, has been credited to statement of Profit & Loss.
Apollo Tyres' Installed capacity @ Kochi is ~5% of total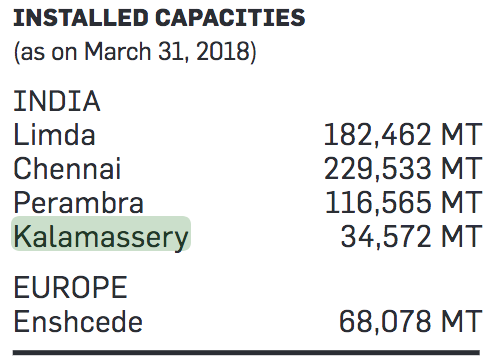 Future scenarios
Keep distributing 20% of lease rental , and rest invested in
1a) Apollo Tyres and other associate companies or
1b) Also invest in other attractive opportunities outside associates

Is there any possibility of Apollo Tyres acquiring it, as of now this company does not have any other business. Are there any advantage or disadvantage to the group doing that?

Any other possibilities?
3a) plant can no longer be operated inside the city limits(?) so PTL re-propose this land for real state development?
Valuation
We can evaluate this company based on these future scenarios
land asset + retained earning as investment.
Lease rental will remain at around 9% of land value - tax = 6%, revised every years on average by 6%? + Land value appreciation at around same range 6-8% per year, in total 12-16% of long term appreciation. Any appreciation beyond 12-14% range on retained earning, land value appreciation beyond 8% will be bonus.
Current value of Land + Investment = 700Cr+ (including land value appreciation in last two year)
Liquidation value 700 Cr - income tax* - dividend distribution tax = 350Cr ( though it will be least effective way of disposing the business.)
*(how proceeds from land sale evaluated for tax? Long term Capital Gain or normal income)?
Most likely on market value of the land + investment, but probably structured as merger. Value 700Cr

Company becomes a real-state company.
Which ever way you evaluate it today, company' value will increase @rate 12-16% per year. In the event of 2) you may unlock further 100% value from your investment.
Concerns
They still own labor and operations atleast on paper. Can these be transferred to Apollo in case of scenario 2) and 3)?
Lack of retail Investor focus
Historically i see dividend payout is consistent … looks like on 500 Cr + worth of land + factory + labour they are getting 60Cr lease & You can buy this asset for Rs 244 Cr today.
Am i missing something ?
People say they are bad promoters - but looks like they have been sharing 30% of profits with shareholders as dividends and 70% of it gets invested in apollo tyres . I don't see any syphoning of money here.
What folks think here , it does look like a very stable business but the trust of investors are not there.
Why markets are pricing it this low ?
Feb 20, 2019
Dear Sir/ Madam,
Pursuant to the requirements of Regulation 30 of the SEBI (Listing Obligations and Disclosure Requirements) Regulation, 2015. We wish to inform you that members of the Committee of Directors (Investments/ Loans) in their meeting held on 20.02.2019 has decided to invest fund from loan(s)/ internal accruals to the extent of Rs. 50 Crore (Rupees Fifty Crores) in the equity shares of Apollo Tyres Ltd. through open Market Purchase in one or more tranches.
The Committee has also authorized to borrow funds for an amount not exceeding Rs.40 Crores.
_______________________________________________________________________________________
.
Basically you should also have view on Apollo Tyres. As that will become the main investment of the company.
Yes, thats not as bad as let's say what leel did, They give our 30% ( today 5% dividend yield ) and invest reset in apollo tyres.
Apollo tyre has been decently run company, May be one should just price it on the basis of dividends alone and hope payout remain same 30% yoy, looks like thats what markets are doing.
Just a few observations since I have tracked the company, the promoters and have owned it too and the current scenario and also a line or two on the value of cash:
Value of cash: Most of us love buying companies where the company's EV (MCap if debt is 0) is less than the cash that a company has. There are some important questions to look into
a) Why does the company need cash? Why does the company not give out dividend/buyback to the shareholders for the cash that it possesses?
b) Is the cash hoarding for operational reason or for investment reasons?
c) What are your own return on capital expectations? If your own return on capital expectations are higher than what the company is able to generate from investments you are effectively losing capital.
d) Is your money compounding? One of the key things that a compounding machine does is to invest the capital generated back in the business again and again. Investing again and again at higher RoC is a far more efficient way to grow capital than paying out dividend.
In this particular case:
a) Buy buying Apollo Tyres shares the company essentially is becoming a holding company of the promoters. Holding companies trade at over 70% discount to their holdings. As minority shareholders most shareholders should have rejected this.
b) The attitude of the promoters of Apollo tyres towards the minority shareholders have not been good. In one of the recent examples the Promoters had to take a cut in their salaries after the minority shareholders rejected the new salaries for the promoter management personnel.
Finally, the value of cash/assets that a company holds is a function of the quality of mgmt and their ability to deploy that capital. More important is trust and integrity as we have seen in some cases like LEEL where all the cash seems to have evaporated in thin air.
Discl.: No holding. Bought earlier to play the demerger story and exited afterwards.
Hi,
In the current market scenario very few small caps are withstanding the blood bath.PTL enterprises seems to be one of them.With good dividend,and a steady profit coming from lease in coming years,it seems a value buy.They are also increasing their stake in apollo tyres with reserves.I read through previous comments of board members and it seemed their are apprehension about mishandling of corporate governance issues.So senior boarders please guide me whether this share can be part of a long term investment?
Thanks,
Deb