With vehicles driving on footpath and people and animals on roads, we will take atleast 2 decades to get there…
What better testing environment with a good IT human resource to program AI !
India is called by some as a re-developing nation. Purchasing power in general has increased in the last 2 decades and it will continue to increase further. People will earn more (and also be forced to spend more). It is quite likely that taxes will continue to increase as well.
Inflation and interest rates should start moving towards 2-3% as the country starts becoming like the western world.
We are quite behind in infrastructure, healthcare, basic education, insurance etc. and the government will have to continue spending on various initiatives (due to corruption, the full benefits of those investments would not reach the desired scale, unfortunately).
We will become like Poland or Czech republic in about 10 -15 years from now - depending on government policies, stability, schemes and scams.
20 years may seem long, but most big businesses of today should get through just fine. More interesting would be the smaller companies - some of which will become quite big - just like Infosys.
Investing in real estate in B or C category cities could perhaps give more predictable returns.
Coke didnt gave any returns from 1998 to till date…it was around $43 in 1998 and now 49$…so that's a waste of 20yrs
You have touched upon a lucrative discussion. Sectors and specific companies need to be tracked to zero in on an opportunity.
Big may get bigger, but small companies are likely to give phenomenal returns in the redevelopment.
Of course it did. I think you missed the 2:1 split in 2012. However, its true that the returns in 2nd 20 years is not as great as the first 20 years, which is why I prefer to define "permanent" as 20 years rather than 40 years!
Coke aside, I think you see the point, which is that over a long duration, fewer decisions and stronger convictions make for low errors and low monitoring time and energy - i.e. investment time not overshadowing rest of life. We need to live happy and not get consumed with investment decisions day in and day out!
It is an interesting thread.
Reliance Industries, for some reason, do not figure in any of the long term list. It has probably been in the top company by market cap list for over a decade.
I dont see no reason why it will not be in the list for any foreseeable future. It's a humungous organisation probably with highest clout in government, can influence government policies, has highest of the manufacturing capacities in most of its products. Is continuously in expansion mode. Has interest in telecom, broadcast, retail. May buy out some company or expand into online retail if need be. It is highly profitable and one may think it is in competitive business environment, but it is not, in many products it enjoys monopolistic position. It has no dealers to talk about and most of its sale is in cash (petrol petrochemicals business). It plays highly influential role in polymers and solvents it operates in.
I dont think cash generated in their core business is going anywhere and they will always have surplus to invest in different verticals. May be the will lose money in new business but it will hardly impact them in a big way.
Value unlocking can be done by way of demerging the business verticals. And this may also safeguard their core business in case one vertical bleeds continuously or lose sheen.
Also, Mukesh A has a vision and always think big. I dont think what he did in JIO could have been thought by any other entrepreneur. He is the person responsible for low call charges in india (reliance monsoon dhamaka) in early 2000.
Currently it is one company that is too big to fail. I have come across some who say ambanis are unethical and so they dont buy reliance. To which I dont agree.
I would like to understand the reason for exclusion of most valuable company by market cap, barring a few occasions, where TCS forged ahead. But it has always been in top 2 or may be three in worst case scenario. And it will always remain so at least for next 10 years I think.
With respect to opinions on automobiles and the looming threat that people may stop buying cars, I think this is highly improbable scenario in Indian context for next 15 years at least.
Europe and USA can think of this scenario because their current generation have always travelled by car. Its not their dream. While in india it is still a dream for majority of Indians. And no traffic snarls can stop them realising this dream whenever they have resources to fulfill this.
There may be super rich class in india who are reducing their fleet of cars but that number is miniscule, in fact not even 0.001 %, when it comes to the population who dream of owning a car.
Also, if you see the trend, growth in sale of hatchbacks is far outstripped by growth in sale of sedans and SUVs. This indicates two things 1. Hatchbacks are getting relegated to second car status. 2. People are upgrading from hatchbacks to bigger cars. Both the scenarios are good for automobile industry. I am seeing more and more households now buying cars. That explains compulsory parking in all new real estate projects. And when one buy 3 BHK instead of 2 he buys 2 parking, and well, he pay for both. What does this foretell?
Also in USA and Europe they have nuclear families. Which is now happening in India. Which means _ demand for new homes and new cars and new appliances. Well car is already not a luxury for majority of car owners and it is a luxury for all those who dont own one. So it is quite natural that ones who own it will always have one and may upgrade over a period of time. The ones who dont own will buy whenever they can. In either case both will continue to have car irrespective of usage. Doesn't matter if they use it on weekends.
There are some who are hopeful that metro and BRTS will reduce car travel. May be. But it will not impact car sale. Secondly, it will hardly impact travelling by car I city like Mumbai. The impact will be minimal at best. For example - one metro line has already started ghatkopar to versova. It has largely helped commuters who travelled by bus, auto rickshaw and local trains. That's all.
Coming to the second line coming which has made life miserable on WE Highway, this will help those who travel by local train I savage condition. Where first class and general coach is differentiated bh stripes not by ease of travel. Many of these guys will shift. But not the ones who travel by car. A low single digit percentage will give up car for metro as it will be equally packed and crowded within a year of operation.
Commuting will be a big big problem. In city like Mumbai but it will hardly impact sale of cars as the not haves still outstrip the haves by a wide wide margin.
Coming to tier two and three cities , there is no convenient transport facility available and as the disposable income grows people will graduate from two wheelers to cars, which is already happening as the earning members increase in households.
This makemytrip promoter or any other biggie booking an uber and then waiting for a cab to arrive in 5 10 15 20 minutes to pick him is nothing but a joke and publicity stunt. He may have done this a few times and rest must be nothing but a story too good to be true. He will give up the day that pappy will call him and ask"kishar Jana hai" or without informin will not turn up. I believe such stories are figment of imagination and untrue. It is possible that one will fix a cab and hire him for entire month or year. It happens but then it's a different arrangement altogether.
It is quite possible that some Korean or Chinese company may come and take away market share of maruti or tata but surely business has bright future in india. Till the dream of having car for everyone is realised and the kids have seen it enough.
I guess the reason is not because of the business but the trustworthiness of the management. People are not confident that the management would act in the interest of the minority shareholders at all times. it is not my portfolio for this very reason at the least.
The article written by you is very interesting, but facts and figures sometimes give a Crystal clear picture.Till few years back, there was every reason to buy property and people used to say, it would always appreciate in India.But last 5 years it has either depreciated or remains stagnant.Is one sees maruti sales for the last 3months, they are in negative.Eicher sales are in negative.Maruti best selling car Alto has sold around 20% less sales in November.So scenario is changing fast even beyond our imagination.Wherever the transport system has improved, people avoid using cars.While you may b right, implications of fast changing world can not be ignored and are to b considered
Is it because transport system improvement or that our cities just dont have enough wide roads and parking space to enthuse people to buy/own cars. If India, in next 10 years, creates 3-4 more Gurgaon, Pune, Noida…I am sure Car Sales will accelerate.
Although overall sales has seen a Y-O-Y slump and agree that there is de-growth in many segments - I think we shouldn't cherry pick Alto sales as there is a shift in preference - if you look at Nov sales figures their UV segment is reasonably growing in sales.
Also Alto anyways will be discontinued after '19 as MS doesn't want to invest in upgrading per new safety norms and regulations.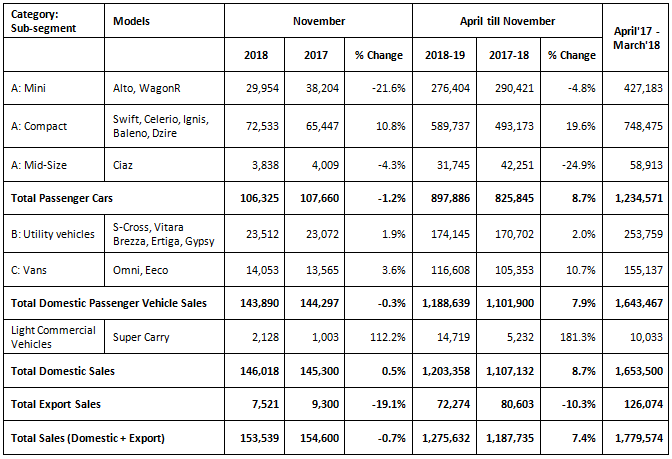 I believe there are not many managements for whom minority shareholders interest comes first. And no investor can abstain from investing in companies with shrude management for whom a minority shareholders are of no preference at all.
Reliance I believe should be pat of any long term portfolio.
And I dont think any mutual fund avoid reliance.
It will continue to grow through various expansions and investments in new business.
I may be wrong but mukesh ambani may be having vision to grow it multifold even from these levels. And he may succeed through various resources.
Car sales of alto or any hatchback will not be grow faster than sedans and SUV.
More and more Indians will buy cars
And tier two and 3 cities will lead in few years from now.
As far as infrastructure is concerned land acquisition and pace of development in india will always remain slow due to political and social reasons. So what takes 5 years in any other country will take 15 to 20 in india.
Airport at navi Mumbai is in development since 1995. In 2020 we will celebrate silver jubilee of that plan. Already there are problems in bullet train land acquisition
Cars may face some cyclical slowdown or slowdown due to economic reasons but surely it will remain in demand for any foreseeable future.
It will grow but at a slow pace. ROE and Sales growth both are low. Nothing exciting for a minority share holder.
Just that it is popular, hence trading at high PE of 20. For a long time it traded below a PE of ten.
It is trading at a high valuation, four years of price consolidation will normalize the valuations. This stock may not correct deeper due to decent visibility of earnings and popularity of the company and its products.
As per charts reliance was
Rs 90 in June 2000
Rs 184 in Feb 2005
Rs 538 in 2010
Rs 435 in 2015
Rs 1100 approx CMP
I think this price does not factor in the demerged entities which anyways are A_Nil group.
Just wanted to know how much return is good enough from safe bets like hdfc and icici and infosys and wipro in future. In case they are safe.
Discl : invested in RIL
I agree RIL is dark horse - We have couple trillion dollar market cap business hidden in group …
Oil & Petrochemicals - with sheer scale and monopoly in multiple segments + low cost structure in many products … Many companies in textile , tyres , plastic packaging and others are @ mercy of RIL pricing power … Globally this scale of business is valued at 200 / 300 billion dollars

Telecom + Media – > Over a short period of time RIL has gained monopoly on key media channels ( news , entertainment etc ) + with telecom pipe & Cable ( hathway and den ) under their control … There can create multiple business model that can be rolled out ( It is is Netflix + Verizon + Comcast + Time warner put together ) ++ It is now creating large Format JIO experience centre - Mall + Theatre + commercial realty etc … Globally this kind of enterprise will be worth trillion dollars esp with kind of control across segments

Retail + Ecommerce : It has both Physical ( across grocery , apparel , jewellery ) and ecommerce retail + ability to provide enterprise data services ( manage data centres ) … Along with Jio this can be deadly combination :
Then what is problem with RIL – While RIL has shared wealth with shareholders multiple times - It is not gold standard in corporate Gov + with such huge canvas we are not sure of execution …
Long Term Investing is about many elements. Buy and Hold Portfolio is NOT in vogue with 'most' of the folks that are online since the more active that one is with internet and websites, means that the person is liable to be trigger happy also.
Ask people if they are holding stocks greater than 5, 10, 15, 20, 25, 30 and 40 years, and people will shy away with the simple point "Disruption is happening too fast, and the old theory of holdings stocks for the long term is gone".
I have written before but moderators have not liked me writing too much about this. I am that investor that will pass the test of Buy and Hold, and committing to hold stocks till 2030 even today, despite how old I will be in 2030!
HUL, Tata Steel, Reliance, ICICI Bank, HDFC Bank, Colgate, P&G, Eicher, Bajaj Auto, Nestle, MnM, LnT are time tested, management tested, bull-bear-proofed, interest rate proofed, inflation proofed, and also what I call as "Maggie Proofed".
When stocks have the "Maggie Effect" it is time to buy. Pharma, IT and Vehicle companies fit in this bucket today. They have the Maggie Fertilizer effect in the stock price, but the company is intact. Hence, buy and hold beyond the last fund manager selling. And, then what…Last Seller is gone, and Buyers are left. HUL, Nestle, Reliance are perfect examples, and DRL is showing similar life with the Maggie Fertilizer effect starting to fade away from DRL.
Buy and Hold is not about how long your can hold, or which stock. It is ALL about holding beyond the last Fund Manager or Famous Seller is "selling or has the stock on sell signal". That's it.
Happy Investing…
KKP