Yes…just convert to Nro account and you r good to go…
I have been through this process - in my case demat account with FundsIndia. They only support HDFC and SBI for PINS/ PIS account.
So, I had to convert my HDFC bank RI savings account to NRO and also setup a new PIS account (NRO) with HDFC and get a letter from them sent to FundsIndia. In parallel, I also got all the paperwork done by FundsIndia to close existing demat account (RI) and move all holdings to a new demat account (NR).
Hope that helps.
I had conversation with Zerodha and Yes bank recently.
Please refer to below snapshot…Although PIS is not required for NRO account,you would still need the PIS letter from your bank account to open demat account for NRO.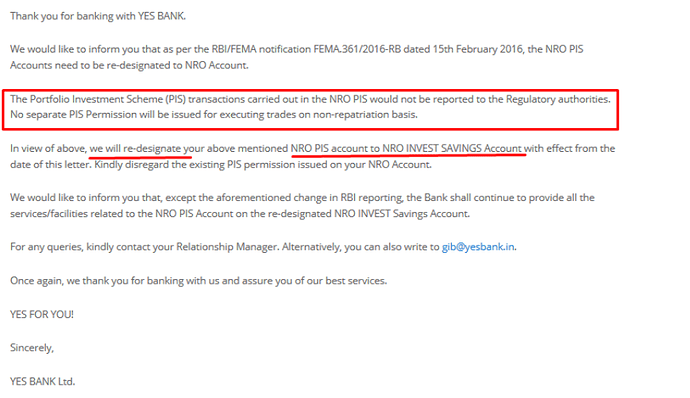 This is very strange that they don't need NRO PIS account.


I am actually paying Rs. 1000 + some charges per year for this NRO PIS account that has been created.
I think brokers are having compliance and tax reporting issues if they dont use PIS route thats why they are insisting on PIS letter while opening the account.Zerodha had said they are working on it and in future they wont need PIS for new account opening
It seems based on this article, that we no longer need PIS account. Simple NRO account should be sufficient.
That's right, I did convert my resident account with Zerodha to NRO Non-PIS. No PIS needed. NRO account is fine.
Hey @KalyanKool ,
do you know if we still have to notarized the pan card for changing the resident to NRO account ?
Yes I had to notarize my PAN, Foreign ID proof and bank statement, Passport. They've asked for Indian bank statement as well after sending documents, but I just sent a soft copy for that and it was accepted.
Banks do not ask for this notarization during conversion but stock brokers do, because it's a requirement from depositories to update CKYC status from Resident to NRI.
I have ICICI DMat accounts. Pre-NRI - I had opened a Resident Indian DMat account. After NRI, when I completed KYC, they disconnected my trading account from RI DMat account and opened a PIS-DMat account and all shares I buy then onwards are credited to my NRI PIS DMat account. Any rights shares, bonus credited for the shares in my RI DMat account are in RI DMat account. Similarly if the share is in PIS DMat account, Rights and Bonus are credited to the PIS DMat account.
I am puzzled by different account: I wonder if you could throw more lights on below questions:
1- Suppose I have NON PINS account which is attached to my earlier Resident Account (when I was resident). Currently, I can sell shares, but I cannot buy them from that account. If I have money in India (Indian income for example) what is the way to invest that money into market (secondary stock).
2- If I receive bonus shares in NON PINS account, does it not get allocated to NON PINS NRO account?
3- PINS (I presume you are referring them to PIS). What is the intention of having PINS account on non repatriatestrong text basis?
I am sharing my experience as Non US NRI
a. I got job in Nigeria in July 2019. Before going to Nigeria, I had demat account at ICICI direct.
b. This account was converted to four demat accounts and four respective bank accounts.
i) NRI PIN & Non PIN
ii) NRO PIN & Non Pin
c. My all existing purchased shares were on Non PIN NRO account
d. During my tenure in Nigeria, I could only sell existing shares from Non Pin NRO, however I could not purchase/add new Indian stock through Non PIN NRO
e. To purchase new stocks of India, I have to use PIN NRO account
f. Bonus shares ( reliance preferential) was added on Non PIN NRO account
g. I came back after one year to India
f. To change my all four demat accounts to one single account, I have to go through hectic, time consuming process to change again from NRI to Indian residence. It was as good as opening new demat account. Fortunately RM of ICICI branch helped me lot.
f. All my newly purchased shares were transferred to Demat account of existing stocks.
g. You need to change status at ICICI direct as well as at bank.
I am answering based upon my experience. I am not an authorized consultant…

Answer 1: I am investing the indian money (received from Dividend, Interest etc.) in indian Shares and MF. I have a trading account linked to NRO Rupee account. I transfer the amount to NRO account which is linked to Trading + PINS Demat and then invest in Shares.
Answer 2: Bonus (or rights) shares get allocated to the same account in which I have bought the shares originally. For rights shares, I need to make payment which I cannot do online as ICICI Bank doesnot allow me to pay because I am in UK. (I understand - They allow this payment facility only for Gulf NRIs). I pay the amounts from other methods.
Answer 3:Yes. I meant PINS A/c. I can spend this when I am in India. Alternatively I am told - I can transfer upto INR 1 Million per year when I complete the taxation (15CA and 15CB) forms - which I have never done.
Thanks @sdparasnis and @sbhadti for your response. How to funds this(PINS NRO) account? Can we transfer money (Rs to Rs) from earlier bank account to this account in INR or they money has to be from abroad (e.g.- Doller/Pouds to Rs)?
One more question (based on your experience) - When do we need NRI NON PINS account? What are the benefits of having this account?
Both Non-PINS and PINS accounts are for NRI. I think you mean NRO Non-PINS account. All the shares you have bought when you were Resident Indian(RI) will be placed in NRO Non-PINS account. All the shares you have bought after you have 'declared' as NRI, will be stored in NRO PINS account or NRE PINS account based upon the source of funds.
Nope-I meant NRI NON PINS account.
I understand the rational for having NRO PINS(Share bought with Indian income after becoming NRI) and NRO NON PINS (shares bought before becoming NRI), but I am not so sure the rationale for having NRI NON PINS account.
One can have both NRI PIS ac or Non PINS ac, the difference is only the repatriation facility in PIS ac. On the other side one may choose non-PIS ac, to avoid the additional charges of PIS transaction which is for each buy and sell, about 100/- minimum by most of the banks.
I don't think that it is true. Non-PINS v/s PINS is mainly about the willingness of your broker to do the extra processing that is needed due to NRI status of the account holder (from taxation point of view).
For example, you could transfer existing shares (when you become an NRI) to your non-PINS demat (if you find a broker which can support you) account OR to your PINS demat account. You can also do additional investments from your Indian bank accounts (NRO) via the those demat accounts as well.
FundsIndia is not willing to do that extra processing and hence does not offer non-PINS option (which for example other providers offer).
I have incurred a significant amount for transactions that I did a few months ago (thanks to HDFC's high rates) and wish I had not done the conversion to PINS.
(I do not have any NRE PINs, do not wish to invest in Indian market the money that I am earning from my overseas income at this stage).
Hi All
I have below question can any one help me
I had NRO PIS account with Zerodha
Converted into Nro non pis account with Zerodha
During conversion process they send an email with brokerage charges as 0.1%
After conversion they started charging 0.1% as brokerage
After some time with out informing me they changed the brokerage to 2.5 %
I noticed this and asked them … they revered back extra amount that they took
Next they came back 0.5% as brokerage
So I am asking them keep brokerage as 0.1 as they promised while account opening
So that I can sell everything and close my account
They are not responding to me… This is stopping my sell decision
Can I complaint you SeBi or any authority on this who can help to keep the same brokerage what they promised me while converting… so that my sell also same brokerage happens… so that I can come out of Zerodha
Please advise
Hi AxisKumar, did you get reply back on the brokerage charges for non pis demat account in zerodha. I am little confused on brokerage changes for NRI from zerodh (NRE PIS and "non-pis NRO" demat account). can someone reply on this who is using zerodha as NRI
Regards,
Milind