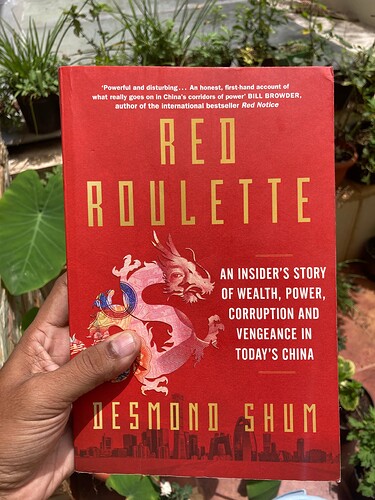 Red Roulette, Desmond Shum, 2021 - This is ghost-written account of Desmond Shum and his wife Whitney Duan in China that reads like a unputdownable political thriller. In the process we also learn how the CCP (Communist Party of China) works, including details about former Premier Wen Jiabao and family as well as Jiang Zemin. We all know about the tremendous economic progress China has made in the last couple of decades - this book gives an idea of the kleptocratic means through which it was achieved.
Some of the things I learnt from the book of how China works -
Unexplained disappearances happen regularly in China

The CCP were good at destroying a man's prized possessions - his dignity and self-respect (Takeover a successful business and make the owner do a menial job in his own business or takeover his home and make him live in a small corner of it)

Unless you are beholden to somebody, nobody will be beholden to you and you will never build deeper relationships (works in most low-trust environments)

Children are often berated by parents, expectation are high and criticism constant as they believe children learn by failure, not through success (curse of nations with less "perceived" opportunities per capita?)

The CCP divided the world into enemies and allies (alliances are temporary and allies expendable) - to win support internationally, cultivated "foreign friends" among left-wing intellectuals, journos and politicians

On May 1976 when Mao died, the teachers in Shum's school began crying, so the children started crying too - then the rule came down that playing and smiling wasn't allowed

Mainland vs Hong Kong in the 80s - Mainland had sticky friendships, people barged into your life. If you looked fat, they will announce it. If you were in financial trouble, they would demand details. If you wanted a partner in crime, they will volunteer. People in HK gave each other room

All elementary schools in Shanghai repeated a grade the year after Mao died as most of the year was spent commemorating his life

Losing your home early teaches you to find a piece of it wherever you'd be (Easier to drift)

The CCP rose to power by stirring up protests and mass movements and then suppressing them ferociously once they had served its purpose

Following Tiananmen square protests in 1989 - between '89-'92, Li Peng rolled back lot of market-oriented reforms and poured money into State-owned sector. China's economy slowed down dramatically

Rules were bendable if you had guanxi (connections). State changed rules often (Animal farm-ish :-))

Western business had a don't ask-don't tell business model (Pretend not to know the working conditions or type of labor for eg.)

Chinese were masters at shock-and-awe hospitality

China powered its way into the future by marrying entrepreneurial talent with political connections

Sons of daughters of premiers in CCP lived a life of aristocracy, intermarried, made fortunes selling access to their parents, inside information and regulatory approvals

Deng Xiaoping reforms from 1992 doubled economy by 1997 and it would double again by 2004 - private businesses boomed

Jack Ma, a former English teacher met Desmond Shum seeking $3m without a business plan on the premise that Goldman Sach's was ready to offer him $5m just based on idea

China was the intellectual property rip-off of the world churning out pirated software and DVDs

If you want to jump, you must first learn to bow (Chinese proverb)

Meeting with officials were formal - you must be like a kid in a classroom, perched on the edge of you seat, and not speak unless spoken to

PLA (People's Liberation Army) wasn't the army of the state, it was the army of the party (wow)

CCP had spent years suppressing desires - material and sexual and that even the air in Beijing contained hormones (during the rapid growth phase in early 2000s)

Evangelical Christianity had found fertile soil in Chinese country-side for generations

PLA (CCP's army) was into all sorts of businesses - food production, pharma, wineries and weapons

When cultivating someone powerful in China, the pursuer should never appear too eager

Singaporeans knew how the game was played in China and profited considerably (Front-running IPOs through firms in the mainland)

When a man attains premiership, even his pets ascend to heaven (Chinese proverb)

Like fish that cleans the teeth of crocodiles (feeding off corruption of CCP)

Cold-hearted calculation and manipulation but also genuine emotion (on how Wen Jiabao's wife cultivated ties)

Jiang Zemin often dispatched emissaries to exert influence on behalf of his children and grand-children

Only Red aristocrats got access to monopoly business. They wouldn't bet unless it was a sure bet (Deng Xiaoping's relatives paid nothing for bottling water in Tibet)

Given the multitude of investment opportunities, everyone was leveraged to the hilt

When Chinese govt. passes laws, they are invariably retroactive - action from the past can become crimes now

Putting on airs was part of the game (Fake it before you make it)

License plates constituted a language of their own - party plates, military plates, black foreigner plates etc - with the right plates you could cruise down a bus-only lane, drive on sidewalks or make illegal U-turns. Money doesn't buy these plates - only guanxi (connections)

Competing state-owned telephone companies ripped each others' lines - even though they were all owned by the state (!)

Duopolies were common in China - one entity owned by state and another by red aristocrat

When one part of the bureaucracy makes a killing, other parts smell blood too

Rules were gray, fuzzy, constantly changing and always backdated

One child policy - people would go to another country and have second child or undergo sex-selective abortions

Some superstitious group of Chinese named their children Smelly Mutt or Dog's Balls to avoid wrath of jealous ghosts

Wealthy people aren't so much brilliant as lucky

Westerners thought they were helping China evolve into a pluralistic society with a freer market but the CCP was employing Western financial techniques to strengthen itself (On listing of State-owned telecom in NYSE with Goldman)

Biding one's time is one of the key tenets of Sun Tzu's 'The art of war'

New capitalist class in China wanted a voice - for protection of property, investments and rights and a fair judiciary - but they had no say

By 2006, CCP wanted to weaken the moneyed class, uproot the civil society and reassert the party's ideological and economic control (through corruption charges of course). Forced mergers followed by state-owned firms and private companies

In China, long-term business model wouldn't work. The smart way to do business in China was to build something, sell it, take money off the table and go back in or you may lose it all (Explained succinctly by Shanghai composite index chart)

Jack Ma (Alibaba) and Pony Ma (Tencent) would be compelled to serve the party and spy for the state

China stimulates the economy through the state-owned sector than convincing entrepreneurs to invest

Anytime the CCP can swing towards repression, it will (Leninist system)

When Deng Xiaoping took over in 70s, the state was bankrupt and so free-market capitalism was ushered in as a necessity and not by belief (sort of our 90s reforms?)

Red aristocrats were given a prison sentence and commoners a bullet in the head for corruption

A Chinese business who hasn't been to jail, hasn't achieved anything

Retired senior leaders of the CCP cannot leave the country (wow)

Getting one's fortune told was the rage among China's elite. In its 70 years of power the CCP had destroyed religion and in its vacuum, superstition took hold

People were so scared of getting arrested that they did not want to make decisions (On arrests made in Xi's first term)

By 2020, CCP had investigated 2.7 million officials for corruption and punished over 1.5 million

One country, two systems arrangement for Hong Kong allowed significant democracy and freedom of religion, speech and assembly. Xi broke these promises and took a nasty hard-line turn

Hong Kong - CCP wanted to vet candidates that could contest HK elections (what good is a democracy without democratic process?). By 2020, the CCP had imposed national security law nullifying freedom of speech

The CCP could fabricate evidence, force confessions, and level whatever charges it chooses, untethered from facts. People would believe the charges since the system was so opaque (like China's economic growth rate). Impossible to separate fact from fiction

People and their careers could get airbrushed out of existence from photos and videoclips

Xi consolidated power using the infinite fungibility of Chinese laws

Xi grabbed so much power that Chinese began calling him "the chairman of everything". In 2018 he rammed through an amendment that ended term limits on his presidency

So many people wanted to move their capital overseas that the party slapped capital controls (2016)

More than wealth and professional success, basic dignity and human rights are life's most precious gifts.
The peel-all-of-the-layers-off approach was fantastic and I loved how so much information about a country that functions as a black box were delivered in a thoroughly enjoyable read. 10/10