Seeing what we have seen of PSBs and particularly PNB, this could very well mean other things.
I did some Moat Analysis and require some inputs/data validation in some points which highlighted in red(??): provide your feed back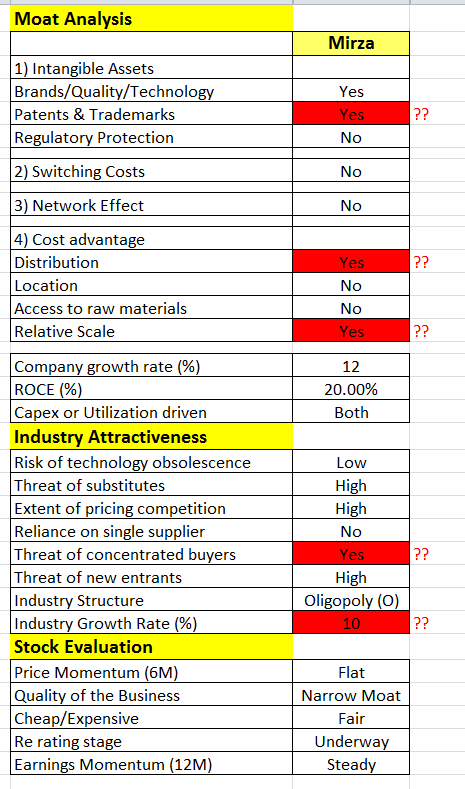 Mirza q4 fy 18 results

Degrowth in both domestic and export revenues compared to last quarter.
Receivables and inventories have also gone up considerably.
Regards
Krishna
i think it has to compared YOY due to seasonal in nature ( Diwali in Q3)
Inventory, receivables significantly grown. receivables almost doubled…need to deep dive into numbers
Management talks on these aspects in the conference call…Mostly high inventory to cater to the growing product categories and to stock in the growing number of stores…
Disc : - Invested
Today Relaxo and Bata at 52 week high … Mirza not joining the party …
Could not find any recent thread (Relaxo and Bata thread are old) …
Any views on the sudden interest and rally in Footwear stocks ?
Full 2 page ad in Lucknow times today. Also noticed flash of "Red Tape" as the "most wanted" or "top brand in focus" on apps like Myntra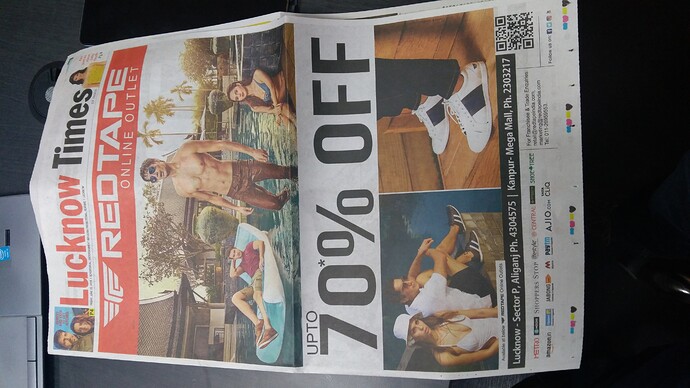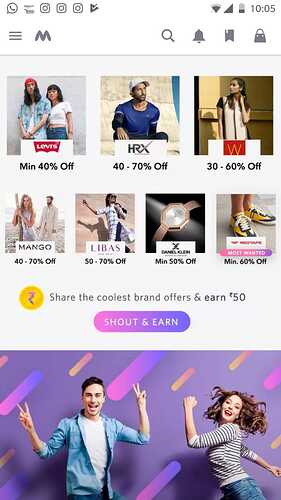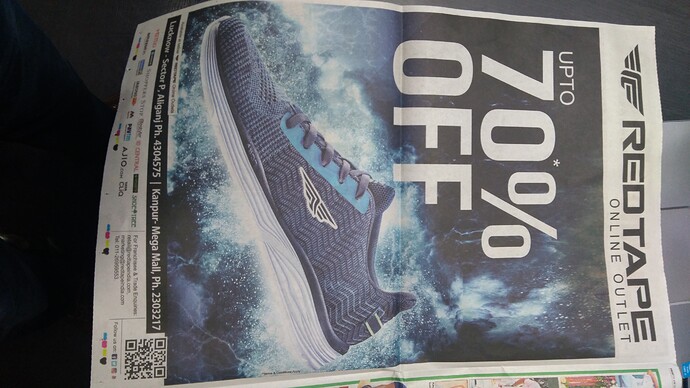 On the negative - they have just 2 large format stores in Lucknow and Kanpur and yet they have given such a huge ad
Since the ads are specific for Online it should not matter.
Any idea why change in inventory is so huge? Higher than profits makes me cautious.
Some scuttlebutt(not invested and just pointing my random observations):
I was once flying on a business trip from Dubai to New York - found the promoters and an associate on business class of Emirates A380. A brief interaction showed he was focused on exports saying domestic brand building is not an easy job, but that was 2015.
Corporate finance issue: I think its just a few more active MIrza's want higher share from family business and hence this guarantee
I feel these guys are down selling their brand when it comes to non-shoes. Look online, while blackberry/AllenSolly/Arrow would price shirts around 1500+ with 20-30% discount, more often than not RedTape shirts are available for 700 and many times for 70% discount. Even visit to Indian stores show heavy discounting on shoes by red tape. def not ROE accretive.
@RamanTiwari Yes, they were Export oriented some time back as they saw more margins there that time.
But from last year they started looking at domestic business. What they started with was doing a soft launch for their sports shoes, which was first imported from China (almost every shoe maker does that). They got a good response. And eventually started focusing on the domestic. That is visible from their segment wise sales numbers.
Now you can find presence of redtape shoes in most of the big retail chains as well online sites. Agree with the point that they are offering huge discounts, that may be because they want to capture good market share now.
It's just a guess.
There could be some of reasons as below
Domestic focus is just started so they would have built inventory
They are also selling through e-commerce channels so they would have kept good inventories at e-commerce players fulfillment centers as well
See all above said qualities in the article can be found in red tape also, whether it's ankle comfort or shoe laces binding design & comfort with mouth watering price advantage.Am I right or not?, please give your views fellow brothers.
Over weekend I could visit one of the red tape store to confirm few things mentioned during company concall. I could get share some information from manager.
The centre I visited is located in prime market place with all reputed brand showrooms in surrounding areas.
It was small store of approximately 500 sq feet area, not the large format one which I wanted to visit.
They work on the franchise model. Store owner has done security deposit of around 40 lac with Mirza international. Manager wasn't aware margins they get.
During last three months business has been decent. Last year his store has negative growth of 1% as informed to him during meeting.
On an average, company will replace the stock twice in 6 months in stores.Company will not bill them on transfer of stock. Revenue is booked on selling the product to the customer.
Average business for this particular showroom is around 10 lac/month and around 13lac during peak season. He said business of 30 to 40 lac happens in large stores. Large stores will have many variety of collections and discounts for customers.
Whatever was available at his show room was red tape brand of men section only. Born street/women sports wear were not available for sale. He said those things will be available in large stores.
65% of business is by shoes/sandals, 30% comes from apparels and the remaining 5% from accessories like belts/perfume.
No discount on new arrivals. Discounts in the range of 50 to 60% for old stock for clearance sale. They have kept the discount items in the front row to clear them quickly. The clearance sale items had limitations in terms of size and colors. He was very confident on clearing all the old stock of 6 months to one year duration.
During my stay of around 40 min I noticed decent crowd. Around 7 customers visited and most of them(except two) bought the products including me.
Overall experience in the store was impressive.
Dscl:not invested. May invest
Well i wud like to add up here…i had to buy formal shoes for my graduation day and i visited vega city mall in bangalore jp nagar and went to a showroom i guess it was life style or shopper stop where big brands like luis philip and hush puppies are sold and to be frank i like the the one with red tape coz in my budget of 3.5k i was getting a product as same as louis philip…and that impressed me a lot.
One thing I don't understand why they launched another brand bond street for formal shoes when they have a established brand like red tape? They can launch formal shoes under red tape also it ill take less time to attract customers…
its a sub brand and PU(cheaper one) like sky is sub brand of VIP
We have the domestic sales engine firing on all cylinders (30% vol growth doable over the medium term), international sales may take more time to come back to a hygienic growth rate but the INR depreciation can really help here.
The key question in my mind is what the trade off over the next 2-3 years in terms to capital efficiency to drive the strong domestic sales growth? Working capital, channel capex and debt levels will all increase but I think CMP provides a good margin of safety after accounting for all these variables.
Ramping up my buy quantity as the stock falls further, around 1300-1400 Cr is what I would not mind paying for this story, currently this is close to 1200 Cr at a trailing P/E of 15.
One year back promoters had done some good open market buying around 84 rupee. Considering the additional profit generated on books, I think valuation wise we are very close to that price. The only thing in my opinion management needs to understand is not to be million wise billion foolish
(can't say they ve been taking only pennies from books)