Just checked the screener, promoter stake has increased by 2.91%, looks a good sign
In spite of the above article, I still believe that footwear industry in India has a great time ahead because of GST effect as one can in the above mentioned article that unorganized sector holds a lot of market share so after implementation of GST I think sector can change. AM I RIGHT?
Views are invited. Not invested
company has set up a 70,000 sq ft warehouse in Noida in order to serve e- commerce channels like flipkart , myantra , snapdeal, amazon, etc. It is selling its branded products directly online instead of using distributors and dealers. The products offered online will be different from the ones present in the retail stores.
The company currently has 130 EBOs ( half franchise half self owned). The company plans to increase this to 180 within the next 2 years.
The company is planning to launch a new brand 'Bondstreet' which is in the affordable segment ( 1200-1900 rupees) Since majority of Indian market is in the unorganized segment and in the same price range segment this looks like an exciting growth opportunity.
The company has doubled its ad spend over the last 5 years; ad spends as proportion of branded product sales is 10 percent.
The company does not have client concentration risk; as the clients include River Island , ASOS , Matalan, Elan Polo, etc.
At present the company has 73 percent of its exports from UK and 14 percent of its exports from US. Hence the revival of economy of UK is very important to the company. Looks the like the economy will be back on track by FY18.
The company has increased its capacity from 5.4 million pairs to 6.4 millions pairs per annum on acquiring genesis footwear.
Can anyone discuss the present capacity utilization of the shoe division?
Interview with MD - http://www.moneycontrol.com/news/business/looking-to-expand-presenceus-mirza-international_8179381.html
Key points -
* Launched Bondstreet brand, concentrating on US and Indian markets now.
* Started selling Redtape under own brand in US.
* Performance sports shoes foray to start in March/April 2018 to compete with Adidas/Nike. Already under production. Launch in India and UK initially.
* Domestic sales growing at rate of 25%. Export oriented sales fell 3/4 %.
* Hope to double US market share to 15% by next year end.
* Year end sales figures will be flattish compared to last year.
* No comment made on debt and margins.
I would like to get the opinion of more experienced investors here who've followed Mirza and other footwear companies.
Q. Why this foray into sportswear? Does it command higher margins? Since Mirza is a pure leather player, doesn't it mean that there will be change in its raw materials? Is this a positive or a negative? - I'm hunch is to think of it as a negative because it won't be easy to compete with established players and Mirza is going out of its circle of competence.
The problem with investment into companies like Mirza International is the classic case of company doing excellently, but not the stock. I believe this arises because of the nature of the entity being a family business that prioritizes self before other shareholders. This is also evident in the obscenely high salaries taken by the management. The management could choose to remunerate itself through dividends, for which cash seems to be ample, but they have instead chosen to enrich themselves.
Further, these kind of businesses simply see a succession of children joining the company and taking up comfortable salaries for themselves. They may work hard, but this prevents the company from being seen as a professional meritocracy driven organization.
These reasons are perhaps also why mutual funds rarely invest in these kind of businesses. Another such company I really liked but declined to invest in is Arrow Coated Products (Arrow Greentech now). For the kind of balance sheet and financial ratios sported by ACP, there is no reason to trade in the 15-17 PE range, but it does. There too, one will see high promoter salaries, children being inducted onto the Board and very low dividends. Again, no mutual fund participation in ACP, whereas for professionally managed firms such B/S and ratios would have been lapped up by all and sundry.
I have long pondered why companies like Mirza and ACP never get the valuation they seemingly deserve despite having an excellent business. The above is what I have distilled the reasons into.
I agree with you Tushar . In fact the merger of Genesis footwear has not done any good to the company. The equity has gone up where as the profits which Genesis was making from supplies to Mirza before merger does not seem to have got added to Mirza's profit as profits have remained flat post merger. Probably promoters have cheated the non-promoters shareholders.
Mirza International seems to present an exciting investment opportunity. The focus is gradually shifting to the Indian markets where the Co. has been consistently growing at about 25-30% for the last few years. This growth is set to gain further momentum going forward with the recent launch of its new brand "Bond Street", targeted at the mass middle class segment, where the opportunity size is huge. The mgt. expects this opportunity size to be at least 4 times the size of their existing brand "Red Tape". The initial supplies of "Bond Street" are being manufactured in China & the Co. is only using its existing marketing network. The Co. is sitting on surplus capacity & the current production lines can be used for manufacturing the new brand in due course. One of the main investment thesis is that the Co. will not need to invest in building capacities in the foreseeable future. It is also looking to pare debt.
The company is also looking to introduce a sports-wear brand in domestic markets in the current year, once again to be initially produced in China.
Selling branded products in the domestic market vis-à-vis selling white label products in the export markets is also expected to improve margins. And with the company introducing more consumer facing products, it is only a matter of time before it gets re-rated. It is available at 12 times 16-17 earnings in a sector where average multiples are twice that.
The quality of governance in this company is not very high. The promoter salaries are quite exorbitant, which demonstrates that the promoter would rather pay himself through salary rather than dividends, which helps minority shareholders too (ignore the tax angle). The management is also completely dominated by family individuals, and it seems they are all being born just to get involved in the company. Sure, one of them could professionalize the company, but that is a gander.
The above are the reasons why this company has never caught the focus of institutions or the retail public, and it is likely to remain so. Also note that the leather industry is facing heavy headwinds in India.
sir jee, check the related party transaction, to give personal guarantee for loan, promoters ve been extracting lot of money apart from taking hefty salaries. 4 years back, money paid for these guarantees were 3.4 crores which is now 9 crore. Even by logic, when debt is falling, how amount being charged for loan guarantee increasing. salary + such money charged is 16% of PAT and keeps on increasing. I have no doubt about product, growth prospects, valuations but corporate governance is a spoil sport. Can agree everything has a value but how much when promoters show such behavior is the question. My tracking entry arguement to myself was if quality of financials is 65-70% closer to relaxo, why valuations are 30% of Relaxo. May be corporate governance. But then this is bull market and even this one can fly as if you remove corporate governance part, no doubt, it is attractively priced. Disc: Had entered at 84 and 71 with a tracking position few months back but after detailed study about such management practices sold off, now no holdings
Good Morning,
I have been watching Mirza International for quite sometime. Seems to be a great business mostly export oriented. The following concerns about the industry particularly Mirza Int. keeps me away from it.
What will be the effect of BREXIT on the company business.
Availability of raw material, identified in their 2016 annual report as one of the risk and concerns. Which was foreseen as a future risk is now actually materializing due to ban in UP. Will be interesting to see how the company handles it.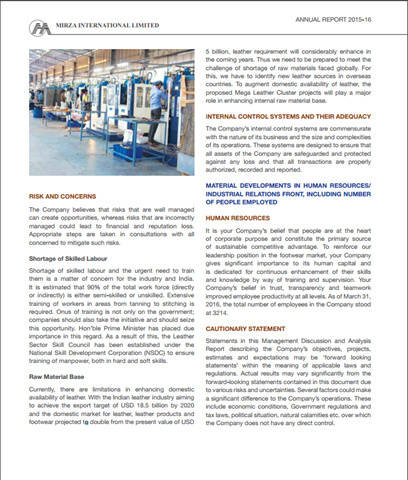 Regards,
Seems to me a company in transition. Its Oaktrak brand has rave reviews on many portals and seems to be well made. Red Tape is a well established brand in India and well poised to grow systematically. Bondstreet is a brand extension of Red Tape for India. The hard part of giving birth to a name and having it reside in the thoughts of a customer as a brand seems to have been carried out well by Mirza.
When analysing companies like Mirza one should think in terms of brands and not products. I also think that its investments in the leather operations are a massive moat. Leather is a scarce commodity and will increasingly become scarce ( and hence expensive) in the times to come and companies like Mirza who can buy, process and sell massive amounts of leather will become more valuable over time. Genuine Leather commands a substantial premium in the market.
Its foray into athletic shoes in 2018 is also well timed and will add to its profits. It is a major derisking move.
On the debt side - its got a interest coverage of 5.61 which is healthy. Its got a ROCE of ~20%. Its paying its taxes @33% and is also turning its profits into cash flows ( Cumulative 5 yrs PAT = 251cr & Cash from operations = 375 crs)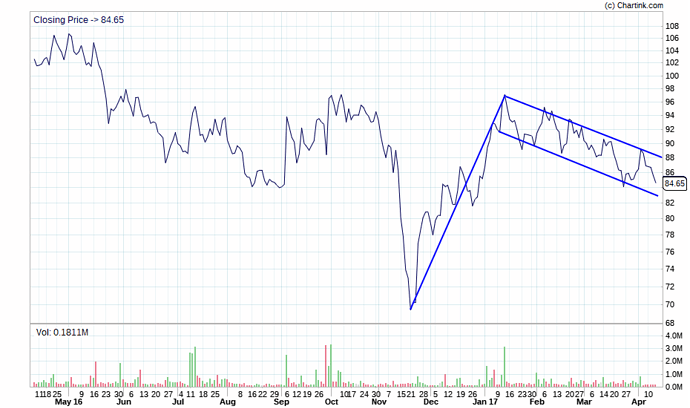 On the technical side - I dont think the prices are going anywhere anytime soon. In fact , i would wait for the prices to break out of the flag pattern that it seems to have formed. There is a strong resistance at 97 levels being the previous two major tops. price will have to move past them to move which means that prices have to move by >15% from current levels. I think this is a great opportunity to accumulate in the next week or so systematically at lower prices.
Happy Investing!
How do you see poor corporate governance and it's impact on valuation
I have no view on governance. As long as the company keeps growing and turning profits into cash i am happy to ride along. When that party stops you move onto the next opportunity. Karele ka mithai toh nahi banta isliye one should stop expecting the mithaas of good governance.
You are absolutely right. It zoomed. Eagerly waiting for their Q4 results.
Some issues that were brought up when i was doing a CG check. Would invite your comments on the same.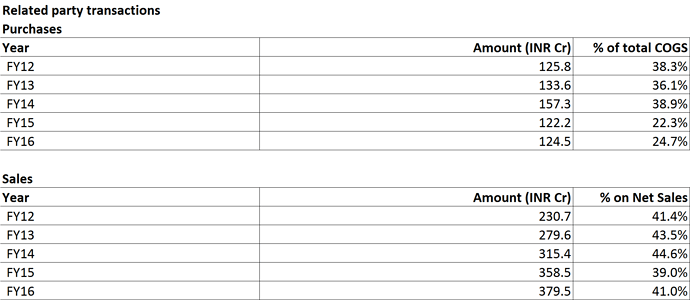 Should not the commission on guarantee be added to remuneration paid to directors and then it should be seen if the amount being paid is as per the limits laid down in the Companies Act? In the light of
the fact that the company is backing up it with the counter-guarantee, it is the open steal by the promoters.
Yes tht is the case and one needs to take his call based on whether he wants to ride with such management if business has a scope to perform or not and if yes then at what price to safeguard his risk
Promoters and the Company (borrower) are 2 separate legal entities. The company (as a borrower) is liable for the loans/working capital facilities it has taken. As owners of a limited liability company, they are liable to the lenders only to the extent of their shareholding % in the company. In case of default, personal guarantee of the owners gives the lenders access to the personal assets of the owners, other than their shareholding in the company (borrower). Personal guarantee gets invoked when the company defaults. The company in turn counter guaranteeing the personal guarantee given by the owners, is MEANINGLESS. Wonder how the lenders have accepted this. Vijay Mallya had also done this with Kingfisher and other cos. Not aware of other companies / promoters doing this (due to my limited knowledge)