You compared EBIT numbers & margins of Redtape with EBITDA numbers & margins of competitors.
Good catch! I missed that. But I don't think margins would jump significantly if I try and take EBITDA figs of Mirza. 12crs depreciation incurred overall for the quarter. If I do an equal allocation between the segments, then EBITDA for Shoe segment is 20%, while that for apparel segment is 23%.
Shoe segment still has ways to go given the ASP that is comparable to Metro / Bata
Red Tape Q1 numbers are superlative. Sales at 393 crs are quite likely at an all time high in terms of branded sales. A YOY growth of 57%. The operating margins too are perhaps at an all time high of 21%. The fact that Q1 historically has not been their best qtr only adds glow to the numbers! Usually its the festive Q3 that has the highest Sales & profits. Even if the Co. can grow at 35% in 23-24 & maintain operating margins at 20%, the Co. could well end the year with profits of about 240 crs with an EPS of about 17-18. The Co. enjoys a high ROCE of 37% if my numbers are correct. This will only improve in the current year. Being largely a fashion/ marketing Co., of some scale, it is quite likely to attract the fancy of investors. A listing below 300 could be very interesting, though perhaps unlikely.
any idea on listing date of Redtape ?
Hello everyone, I have been tracking this company and learning more about it from the detailed posts shared on this thread. Like most of us, I am excited about the growth in Redtape business. I, however, haven't been able to reconcile the store-count related data shared across past annual reports. For example, the below section from FY2022 AR seems rather confusing to me. It says the total EBO store count is 348. It is then mentioned that number of offline EBOs in prime areas is 225 and finally number of online-offline stores (which are in outskirts) is 348! How can the total number of stores be equal to stores in the outskirts? How do we account for the rest of the 225 stores in prime city areas? Am I missing something very obvious here?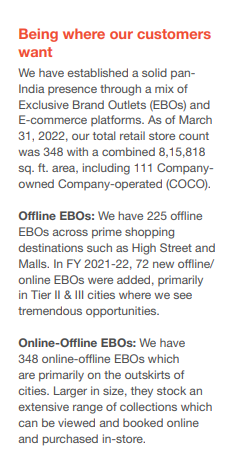 I have prepared a table containing the store count data in ARs of FY20, 21 and 22, and notice the same pattern.
| Number of stores | 2020 | 2021 | 2022 | 2023 |
| --- | --- | --- | --- | --- |
| Total EBOs | 222 | 276 | 348 | 390 |
| offline EBOs (in prime locations) | 61 | 153 | 225 | |
| Online-offline EBOs (outside the cities) | 222 | 276 | 348 | |
| Shop in shop (or MBOs) | 830 | 246 | 245 | |
| | | | | |
| | | | | |
| Revenue from EBOs (In Rs. Cr) | 371 | 462 | 798 | |
| MBOs | 83.9 | 0 | 0 | |
| Ecommerce | 212 | 207.9 | 283.9 | |
| Total | 666.9 | 669.9 | 1081.9 | |
Further, I notice that while each AR highlights the company's MBO presence, there is no revenue being ascribed to this channel FY21 onwards.
Separately, Redtape Limited's FY23 and Q1-24 numbers look impressive on the growth front. I observe that it has inherited a manufacturing facility from the erstwhile parent and has even undertaken a significant amount of capex (163 cr) in FY23, which is visible in the cash flow statement. It seems these funds have gone towards enhancing manufacturing capacity (the details of CWIP mention unit-5 and unit-3), and presumably for development of new stores.
It will be interesting to know what proportion of the stores are owned by the company, whose real estate would be on the company's balance sheet (FY22 AR says 111 stores are company owned and company operated). It will also be nice if the management can share more details on arrangement with franchise operators (deposits from franchisees seems to continue to grow with FY23 number at 122 Cr).
Finally, the balance sheet looks a little stretched on the working capital side, with inventory growing by over 50% and trade payables growing by over 100% (March 31, 23 vs March 31, 22).
Clarity on these aspects can go a long way in helping investors build conviction on Redtape Limited. (esp. considering the past concerns)
Disc: Invested just before the demerger, but interested in increasing my position size in Redtape Limited
Just to close my question on store count, I went through old con-call recordings (which are not available on company website for some reason) and collected the below information:
| | Q4FY19 CC | FY19AR | Q1FY20 CC | Q3FY20 CC | FY2020AR | FY2021AR | FY2022AR | |
| --- | --- | --- | --- | --- | --- | --- | --- | --- |
| | | | | | | | | |
| small/offline | 156 | 153 | 159 | 164 | | | 225 | |
| large/online | 44 | 53 | 50 | 56 | | | 123 | (Assuming 225 is correct count for small/offline stores) |
| factory shops | | | | 7 | | | | |
| | 200 | 206 | 209 | 227 | 222 | 276 | 348 | |
It seems to me that Mirza International jumbled up store-count related information in three consecutive annual reports (FY20, 21 and 22), which is surprising, but appears to be an inadvertent error.
Also, when I was trying to reconcile these numbers, I noticed that there were no lease liability payments recorded in Red Tape Limited's FY23 cash flow statement (part of recently released newspaper advertisement). That obviously doesn't look accurate. To be fair, the relevant lease liability entries seem to have been passed in income statement (part of depreciation and interest)

I am not sure what to make of these observations (should they be seen as sign of loose controls/reporting standards?)
Redtape is listing on 11th August 2023
CML57905.pdf (169.7 KB)
Rev Growth for Q1FY24
TCNS - Revenue degrowth of 12%
Cantabil - Revenue growth of 11%
ABFRL - Revenue growth of 11%
Manyavar - Revenue degrowth of 4%
Nykaa Fashion GMV - 12%
RedTape has done 17% growth in its apparel segment, which appears to be industry-leading in an challenging environment (Nykaa commented that the consumer just wasn't interested in this quarter, ABFRL mentioned "demand sluggishness", Manyavar said fewer wedding dates)
Just going by this analysis, it appears RedTape is gaining market share.
D - Invested. Added more post listing.
on refusal to allot REDTAPE Shares both by ICICI DIRECT and MIRZA International, I had put up a complaint with SEBI SCORES and they transferred my complaint to GRIEVANCES PORTAL of NSE. NSE took up my case promptly with ICICI Securities and followed it up very meticulsouly. ICICI SECURITIES has credited the REDTAPE SHARES to my account today. Just for info of those who are in similar circumstances.
Shares were not there in my DEMAT Account at all. In fact, they intimated that I am not eligible for REDTAPE Shares.
This is not an issue, in ICICI Direct when any share is added from a demerger, you have to add it manually. Just go to advance options under stocks portfolio and then go to Demat reconciliation, there you'll find the data and then you can add it to your portfolio. attaching a youtube video which helped me.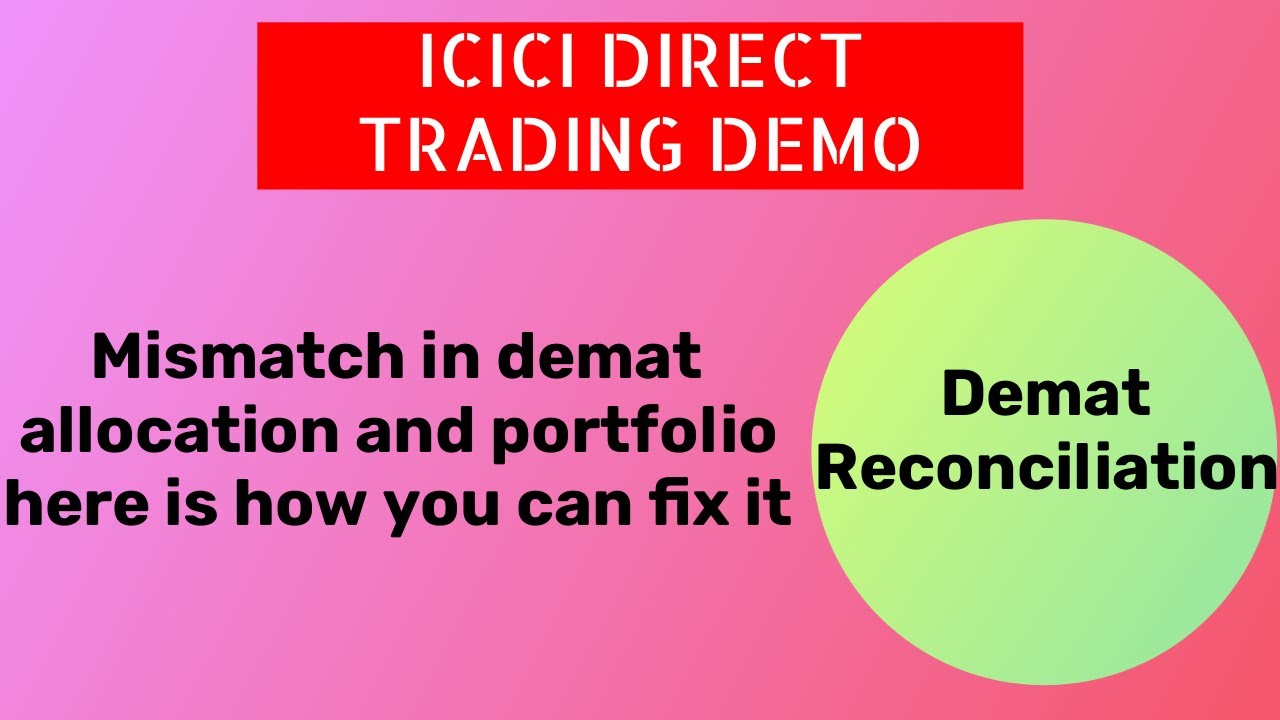 What is driving Mirza's recent performance in shoes?
Sneakers. Just look at the google trend data for keyword "redtape sneakers":-

Rising trendline since last 2 years or so. If you then check Amazon's bestsellers for men's sneakers, you see 3 or 4 SKUs by RedTape in the top 10 and many more in top 50. Their designs are good but reviews often complaint of quality. I guess they'll need to fix that over some time.
Also sneaker market - how big is it? what's the growth rate?
The sneaker industry in India grows larger every minute. In 2022, the revenue in the sneakers segment amounts to nearly $2.46 Billion USD and is said to witness a volume growth of about 20.5 per cent in 2023. - Deconstructing India's Sneaker Culture - Luxebook
I guess over a medium / long term - a good question to ask RedTape is whether they intend to collaborate with any star for sneakers or do they wish to compete with resellers like Mainstreet Marketplace given the existing price points of RedTape (sub 2k).
Any idea about who is Ms. Yasmin Mirza in Mirza family?
What's her relationship with Rashid Ahmed Mirza and Shuja Mirza?
The thesis has played out beautifully here.
Latest annual report is out. And no guarantee commissions.


Total payment to directors of 7cr (mostly salary to Shuja, who richly deserves it IMO) which is 5% of PAT.
Contrast this with payment to directors of 14cr in FY22 (from mirza Anual report).


Even if we include the mirza int FY23 payment this is flat compared to FY22 numbers while PAT has grown well. Importantly most of PAT comes from Redtape, most of director remuneration from Mirza. So Redtape shareholders have nothing to worry about.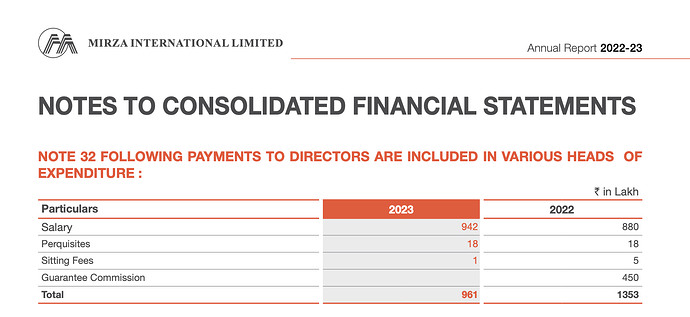 Some more notes:
Industry Tailwinds/TAM
The FMCG, apparel & footwear, and consumer electronics are the largest retail segments in India, constituting 65%, 10%, and 9% respectively of the retail market. Online shoppers in India are expected to reach 500 million by 2030 and the e-Commerce market is expected to touch US$ 350 billion in GMV by 2030.

35B$ online TAM for redtape.

India is the world's second-largest buyer and producer of footwear, with an eight-fold rise expected by 2030. The Indian footwear industry is projected to grow by 24.73 percent per year (CAGR 2021-2025)

Nearly 85% of the Indian footwear industry comprises unorganised players who sell their products at meagre prices and enjoy multiple benefits such as lower sales tax, lower overhead cost, lower labour cost and absence of research and development (R&D) expenses

Shift to Organized has HUGE TAM
Strategy
Over the years, we have broadbased our brand presence across various fashion verticals, and tapped into the men's clothing and accessory category in 2006. Today, our brand also caters to the fashion needs in the female and kids clothing and accessory category
improved our penetration in existent markets leveraging our strong omni-channel presence, especially with a strong focus on digital infrastructure
Growth
Redtape stores grown from 348 to 387. (11% growth). So good SSSG too.
Business Details
The Company is having 100% controlling stake in M/s Mirza Bangla Limited. Mirza Bangla Limited was acquired under the Scheme of Arrangement from Mirza International Limited. However due to pending completion of legal formalities for transfer, investment are still held in the name of Mirza International Limited. ** The Company is partner in M/s Sen En Mirza Industrial Supply Chain LLP having Profit sharing of 52%.
Inventory turnover ratio of 2.82 is healthy.
For comparison, Relaxo is at 3.2. Campus 3.66. Metro shoes is at 1.67. Bata is at 1.71. So redtape is better than most, but there is some headroom to expand more. My guess is, Inventory turnover might be a tradeoff with margins. Need to understand this better.
Durable Competitive Advantages
With a legacy of almost 3 decades, REDTAPE has emerged as one of India's most trusted fashion and lifestyle brand with a strong presence not only limited to domestic but also international markets

We have an integrated footwear manufacturing unit based out of UPSIDC Industrial Area in Uttar Pradesh

It is on the balance sheet of Redtape

And they make sports/casual shoes along with leather shoes

two online MP warehouses located at Noida Sector 59 and UPSIDC Industrial Area Unnao in Uttar Pradesh

we have been conducting extensive research and making consistent product innovations to cater to the everchanging fashion trends across the world.

Redtape: Athleisure: Men's Apparels, Shoes and Women's Footwear, Accessories

Mode by REDTAPE: Women's Ethnic wear

Bond Street by REDTAPE: Men's Casual footwear

At REDTAPE, we have carved our growth trajectory on the back of a strong brand recall which is synonymous with trust, quality and the latest fashion(Fast fashion).
Management
Shuja: A graduate in science from the California State University, USA, Mr. Shuja Mirza has a rich experience in the field of marketing. Leveraging his experience, he is managing operations, product design, development and manufacturing. He also introduced the Retailing Units and Online Division in the Company, which helped us grow exponentially. Additionally, owing to his exposure in the international markets, he is also responsible for diversifying and bringing the needed vigor to the Company
Disc: Invested, biased
Hi Sahil Sir,
In other expenses there is Commission expenses which is increased from 45 cr to 222 cr. What is this for ?

The increase will appear high because of accounting. Even revenue went up multifold that is coz redtape the FY22 subsidiary (which is now demerged company) didnt have all redtape business. Check absolute numbers. THis comission is likely comission to franchise owners. So about 15% of topline is going as comission to franchise owners.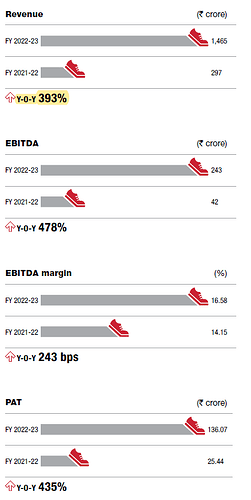 are these numbers correctly reported in their AR? How did they manage to show such growth numbers in FY 23?
Also RPTs in the form of rent and maintenance and other expenses continue in the current AR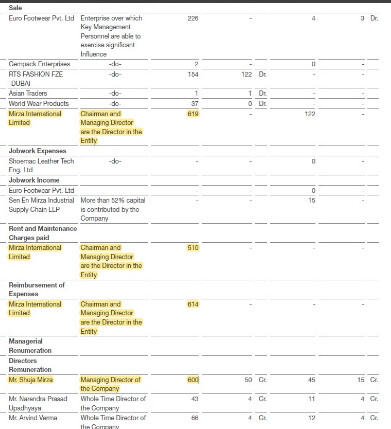 Thanks @sahil_vi for your insightful post.
The guarantee commission issue is now clearly a thing of the past. Redtape is now being run by one branch of the family rather than multiple family branches, each looking for spoils! This will go a long way in improving corporate governance going forward.
If the foot ware industry as a whole is indeed expected to grow 8 fold over the next 6-7 years & annually at about 25%, then clearly Redtape is in a sweet spot & set to benefit immensely over the said period. It is not unreasonable to assume that Redtape can continue to grow at about 29%, the growth it exhibited in Q1. If it can sustain Q1 margins, then the stock at CMP of 440 is trading about 25 times for the current year 23-24. Investors can gauge for themselves how they want to value the Co., but to me it seems further re-rating is a definite possibility, but for that to happen, the market needs to reassured that corporate governance going forward will be top notch. Only time will tell.