Hitesh bhai really great insight. Even takeover of African company, tender business block for 2020-23 gives clear visibility.
Has anyone ever interacted with the management-either directly or as a business partner ? Trying to get a sense of how good the team is.
Since there are a lot of bullish sentiments, I think we need to think about possible risks the company might face.
Continuous capex and its associated complications. As of now demand scenario is good but in future if demand slowdown happens due to whatever reason, there can be problems of maintaining expanded capacities and servicing the debt.

Debt as mentioned in point 1. As of now interest rate is very comfortable at 6.6% (according to concall) but if interest rates were to rise, or if company were to face demand slowdown, high debt can be an overhang.

Currency movements. Currently Rupee is very weak as compared to USD and even against Euro and hence exporters are having a good time. Things can change on this front in future.

Any mishap in the plants due to some sort of accidents etc.

I see a keyman risk also because after listening to dr Chhava, I think he is the key man and a lot depends upon him.

Regulatory risks. Problem of disqualification by USFDA, WHO, or any other regulatory body.

Re emergence of China in the API field. With the Chinese you never know.

Last would be pledging. Deliberately putting this last as I think all the above risks are more relevant than No. 8 at this point of time.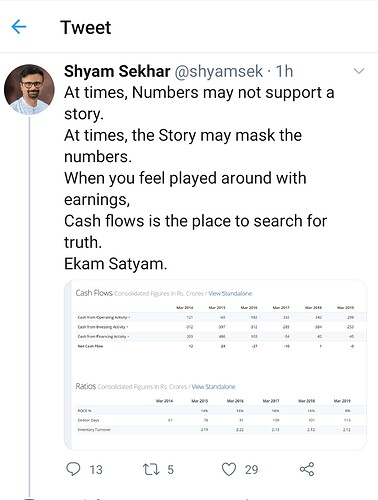 Can this be ignored in a company on rapid growth phase. Someone with accounting knowledge please comment.
Journey of a good growth company

Stage1: Growth with manageable debt (+ve CFO, +ve CFF, -ve CFI)

Stage2: Growth with internal cash flows (+ve CFO, -ve CFF, -ve CFI)

Stage3: Growth with Free cash flow generation (+ve CFO, -ve CFF[dividends & buybacks], -ve CFI)

— ℝ𝕖𝕓𝕖𝕝 𝕀𝕟𝕧𝕖𝕤𝕥𝕠𝕣 ™ (@mmvRavindra) July 20, 2020
Disclosure: Invested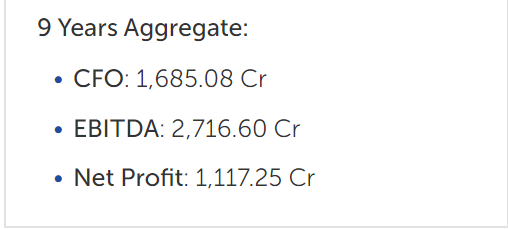 I cant understand his statement at first place.
Cash flow from operations is 1685 which is more than the net profit in that period.
Company has invested this amount in addition to that they borrowed 1000+ crores and raised 500+ crore equity and invested (2155 cr invested in last 6 years).
So, where is the question of positive free cash flow ?
He can claim whatever they claims to have invested doesnt exists. That question makes sense.
Satyam scam is one where cashflow from operations was shown as positive( although no cashflow in first place) and they hided it by showing as related companies loans ( similar to wirecard 2 billion in recent times).
Thete are 2 causes for consistent negative fcf
1…company is doing genuine huge expansion
2…company manipulates opex and show this expense as capex.
This will show good ocf but when we study fcf,it will be consistently negative.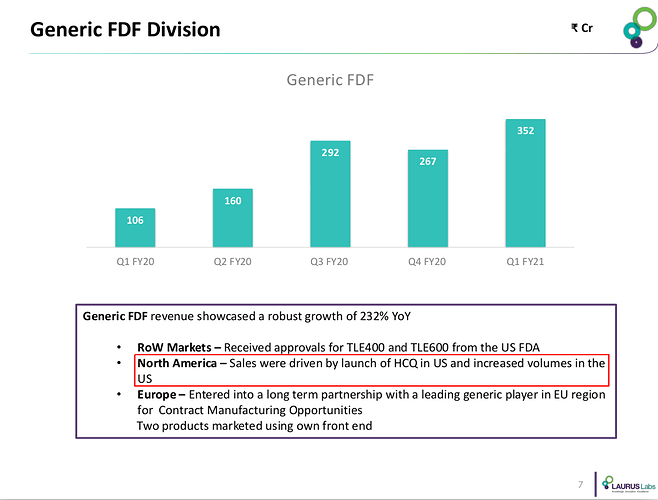 How much money can a company make by launching HCQ in US, 232% growth (yoy)?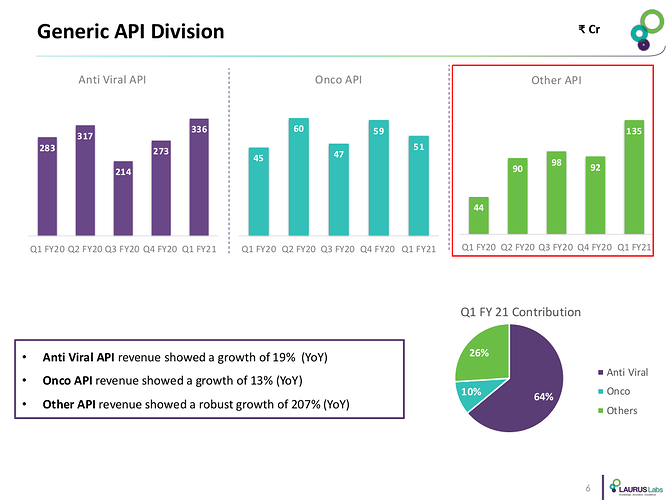 Other API showed a growth of 207%, also company mentions Efavirenz, Tenofovir & Gemcitabine API and their FDF as their main products in their fy20 annual report. Efavirenz is a AIDS drug, Tenofovir is HepB drug & Gemcitabine is a cancer drug.

I generally have no idea, how many API's a company can manufacture? What kind of capabilities are required to have API's in so many different areas of medicine?
Highest increase in FII holding during The Quarter Ended June 2020
FIIs seem to have lapped up large holdings in Laurus Labs. Good long term investors seem to be getting into it. The results also seem to match the exuberance.
At 1Q21 conf call, Mr Chava said they see a HUGE opportunity in the CDMO segment. But how can they have FDF and CDMO both given CDMO customers might have IP issues with that. If that's easy, why has Divi's labs not entered high margin FDF segment?
Also, looks like CDMO division has very high margins. I did some back of the envelope calc. for Divis labs's/Suven/Dishman segment-wise margins and found that CDMO segment margins are highest (CDMO - ~40-50% vs API 20-30%) while FDF margins could be ~5-10% higher vs APIs.
Laurus also incorporated a subsidiary Laurus Synthesis Private Limited to give an increased focus and then eventually assign a dedicated R&D and manufacturing site for its operations (maybe to comfort CDMO clients ).
FYI, Dr. Reddy also is into CDMO, and many others (including Biocon). So, IP issues are not a concern if the company is trustworthy.
So, that was solely Divi's strategy to remain in no competition mode. Neuland also seems to have the same strategy.
No competition strategy is the best way to gain confidence of innovators. And being an early starter in this domain made Divi's to adopt this strategy as then this outsourcing wave were not very much prevalent.
@sujay85 thanks for this explanation.
I am seeing mostly all pure play CDMO businesses (Syngene/Neuland/Divis) valued much higher on PE/EV-EBITDA basis vs. those in diversified API/CDMO/FDF.
Does that imply limited valuation re-rating opportunity for Laurus?
My rough analysis basis notes collected from concall. There could be misinterpretations , help me in correcting those. I have tried to quantify what could be expected in future if management delivers as promised. Notes are only for study purpose.
Disc: Invested
laurus Current & Future State.xlsx (5.6 MB)
Q1FY21 Results.pdf (646.3 KB)
Not sure. But you are seeing decent valuation for Laurus as it is growing much faster than the three names you mentioned and so PE gets reset after each quarterly results.
Does anybody know whether Laurus has the capabilities to manufacture Metformin Extended release tablets? If yes, are they already selling them? Google search says Laurus sells normal Metformin tablets.
Discl: Invested
Active Drugs as per USFDA Q2-20 : https://www.fda.gov/drugs/drug-master-files-dmfs/list-drug-master-files-dmfs
2Q2020EXCEL.xls (4.6 MB)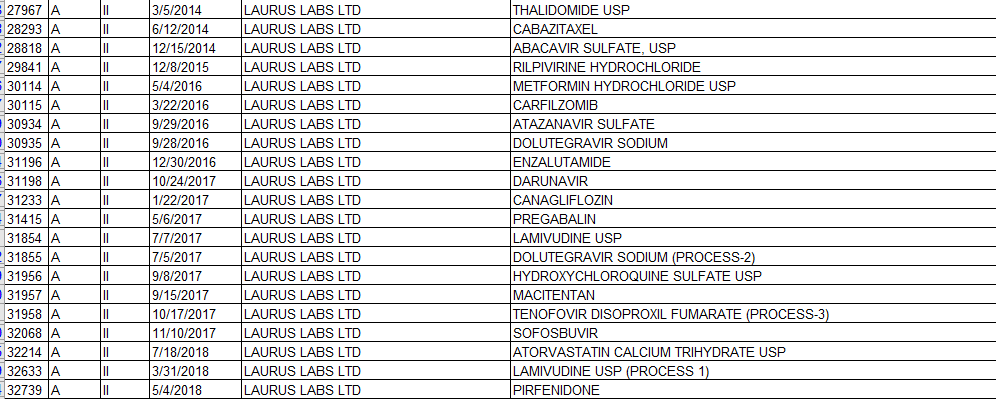 The link points to Drug Master Files (DMF). DMFs can be active or inactive. What is DMF? According to FDA, this is the answer.
I didn't get any impression there is something like active drug.