Great 10 points primer.
Where can we find this ?
Many thanks
Yes. You have to study the annual reports, financials etc. I use screener.in for financial data.
Hi @basumallick , how to identify whether any management is taking help of 'creative accounting' to improve financials in quarterly results?
Hi @csteja
I use https://www.talkwalker.com/ for alerts. It is free and alert quality is much better than google alerts. To organize various links, notes etc I use google keep which again is free - you can make multiple labels and write your own notes etc. I also visit MCCIA library in Pune - its a good resource to get industry related info. If I find anything in the library i take a pic and put it on google keep under the relevant label.
Best
Bheeshma
Hi
You can read the below books
Financial Shenanigans by Howard Schilt
Creative cash flow reporting
Investors,
What will be debt/equity of a finance company or bank. Does FDs taken from depositors considered as debt? I see few finance companies having D/E as 4. Is it normal?
Banks and NBFC business is borrowing to lend and they earn by credit expansion and hence they would always have higher debt equity ratio compared to non banking and non financial companies.
Yes
Some of The key things to monitor in a banks are NPA ( Non performing assets), NIM ( Net interest Margins ) , asset quality and consistent performance execution and management quality . Quality of management is hence more important in a bank/NBFC as due to high debt equity ratio , a relatively low loss as compared to other sectors can wipe off the equity .
Hello,
As a retail shareholder, can I ask questions during a company's concall. How do I go about it.
Thanks
Yes. Simply join the Concall and follow the instructions given by the Concall host. Most likely you will be asked to press and bunch of numbers. Then an operator will get in touch with you to make sure you are a genuine caller. After that, you'll be added to the question queue.
How do I join the concall
Hi
When I tried to join once , they said it's only for analyst . How does a minority shareholder join the concall ?
There are two different types of concalls: Analysts and Shareholders. Individuals can only join the Shareholders concall. The announcement of the Concall should contain details about whether it is an Analysts call or a Sharehodlers call.
Where can I find Midcap, smallcap and Nifty EPS, any website? Nifty is extensively covered on news channel. But I am curious on how small and midcap earnings (atleast index) fared each quarter. How can I find that out.
I was going through the annual report of Page Industries 2018-19 and I have the below doubt regarding Inventory from cash flow statement.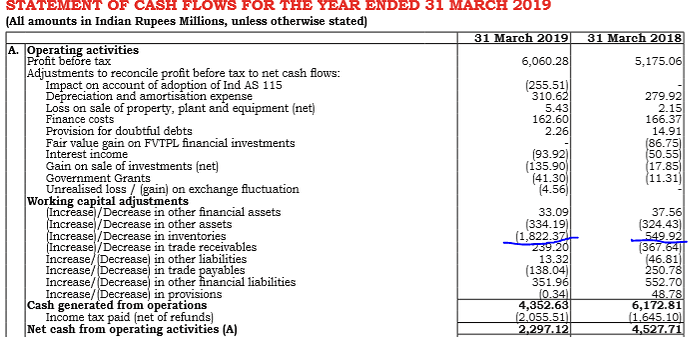 Their a very big spike in inventory almost 3x compared to last year.Usually higher the inventory,cash will get struck and so operating cash flow will decrease.Do we have to worry about this 3x spike in inventory which decreases the cash flow from operation 50% down from last year.May be they have bought raw material during the end of financial year and due to which inventory looks very high and next year inventory may look less ?Please someone guide me what to conclude from the above inventory statement.
Thanks,
bikram
Yes, you are right to the extent that there is an increase in inventory. Increase in inventory decreases the cash flow and therefore to that extent it is a matter of worry.
However, this is not a 3X increase in inventory. What you are seeing in the Cash Flow Statement is the change in inventory and not the actual level of the inventory itself. For the actual inventory, you have to see the Balance Sheet and its schedules (Page 103):

Thus, the actual increase in inventory is from around Rs.57 crore to Rs.75 crore.
Last year there was a decrease in inventory of Rs.5.50 crores which of course is a great thing from cash flow perspective. You can see the corresponding details from last year's AR.
Is there a place I can find what circuit breakers are currently applicable on a particular stock?
I am tracking a stock which currently seems to have a 5% circuit breaker. I am pretty sure the circuit breaker is there for upper value. How do I know if it's there for a fall also.
Also how do I figure out till when this circuit breaker will be applicable? I mean will NSE/BSE change the circuit breaker limits suddenly - will some advance notice be given?
Thank you. Do they provide any advance notice when they change from 5% to 10% for a particular stock?