Its a wrong inference that Inox 'rode on the white space'…Agreed Suzlon had its own set of problems because of which it was not able to focus on India…but, that can't be said for other players like Gamesa, ReGen, Leitwind, etc…if you read annual report of parent of gamesa it was not that it wanted to slowdown in India but instead it was finding difficult to grow in India for the respective period…same is the case with other players like ReGen and Leitwind…It infact seems more the result of the effective business strategy of the company than other things…also, as the company was not having huge capacities and was just beginning that must have helped but that could have backfired also but it didn't which is commendable…Its a fact that company grew in a shrinking market where except suzlon everyone was eager to win contracts…
Agree on your negative cash flows side and that's a concern for me also but I think being this fiscal only sixth full fiscal of operation and having grown at a CAGR of ~140 % since inception, company deserves to be given slight time…However, there is no denying of the fact that other industry players are also facing the same situation. Provided below is OCF situation of top 3 players of the industry :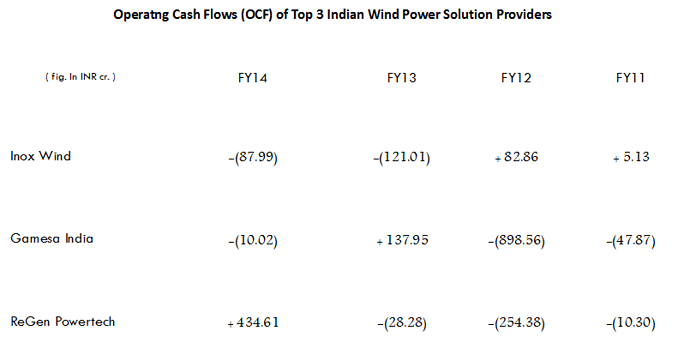 If a company even after quoting most favourable terms can operate at industry best margins then its a good thing, especially when the sector seems to be on the verge of revival…Also, if I look at client list then they are very reputed names from which company has won orders like Continuum, Tata Power, CESC, Renew Energy, Green Infra, etc…key is again generation of positive OCF and FY16 might be crucial for that…
(1) Yes…high wc days is the norm of the industry especially because of the way it works but key is profile of clients…most of the clients that I can see are most reputed names in the industry and are backed by good funding source…however, there is no denying of the fact that if a large client defaults bad debt can be an issue…
(2) This doesn't seem to be a larger issue atpresent especially at the scale at which company is operating…already ~4000 MW inventory is already built up by the company…also, except top 5 players, other players lack the required financial muscle to built up the huge project sites inventory…
(3) What I have assumed is that at worst companies might get valued at 9-11x EV/EBITDA in FY17-end when second round of fund raising might take place…the key downside risk is if company goes to average industry margins of 10-12 % EBITDA or if there is significant negative government directive wrt. sector and these risks will remain…
Rgds.
Note:
This is just part of a general discussion and in response to specific query by forum members. Wind Energy sector in general and Unlisted & Listed Wind Power Solution providers in particular are discussed with statistical facts & figures here and there is no investment/divestment opinion aimed to be constructed out of this. No Buy/Sell/Hold decision should be made on this post as this is just for information purpose and nothing else. No one should make any investment/divestment decision based on this post.
Discl. - Invested in Inox Wind