The RM prices too have increased quite a lot.
ineos q4.pdf (500.3 KB)
Superb numbers from this leader. The company has not yet fully utilised its expanded capacity. Considerable upside
Yes, they did 2100cr Sales in FY19. After that, they added around 40% capacity in ABS. Currently, prices are higher than 2019 levels in both their segments, so it seems there is a lot of scope for topline growth if prices continue near current levels or even fall 20-30%.
I liked Ineos. Cause I am averse to invest in cyclicals, and there were other opportunities I did not invest.
Now thing to note is the current Operating margin is at 36% while till last year it was in single digit or negative. Cyclical tail wind.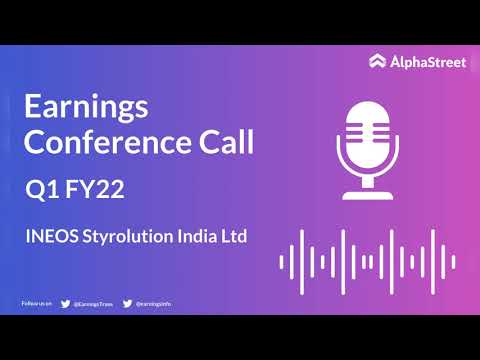 raw material prices are down but the abs prices are stable, this will aid in furthering margin in the quarter
lg plant with capacity of 75k mt is out of the system with no near term visibility of coming back on stream any time soon. this lowering of abs supply has aided in profitability in the sector
Massive dividend of Rs 192 per share
Also, the main competitor Bhansali Engg Polymers has just declared excellent Q2 results. It looks like Ineos will also declare good numbers
Question : The day INEOSSTYRO decelared the dividend, NIPPON MF prevented the upper circuit by selling 50000 shares in open market, why ? They still have 250000 shares , i am wondering what is the motivation to sell a part and prevent rise of share price ?
Hi All, I have recently taken exposure in INEOS STYROLOUTION INDIA . This company is engaged in the business of ABS(Acrylonitrile Butadiene Styrene) which is an opaque thermoplastic and amorphous polymer. It has ROCE of 42 % and ROE of 32% and available at only 6.1 TTM P/E. It has 3 year CAGR growth of profit at 60%. FII have also increased stake in this company from 1.47 to 1.97 in sept 2021 qtr. It's German Origin MNC available at cheap valuation.
Nippon India small cap fund has 3 % stake in this company. Appears as good value investment in this expensive market. I wish to hear from the group , your analysis of this company.
Thank you,

This coupled with such a big offer for sale does ring an alarm bell. It is really worth questioning where the loyalties of the management lie.
Very curious timing. They gave a large dividend a few months back already. This sale probably indicates nothing major coming up anytime soon in terms of a big dividend payout. Also, doing the OFS in April, just 3-4 weeks prior to announcing FY22 numbers

?
The plan to sell off the stake by a global multinational is indeed curious. Their intention so far was to acquire the remaining 25% stake from public and delist. Now, the management wants to sell their stake at a steep discount to the market price and at low valuations. Why would they want to do so?
It could be due to global realignment and change in strategies. This happens all the time in MNCs where new leader or new strategy initiative forces the company to rethink, due to which parent company decides to exit the markets which does not fit in their long term growth plan (even though local unit may be highly profitable) For eg. recently global banking Citygroup decided to exit consumer banking in countries like India, Indonesia, Malaysia, Thailand and Vietnam under "strategic refresh"
I was just about to invest big sum in this company. Thank God, due to lack of time, I could not do so and it remained in my watchlist.
But I am also curious to know why sudden shift in strategy? From delist to OFS? Could recent China investment and focus mean they are not interested in India?
Good case study, wherein an MNC with good business can become negative because of their change in strategy.
However, company came out with OFS at 800 and it was subscribed by HNI and FPI investors
I also wish to hear your feed back on management quality of INEOS STYROLUTION company.
Can this stock be averaged at the current prices OR it's a sell at current price?
Its perplexing that an MNC chemical company with a duopoly product and a BS which is debt free, cash rich along with high capacity utilization is trading at below 4 PE in the greatest chemical bull run of all time in Indian market. INEOS is extremely well regarded across the world. India imports much of its ABS requirement, so demand is probably not the issue here but pricing since India follows ABS prices globally.
The only questions here I believe worth investigating are of margins and parent company dilution. I will add some of my thoughts on that below.
Margin sustainability

Going through the concalls, I lost count of how many times analysts posed the question of margin sustainability. Management expects the margins to go down as the low cost inventory gets cleared and prices of ABS go down. The key raw material for ABS is Styrene and styrene prices did not go up as much as prices of ABS did globally. So if by any bad fortune, prices of styrene go up or ABS go down or demand gets weaker( as some end user industries are cyclical), Margins will shrink. I think it's important to keep in mind that they didn't have a good track record of margins over the last 10 years. Neither did its competitor, Bhansali ,which too has had a good couple of years. There has to be some structural shift in industry for some level of margins to sustain.

Real puzzle is about when the margins will contract and by how much. And management is admittedly clueless about this in concalls but they expect some level of sustainability from here on [Page 3, May 2021]. We as analysts can't expect to analyse future margins better than them by reading Annual reports.

Parent company

Talking on the management side, the parent company doesn't seem to care much about its Indian subsidiary. Its after all a small drop for them in a pond that they own. I would be surprised if India even gets mentioned regularly in their board meetings. Since they contribute to little less than 5% of their global revenue(of which they now own around 60%).
And the fact that they sold 14% stake at dirt cheap valuations was perplexing. Its hard to figure out the rationale behind it. One reason could be that they needed the cash to reduce debt or bolster results in the parent company. But the effect of that selling is negligible compared to the results of the parent company. Other reason could be that its a precursor to exiting Indian market or maybe scale down business here to push for other greener pastures like China. Second one seems more plausible and is likely true. Either way, both scenarios doesn't seem to bode well for equity holders here.
The big dividend has been taken out most of the cash and along with it a big portion of Margin of Safety with it since there will be no further big dividends. Also, its trading at 3 PE, but since margins will contract, one should not be fooled by the numbers here. PE will automatically increase on earnings fall out.
Despite the management issues and margin contraction, It can still be an investment which can go up multiple times due to its sheer cheap valuation and market strength. But unless until there is clarity on the front of margins (which I don't seem there is or will be in near future), one is shooting in the blind here. The stock will probably move up big time if there is even a hint of clarity. So, one probably has to take some leap of faith when investing in this stock while knowing the risks. But for the time being, I am inclined to give this investment a pass.
Does anyone have any counter views?
Disclosure : Not Invested
I fail to understand why the promoter is selling their stake at a mere Rs 600. The company has considerable headroom for growth and is a leader in polystyrene and ABS. The promoter is a global leader in the space
Also, after the open offer the public stake will be very low. Will that mean that the co will be de-listed?