Pharma sector has been going downhill all the way. Please share the way forward for this sector and preferred stocks
Pharma sector is facing lot of headwinds
USA market is very price sensitive and low margin business. Infact ROW and Brazil are better bets. Things in USA may seem to have stabilized but more players will enter and competition may not allow any price increase. Specialized high end products may be the only way out and in that space sun, natco, drl are better placed it seems. But then growth will be linked to patent status and launch date of these.

Domestic market : Dcgi is making things difficult by new regulations and slower than expected approvals. Many FDCs are banned and many are going under NLEM capping the price. As per March Gazette, para 13 retailer margin of many expensive formulations is capped. Plus NPPA is getting strict on pricing.

Policy : generic drugs are now gaining traction and many exclusive stores are.coming up for generics. This will pose challenge to many companies engaged in ethical business. Cipla generic division is number one in India.
So I feel pharma will not see rapid growth in foreseeable future.
Things are not very rosy at present in Europe also.
Which are listed Medical Devices players in India namely in Cardiovascular and Ortho fields ??
Cipla has some stake in device company. But unfortunately management control is with other gentleman who is not very gentle. So its probably dud for cipla.
Does anyone know the implications of "observations" made after a US FDA audit?

Disc: Heavily invested
Observations are the points where FDA has sought clarification from the company. The company has to send the reply on observations within stipulated time which is 15 to 20 days. On receipt of that response FDA further evaluates and give its comment.
Observations per se has no business impact. But if the response are not acceptable or to the satisfaction of fda they may issue warning. Warning letter will mean no new products can be manufactured at that site but existing business continues. Meanwhile company keep sending response to the observations to satisfy the authority. Generally it takes 6 months or more to reach the warning letter stage.
If these efforts also fail, then import alert is issued and existing business also stops. This takes few more months.
This is my understanding…
https://www.fda.gov/inspections-compliance-enforcement-and-criminal-investigations/warning-letters/strides-pharma-science-limited-576722-07012019
"During the inspection, our investigator observed discarded CGMP documents and evidence of uncontrolled shredding of documents. For example, multiple bags of uncontrolled CGMP documents with color coding indicating they were from drug production, quality, and laboratory operations were awaiting shredding. Our investigator also found a blue binder containing CGMP records, including batch records for U.S. drug products, discarded with other records in a 55-gallon drum in your scrap yard. CGMP documents in the binder were dated as recently as January 21, 2019: seven days before our inspection. Your QU did not review or check these documents prior to disposal."
"In your response you state the binder of CGMP documents in your scrap yard was "inadvertently come [sic] to scrap yard" and that you were investigating the issue."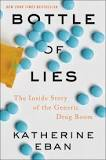 worth a look … with a pinch of salt
Unlike small molecule generics, …biosimilars that are approved by the USFDA need to be promoted under brands and are not interchangeable for innovators' brand prescriptions…the USFDA issued guidelines …have raised the entry barrier for biosimilar players…Unless biosimilar are interchangeable, they remain prone to competition from biobetters.
Indian pharma exports may grow by 15% and touch USD 22 billion during the current financial year against USD 19.14 billion in FY19.
The cumulative growth of Indian exports for the period April-July was 13 per cent. As of June 2019, India's generic pharmaceutical exports have grown almost 2.7 to 2.8 times faster than the market (global generic market).
As exports have grown by 13% in first four months & expected to grow 15% YoY, it is a clear indication that the growth will pick up in balance period, which was already 21.7% in July.
This if implemented will be BIG for the domestic API manufacturers and also for the formulation companies if they can start sourcing from Indian API manufacturers since they will get out of the price control net.
Thane-based Generic Aadhaar is a pharma startup that provides generic quality medicines from reputed pharma companies at up to 80 percent lesser prices. It offers a huge portfolio of branded, generic, homoeopathy, and Ayurveda medicines from government-approved manufacturing facilities.
A startup like this, if sustainable, can spoil the life of branded players.
Mankind Pharma Ltd, India's largest unlisted pharmaceutical firm, plans to launch an initial public offering (IPO) in two years, as its private equity (PE) partners want to offload their stakes, the company's founder and chairman R.C. Juneja said.
Pharma is struggling for quite long and always a new issue specially from regulating agencies keep on popping up.
A nice & encouraging report analyzing pharma revival scopes
"The issue of unethical use of marketing tactics has been escalated to the Prime Minister's Office (PMO) which, in turn, made calls to some top drug-makers and fixed a meeting with the PM. The PM told drug-makers that their non-compliance with marketing practices is pushing the government to create a strict law. He has warned about bringing in a statutory provision, and indicated that the ministry (of chemicals and fertilisers) has been asked to start working on it," said a senior government official who attended the meeting.