yes I saw on LinkedIn, someone has joined them .
An MOU has been signed between Bharat Biotech International Limited and GCVC towards contract
manufacturing for the Drug Substance for COVAXIN®.
GCVC comprises of:
Gujarat Biotechnology Research Centre (GBRC), a Government of Gujarat undertaking
Hester Biosciences Limited
Omnibrx Biotechnologies Private Limited
Highlights of the MOU:
Bharat Biotech shall provide the technology for the production of the Drug Substance for
COVAXIN®.
GBRC will act as an advisor and mentor and will facilitate the technology transfer from Bharat
Biotech
Hester shall provide the complete infrastructure at its Gujarat plant for the manufacturing of the
Drug Substance
Omnibrx shall act as a technology support partner
This entire process is facilitated by Department of Biotechnology, Government of India.
If everything goes as per the schedule, the Drug Substance would be available from August 2021
which will be supplied back to Bharat Biotech for producing COVAXIN®.
Hester has estimated an outlay of INR 40 crores for this project
Standalone results are superb. If we exclude exception item EPS for the year would have been more than > 50. And If we look at last and current quarter then standalone EPS for the year could have been > 60.
Animal Segment had a growth of around 25% in topline which converted in to 85% growth in bottom-line so Surely Animal Care products need to be seen since Swine vaccine will come by Dec 21.
Now Consolidated Results are a drag but positive side is there is Huge CWIP which is approx. 80% of Current consolidated revenue So this will constitute to Future growth.
Going Further
Registration process continues for the Classical Swine Fewer vaccine, Lumpy skin disease vaccine
and Sheep Pox vaccine. We hope to commence the commercial production and marketing for all
the three vaccines by December 2021.
The recently launched Herbal products division is expected to give substantial results in increasing
the top-line this financial year.
The over-all poultry and animal health business of Hester is slated to grow at a faster rate than what
it has been growing in the last few years. This growth will be due to increase the product range as well
as due to adding geographical territories.
Status on Hester's initiatives in developing Covid-19 vaccine
Collaboration with IIT Guwahati
 On 15 April 2020, Hester signed an agreement with IITG to develop a vaccine against Covid-19.
 IITG is working towards developing the recombinant vaccine candidate, based on which, Hester
shall take the project further from developing the master seed up to commercially manufacturing
the vaccine.
MOU with Bharat Biotech
 On 27 May 2021, an MOU was signed between Bharat biotech and Gujarat Covid Vaccine
Consortium (GCVC) of which Hester is a part.
 The MOU was towards contract manufacturing of the Drug Substance for Covaxin, for Bharat
Biotech.
 Hester shall provide the complete infrastructure at its Gujarat plant for the manufacturing of the
Drug Substance.
 The project is progressing as per the timeline
Invested from 1800 levels.
From Cadila EGM
"Now I come directly
to the today's resolution which is sale or disposal of Animal Healthcare which was our wholly
owned subsidiary. Sir, I would like to just understand, I have no complaints, I know what you
do, Board does takes very good decision because it is a group decision, team decision so I
know it is definitely taken in the well sense and for rewarding the shareholders. I am
shareholder of Sequent Scientific also which went to the animal business even from the
strides, the portion whatever animals were to send there and some other and its market
capitalization has gone like anything. Now here, I don't know when or where I saw the article,
I think Rakesh Jhunjhunwala has also taken some stake in this animal business, I don't know
because I didn't make a note because I forget also very fast."
Hester
Key conference call takeaways
Guidance: Topline growth of 25-30% in FY22 Exports to grow 100% over FY21, domestic to grow 22%+ Growth in animal health – 50%, poultry – 10-15%

Growth to be driven by Animal vaccines - registration process continues for classical swine fever, lumpy skin disease (only player) and sheep pox (only player) vaccine production and marketing for all the three vaccines to likely be commenced by December 2021 .Health products to drive growth (70:30 mix of vaccine and health). Ramp-up of herbal products and new launches in animal health

MoU with Bharat Biotech – to manufacture only the intermediate/ drug substance (DS) for Covaxin from its Gujarat plant in 3 months. The DS would lead to 0.5-1 crore dose production per month

Hester's domestic Brucella tender bid was second lowest this year, Hester plans to again bid next year. Hester has got higher priced order for exporting to offset any opportunity impact

Hester looking to increase India sales team by 40-50% in FY22.
Management indicated in the earnings call that India revenue could increase to 500cr by 2024-2025 i.e. >20% YoY growth…
Africa business could grow to 200-250cr by 2024-2025; sales have started
India + Africa = 750cr by 2024-25 (3x of FY 21 revenue)
Firing on multiple engines - Doubling vet vaccines capacity by fy23 + expanding sales team + building africa market + developing pet care business (to be launched next year)
Covaxin approval could happen soon… manufacturing upto 7 million doses / month equivalent Drug Substance for Bharat Biotech.
Discl: invested
Highlights from press release:
Vaccines sales growth of 13% in Q2 and 26% for H1FY22
Health products registered growth of 31% and 53% for Q2 and H1FY22.
Export sales have marginally reduced due to restricted cargo movements.
EBITDA margins were slightly lower at 30% for Q2 due to increased contribution from health products which is inline with management guidance during previous concall.
Commercial production of vaccine for classical swine flu fever, lumpy skin disease and sheep pox expected to start by Q1Fy23.
Capacity expansion for two projects:
Additional infrastructure for bulk antigen production for animal vaccine, completion expected in Q4FY22.
Creation of state of art fill-finish line for animal vaccines, completion expected in Q4FY22.
Hester Nepal: sales of 56 million and profit of 7 million in Q2 with execution of export orders. Expecting to achieve higher turnover with FAO tender for PPR vaccine which is expected in Q3.
Hester Africa:
First 3 batches of PPR vaccine has been produced. And other vaccines are under development.
First commercial vaccine release expected in November 2021
(unable to find Q2 concall recording on researchbytes and trendlyn. If anyone has recorded please share)
Discl; invested
https://www.bseindia.com/xml-data/corpfiling/AttachLive/6689bf43-ab38-4226-b8d1-204a3174cf71.pdf
Results Declared. Muted Numbers for the Quarter.
Lot of positives mentioned in the press Release.
FY23 will start showing the true asset realization.
BSL-3 lab for Covid vaccine will be ready for production by Q1 FY23.


Could not understand the reference for 100% Growth on Covid Vaccine(is it on the amount invested for the lab or total topline ?
)


Co vaxin Exports Out of India
Recently there have been reports in the press indicating outbreak of Lumpy Skin Disease (LSD) in
certain parts of Gujarat, Rajasthan, Haryana and Punjab. There are also initial signs that the outbreak
is expanding to other parts of India.
Lumpy Skin Disease - National Calamity. Hester is the largest supplier with 40-50million doses a month.
Each dose costs Rs 3… NDDB had supplied 28lakh doses till Aug 3. Total cattle population ~20cr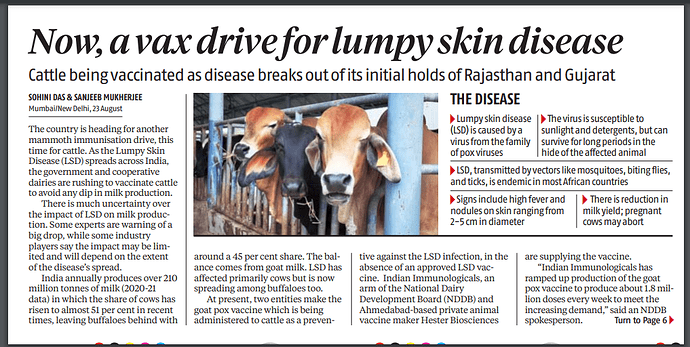 Links: Lumpy skin disease to cattle be declared national calamity: Ashok Gehlot to Centre | Cities News,The Indian Express
Disc: Invested
Few Macros from the latest Annual Report.