Even without that there is very good growth in NII, advances and deposits eve during lockdown.
Disc:Invested
In my opinion, the bank results need to be compared QOQ instead of YOY as it's not a cyclical business. There is a mediocre performance QOQ. The bank has not made any provisioning due to Covid.
Expects views invited as I am not an expert.
Disc:Invested
Agree with fellow boarders -
Real impact of Covid will only be known in Q3-Q4 mostly
Should look at QoQ numbers, loan book growth less than 1% (sort of expected but can hardly seeing things improving in Q2 with India's current coronavirus situation), some stress beginning to appear - PAT is lower. YoY much higher because of Corporate Tax Rate difference of 34% vs 25%
Not sure if this vehicle loans issue can be classified as corporate governance issue. Hope it's not a case of many hidden cockroaches

I think the statements in the above news report are self contradictory and also vague. It states in the beginning that there was no conflict of interested in later part of of the report it states that there is a Conflict of interest. The bank should have divulged as to what exactly happened in the interest of share holders.
Hi…
As on 30 June, HDFC Bank's 9 pc of outstanding loans are under moratorium.
Total outstanding loans are- 10 lakh cr ( aproximately )
So, loans under moratorium would be - 90,000 cr.
Compare this to Bank's annual profitability run rate of say- 27000 cr.
So…now, one can derive his / her own conclusions.
My take- If the bank's moratorium book falls below 5 pc over the next 3-5 months, HDFC bank can really come out as a big winner out of this crisis as most PSUs would ( in all probalibity ) practically run out of money to lend ( due much higher bad loans ).
However, if a higher percentage of moratorium book turns bad- shareholders wait could be long.
Disc- not invested.
Comparing PAT QoQ is better but comparing NIM, advances and deposits YoY isn't bad since they are not affected by corporate taxes. Please correct me if I am wrong here.
Yes, QoQ performance is not good but if you look at the results, a lot of it is because of "Other Income" which according to results filing is attributed to
The continued slowdown in economic activity has led to a decrease in retail loan
origination, sale of third party products, use of credit and debit cards by customers,
efficiency in collection efforts and waivers of certain fees. As a result, fees/other income
were lower by approximately ₹ 2,000 crore.
I think it has to be expected due to Covid. Considering that there was a lockdown it's not bad QoQ performance IMHO.
"He (the successor) has been with us for 25 years, my successor was always in place, at least in my mind," Puri told shareholders at the bank's virtual AGM held on Saturday. Seeking to assuage concerns on training and business understanding, he also said the candidate has "learnt very well". However, he did not name the candidate.
Earlier this year, a media report said the bank had selected the names of internal candidates Sashidhar Jagdishan and Kaizad Bharucha, and Citi's Sunil Garg as the probable candidates.
Morgan Stanley on HDFC Bank
Balance sheet strong, among the best in Indian financials
See strong upside as EPS compounds and valuations normalises to long term averages
Aditya Puri sold almost all of his stakehttps://twitter.com/Confrer40458593/status/1286998229528088576?s=20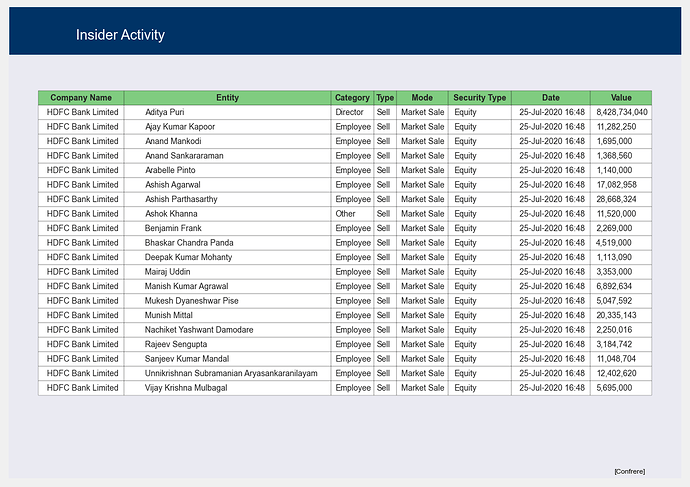 He's retiring in October this year at the age of 70. He is bound to exercise his stock options at some point ofcourse. I don't think there is much to read in this.
Stock options can be availed and shares can be retained .Does it mean that he is either seeing a better opportunity than this investment or the future does not appear to be bright to support current price or lastly foresees another downside due to pandemic/moratorium losses.
But IMHO it's significant .
Any views?
There could be a 1000 probable reasons which there is no point speculating on and diluting the quality of discussion unless there is any evidence that the sale is based on his outlook of near term bank performance.
Anyway, just thinking of it simply - he's 70, about to retire, and when stock was at all time highs earlier this year his holding was worth 950-1000 crore which crashed all the way to 550 crore in March.
Having recovered 300 crores (read that again…300 crores!) - why wouldn't anyone want to encash that knowing how volatile markets can be? So I wouldn't want to read much into this unless there's evidence of what I said above.
Correct me if I am wrong, but if his options were expiring and he wanted to hold, he would have had to pay the strike price. By selling immediately he can directly get the difference in strike price and market price and this way he doesn't have to deploy his own cash so seems convenient.
The reason behind almost entire AP stake sell is anybody's guess unless you are his close friend. Now what we as investors should do.
The stake sale is just a normal routine sale.
Here stock price would just perform in line with bank performance
The stake sale is due to AP sees some issues.
There will be sharp massive fall
Now the probability of getting yourself right is same as getting yourself wrong. There is no data which will tilt probability in favor of any outcome.
So this is a completely speculative situation and an individual has to take his own call whether to be in stock or not as per his methodology. If you think you will take decision when we will get clear picture then by that time stock would have done what it was supposed to do.
During Yes bank people used to comment how can such big bank be in problem when RBI closely monitors it. The picture didn't get clear until stock fell more than 50%. But everyone knows what happened.
It's likely that post Oct he is going to be involved in something related to BFSI and in that role his holding in hdfc could be seen by some as conflict of interest or maybe he himself wants to start on a clean slate without leaving an iota of doubt in anyone's mind that there is any conflict of interest.
Just thought of adding another reason as everyone seems to be in that mood

Personally, this event has zero relevance for me as an investor.
Rgds
RR
Disc: Invested
It is possible that he may be joining any competing financial institution (in non executive/advisory capacity) and he may not want to have any conflict of interest of having massive shares of his current bank, which may influence his ability to provide guidance to his future company For e.g. what if he decides to join Sachin Bansal's Navi
Please note my thoughts are purely speculative in nature and I am just trying to connect the dots here. …I have no information about Mr. Puri's future plans…
What you have mentioned may likely to be true. Very possible that the 100% share sale turns out to be a non issue.
However, my only comment will be to please monitor the news and developments a bit more closely than ever. Esp since this is the banking sector and we rely a lot on inegrity of the management in charge.
We are seeing a first change in management as Aditya Puri has been at the helm since beginning. A new management coming in will always entail some kind of shake up / clean ups. As a market darling, continuity of past stellar performance has been baked into the price and if any issues come out in the open publicly in the clean up process, it could quickly snowball into a big issue.
I do not have any basis to say that there is some thing fundamentally wrong at HDFC Bank. But still can't shake the sense of uneasiness on some points :
Clockwork like 20% growth periodically. It is extremely difficult in India but HDFC Bank breezes through this nonchalantly completely avoiding any landmines when other competing banks have faltered at various times
RBIs foot dragging in case of change in board members as well as on issue of successor (possible they are aware of something and they want to force changes without ringing alarm bells publicly as it is the most visible / biggest private bank in India)
Recent top level exits - Aima (harassment case), head of auto loan (malpractice), CIO (sudden departure) in quick succession close to Aditya Puri's retirement, just gets one to wonder if people are feeling the heat to clean up things internally before big boss' departure.
Sorry for the impulsive post, but felt had to state it out explicitly on reading your last sentence. As long term investors, we need to periodically review our investments. In HDFC's case, now is the time to pay closer attention to ensure all is indeed well with the bank.