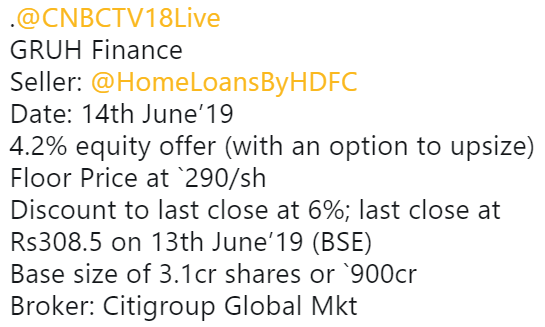 by selling this 6.1% stake today, is the shareholding restriction mandate complete now or there is still some % stake that HDFC has to sell?
14.96% less 9.9% is 5.06%. This is post merger stake.
So, 5.06% / 0.568 is pre merger stake to be sold is 8.9%.
Therefore, this is the last leg of stake sale.
6.43% Pre-merger stake was sold on 24th May (as per BSE filling) & 4.2% (as per CNBC tweet) is sold today. The total pre-merger sale is 6.43+4.2=10.63%
In last one month, HDFC has sold 10.63% of GRUH or about 7.6 cr shares.
HDFC Ltd is yet to sell around 6.7cr shares of ~9% of holding in GRUH
Selling hangover remains in GRUH as the offer letter mentions that there is no lock-in for HDFC
HDFC's shareholding on 24 May 2019
51.65% of 733687512 (Rs 1467375024/2)
or 378968926 shares
today they have sold 3,10,00,000 or 4.22% shares more.

Net holding = 378968926-3,10,00,000 = 347968926
Update https://www.bseindia.com/xml-data/corpfiling/AttachLive/6680F899_C6ED_42AF_8E6E_5EE4196F34C4_154817.pdf
Post Merger Holding = 347968926*.568 = 197,646,349
Bandhan Bank total number of shares = 1193082855
https://www.bseindia.com/corporates/shpSecurities.aspx?scripcd=541153&qtrid=101.00&Flag=New
Total Shares post merger = 733687512 * 0.568 + 1193082855
= 1609817361
HDFC Shareholding = 197,646,349/1609817361 = 12.2776%
So there will be more selling (about 6,73,84,562 shares) as they need to bring down their holding to 9.9% or below…
Disc: Invested
HDFC is selling GRUH in open market to keep its holding below 9.9% in Bandhan (post amalgamation). If we observe the impact on price movement, it indiactes that GRUH is getting capped by this activity.
On 24th May HDFC sold 4.59 Cr (6.43%) - impacting Gruh prices by approx 7% (although it recovered a little bit by EOD)
On 14th June HDFC sold 3.1 Cr (4.2%) - impacting Gruh prices by approx 7% (again it could recover a little bit by EOD)
They still need to sell 6.7 Cr (again we will have shocking day / days)
Now my queries
Is there a legal binding that HDFC can't sell in one shot (Rather than having pain each month, we get rid of recurring pain)
Insider players enjoy this as we see huge activity in last 15 minutes (just prior to sale day)
There is no notice to share holders about such sale (they do inform NSE/BSE after the sale)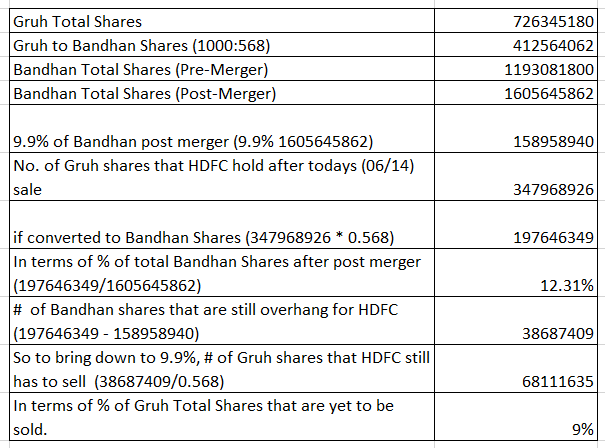 Management says the new directive by NHB would slow down loan disbursement and will hit sales of developers more as funding would be more difficult for them. Now disbursement would be as per construction to avoid home buyers getting stuck due to non-complete projects.
Disc - Invested.
Flat result announced.
Disc - Invested.
They have not even bothered to explain in press release why finance costs have gone up.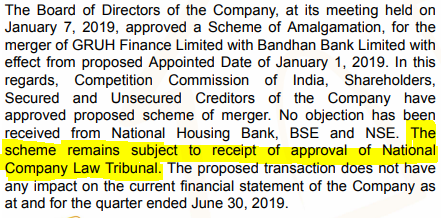 The outcome of meeting / voting
79171457-9479-4806-9716-51c2e09057b6.pdf (738.4 KB)
Although its reported by Bandhan but its meaningful for Gruh as well
Merger update : RBI, SEBI and CCI approval is already done, and the Ahmedabad NCLT & Calcutta NCLT already conducted the shareholder and creditors meeting. We are awaiting the final report from the NCLT's final approval. Hopefully very shortly we are likely to get their approval. And as their approval comes, merger will start. The merger preparations we all team are working together, the Gruh team and Bandhan team, and a lot of preparations have been done. We are waiting only for the approvals from NCLT. And when it will come, I hope that we will like to make it in business growth.
Update on scheme of amalgamation of GRUH Finance Limited into and with Bandhan Bank
We would further like to inform that the petition is fixed for final hearing before NCLT, Kolkata on Monday, September 23, 2019 at 10.30 A.M.
Hopefully this is the step in process of amalgamation & we may see merger completion in Q3.
---
Update on 29th August 2019
HDFC to sell 9.2% stake or 6.74 crore shares in Company via block deals
Likely to offer upto 3% discount to closing price of 29th August 2019
Block deal likely in the price range rupees 243-249.6 per share
This sale will complete the mandatory requirement of keeping the stake within regulatory bindings
Update on 3rd September 2019
HDFC sold 9.2% stake or 6.74 crore shares of Gruh
423E7358_3A59_429A_835B_D3D8AFF2AE9A_125342.pdf (1.1 MB)
03889482-f75b-4010-866c-3375457d149a.pdf (827.7 KB)
Update on 19th September 2019
Sanction of the scheme of amalgamation between GRUH Finance Limited ("Company") and
Bandhan Bank Limited ("Bandhan" )
Management informed that the Hon'ble National Company Law Tribunal, Ahmedabad Bench on September 18, 2019 has passed an order, inter alia, sanctioning the Scheme. Certified copy of the order is awaited.
The Scheme is now subject to the approval of the Hon'ble National Company Law Tribunal, Kolkata Bench, where the registered office of Bandhan, the transferee company, is situated.
Does anyone know how is grandfathered tax calculated in case of Gruh ? It will not exist and we will get Bandhan Shares.
Members of the Exchange are hereby informed that the trading in Equity Shares of Gruh Finance Limited shall be suspended w.e.f. October 16, 2019 (i.e. closing hours of trading on October 15, 2019) on account of Scheme of Amalgamation of Gruh Finance Limited with Bandhan Bank Limited.
Gruh - - - > Bandhan - - - > Wish we get similar investing experience

Although above example is for mutual funds, I assume that similar approach will be useful for equity as well
https://www.bemoneyaware.com/blog/mutual-fund-merger-recategorization-tax/#Calculation_of_LTCG_for_equity_schemes_merged_after_February_1_2018