Even though numbers were good YoY but due to small decline in QoQ stock saw selling pressure … Or do you see any other reason from results for today's sell off
Is there any trend in soda ash prices in India? This will be a major determinant of profitability for the company going forward also since volume growth in the industry is low. The production and demand seem to be moving in sync globally but are there any other factors to consider regarding sods ash prices?
GHCL declares Q3 results…
Income from operations drops from 698 (Q3 - FY16) cr to 657 cr - there is a drop in all segments.

Profit before tax rises from 100 cr (Q3 - FY16) to 109 cr.

Net Profit post tax rises from 66 cr (Q3 - FY16) to 80 cr

There is a 15% Interim D/w declared

There is a buyback of the Company's fully paid-up equity shares of Rs. 10/- each from the Open Market through Stock Exchange route, at a Maximum Buyback Price of Rs. 315/- (Rupees Three Hundred and Fifteen) per Equity Share excluding transaction costs, for an aggregate amount of Rs. 80 (Eighty) Crores.
http://corporates.bseindia.com/xml-data/corpfiling/AttachLive/DDF85351_06E2_469E_919E_0C080D9271D2_132613.pdf
GHCL is not getting the valuation it deserves. It has been showing very good numbers recently and the management has taken very good steps to increase shareholder confidence. I think the reason for low valuation could be because the company has a tainted past and the ADD overhang. Additional capacity in soda ash will add 85000 MT to the volumes next year and the textiles division is expected to grow at 15-20% as per the management in FY 18. Even assuming 28% EBITDA margins in soda ash (in case ADD is removed) and 16% in textiles for FY 18 this stock is available at a good margin of safety.
GHCL today announced with public notice the buyback not exceeding 315 Rs against CMP of 266 Rs. Moreover, promoters wont be participating in the buyback gives more comfort on the future prospects.
Over the past couple of years, corporate governance has improved quite a lot for which the stock has been rewarded. However still feel its under-valued at current levels given the high margins oligopoly soda ash business (backward integrated low cost moat) and growing textiles business (improving margins, exports, somewhat backward integrated). Hope they de-merge both which should be value accretive for the shareholders.
Discl. Invested
@sagararya, how did you calculate EBITDA margins in soda ash as 28% without the ADD? My calculation shows that current blended margin is about 26% (textile + soda ash). Assuming textile margins at 16%, soda ash margins will be close to 28-30% INCLUDING ADD.
Their realization is about 21k rs/ton or about 310 $/ton. This includes $35 of ADD. so EBITDA/ton works out to be 93 $/ton. If the ADD is removed, that will be a straight hit to realizations and EBITDA will drop to 58 $/ton or a drop of about 40%. EBITA margins for soda ash will drop by similar range to about 19% and blended margins will drop to 17%.
Assuming ADD is cut in half (a more likely scenario), EBITDA margins will be around 22-24% and blended margins will be in the range of 18-20% instead of the current 26%
Am I missing something here?
See my calculation below. I have assumed that Revenue realization would reduce to 270 which is even lower than FY 2013 realization. Please note that the management expects only 5% reduction in realizations. The supply dynamics are a lot different now as compared to 2012-13 like I have mentioned in my write up.
Another thing to note is that the company has done a brownfield expansion of 100000 MT which will not lead to incremental costs and hence I have assumed the costs to be the same as compared to 2017. The management expects 85000 of additional sales from the increased capacity yet I am taking only 42500 MT. One reason why I believe capacity utilization will be higher is because ADD has not led to any reduction in the quantity of imports. As I mentioned the needs of companies in east and south India are met imports irrespective due to high logistics costs.


This is just a rough calculation and q4 will give a good estimate of how the company will perform going forward.
16-17% EBITDA in textiles is what management has guided for 2018. Based on their previous guidance, I will take the management at face value here as they have always been conservative and have done better than expectations. In terms of soda ash numbers, the management has guided that it will surely maintain the absolute number of EBITDA which is 540 cr in our case. It will be interesting to see how things progress.
Company will incur variable costs, will start expensing interest costs and depreciation will go up as well. So I am not sure if costs will be at the same level.
I am also skeptical of ramping up additional capacity in the near term. In the past they took a long time to utilize the new capacity. I know a lot has changed since last 2-3 years so future growth may not look like the past.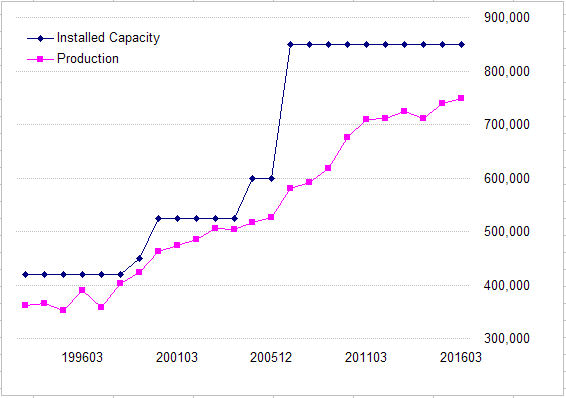 Source: Capitaline.
Looking at past utilization numbers, to me it looks like they have some spare capacity even without the new capacity.
This is partly correct and perhaps one of the few bright points in the story. Growth in imports is mainly driven by demand rather than prices. In 2015-16 though imports dropped while demand picked up allowing domestic producers to sell more. GHCL might just be able to sell all it can make albeit at lower margins. Market might already have priced in some drop in margins.
Source: Alkali Manufacturers Association of India.
Fair and good points @Yogesh_s
In my calculation I have only included costs before interest and depreciation. The company has used internal accruals for almost 500 cr of capex - no equity dilution or incremental debt. Also they have significantly paid down the debt at the same time which shows the amount of cash this company is generating. Debt on their overseas subsidiaries has come down from 500 cr to 72 cr currently. They have shut down all their loss making overseas subsidiaries and are now only focusing on the core business. So cash generated now will be used to pay down debt going forward which should reduce the interest cost. They do have plans to do more capex in soda ash going forward but that should depend on how the segment performs next year. Below are the key points that make me somewhat optimistic on the story
Free cash flow generated despite heavy capex in the past two years
Increasing margins in the home textiles division. Margins have increased by 1000 bps in the past 4-5 years. Company is guiding further expansion in the next FY
Shut down of all loss making subsidiaries and focus on the standalone business
Increasing ROE/ROCE
Management trying hard to change the perception of the shareholders - Buyback at 315, formalized dividend policy, changed internal auditors to EY, concalls/investor ppts etc.
Soda ash has substantial barriers to entry due to high capex, low capital turnover, 4 years to set up a greenfield capacity, high logistics costs, high output to input ratio for raw materials which means one needs to be in the close proximity of the raw materials (this is the only company with captive lignite mines) etc. This is the reason why there are not many players in the industry despite attractive ratios/margins.
Key Risks
ADD - What will the impact on realizations going forward? The management says 5% price impact but we will have to wait and see if that is true
Low promoter holding at 18% (however presence of marquee investors does give a little comfort)
Natural soda ash which has lower manufacturing cost can be a threat. Natural soda ash is in Turkey and US only and right now they are catering to African and European markets.
All said and done, I personally derive comfort from the valuations here. I think the downside is protected in this case. Correct me if you anyone thinks otherwise. Below is my rationale-
Chemicals comps are trading at an average of 12 time EV/EBITDA. Assuming 8x and EBITDA of 400 crores in case the realizations fall off to 270$ the EV is 3200 cr. Subtracting both textiles and soda ash net debt from it of 1100 cr we get equity value of 2100 cr. At current mcap of 2600 cr, we are basically getting the textiles business with 1000 cr topline and 180 cr EBITDA at just 500 cr.
While all this looks good on paper, I am aware that businesses are dynamic and things can change quickly. This business especially needs to monitored closely.
Who are well known investors in this co. apart from Ashish Kacholia.
Basis various research reports and con call looks like top line growth would be limited but bottom line would have decent growth.
For some reason for last 6+ months or so share prices are more or less same level even though bottom line has been improving and valuations are attractive. Is there any negative news which I might not be aware of?
Franklin Templeton MF buys 11.74 lakh shares of Guj Heavy Chem - Sep 2016
Ashish Kacholia Teams Up With Sanjoy Bhattacharyya To Pick Stock Which Is Amalgam Of Specialty Chemicals & Textiles - May 2016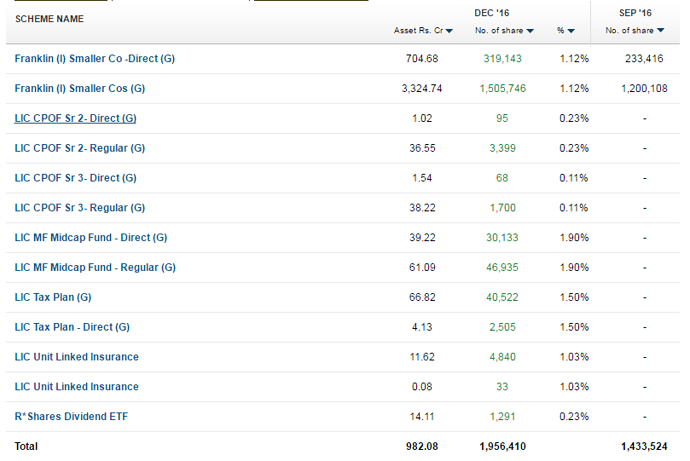 There is no negative news… due to de monetization effect on market… it corrected… and now back to same levels…
to break all time highs… it needs that consistency in earnings… may be after March results… it can attract lot of interest from funds and institutions… as LIC has also started entering
India Nivesh - Daljeet Kohli came in Q4 2016 and increased his stake in Q2 2017
Ruling invoking ADD removal came out on 21st December 2016 citing that imports will have negligible effect on realizations of the soda ash players and will not effect their price or quantity. The matter is now pending in Gujarat HC.
What is stopping this stock amongst the bull run that we are seeing and the cheap valuation. Seems big guys are accumulating. Waiting for the Mar end quarter SH disclosures.
Discl. Invested
Does anyone know when is court verdict on ADD removal case? Is heart breaking to see all good stocks are performing very well except GHCL even after cheap valuations.
Isn't it also better to encash some overvalued stocks and invest in under-valued ones. I am beginning to start some portfolio re-allocation.