For those who have started tracking this business recently, the management has guided for EV rollouts multiple times, and has been extending timelines for almost a year now.
Firstly, it was Q3 FY 2023: (Source: October 2022 investor presentation)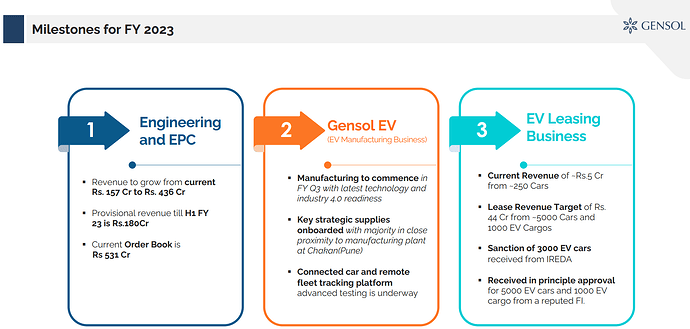 Then it was Jan 2023. Some media links below:
Gensol Ventures Into EV Market With Manufacturing Plant In Pune (saurenergy.com)
Gensol Engineering Ltd., Managing Director, Mr. Anmol Singh Jaggi In Talk With Anil Singhvi - YouTube
Then, it was July, 2023:
EV growth: Gensol Engineering aims to roll out 10-12,000 cars starting July (cnbctv18.com)
Then, a video was released of the Gensol EV factory around September 2023:
Breaking Ground: Gensol Electric Vehicles' Futuristic Manufacturing Facility - YouTube
Now a news article mentioning Jan 2024 as release timeline. (refer thread above)
So, for now, management has lost a few points on meeting guidance and execution. However, this is a complex playing field and there is more happening under the hood than what meets the public eye (I would like to believe that for now).
Looking forward to the developments here.
P.S. - Other lines of business (EPC and EV leasing) are firing all cylinders.
Disclosure : Invested.