Has got strong fundamentals.great stock for the long term
Could you please elaborate the basis for your view on this stock?
EPS OF 32 on a FV of 2 , BV of 116 , divided of 500% announced, PE of 22, D/E of 0.02. roce of 24.88 PLUS the VISAKHAPATNAM facility commenced trial run
Any input about the management? IIRC, I did some analysis on this one long back and remember having some apprehensions about the management.
Q3/Fy-13 Results out…
Total Income up 28% to 534.36 Cr from 417.4 Cr.
EBIDTA up 20.6% to 182.31 Cr from 151.17 Cr.
Net Profit up 17.7% to 144.24 Cr from 122.55 Cr.
EBIDTA margin is 34.1% v/s 34.8% (SQ-12) and 36.2% (DQ-11)
NET Profit margin is 27% v/s 24.9% (SQ-12) and 29.4% (DQ-11)
Total Raw material costs as a %ge to Income is 41.4% v/s 34.1% (SQ-12) and 38.9% (DQ-11)
Employee costs to Income is 8.5% v/s 9.2% (SQ-12) and 8.6% (DQ-11)
Other expenses to Income is 16% v/s 21.9% (SQ-12) and 16.3% (DQ-11)
Tax Rate 21.5% v/s 23.6% (SQ-12) and 23.6% (DQ-11)
9M/Fy-13 v/s 9M/Fy-12:
Total Income up 30.4% to 1477.61 Cr from 1133.5 Cr
EBIDTA up 36.9% to 559.62 Cr from 408.81 Cr
Net Profit up 29.7% to 429.59 Cr from 331.19 Cr
Reported 9-month EPS 32.36 v/s 24.98
Recorded TTM diluted EPS: Rs. 48.70
On 01/02/2013, stock on BSE closed at Rs. 1065.50/-
(Result declared on 02/02/2013, Saturday)
My first post @ Valuepickr
Found this name and as I am a backer of Divis and holding this in my core portfolio…elaborating a little
DIVIS "The King of CRAMS(Contract Research and Manufactring Services)" in pharma industry. Around $45 bn of global market. So immense potential, unthinkable growth opportinities lies here.
Has mainly Two verticals-
a) Custom Synthesis(contribute 44% of itsrevenue)
b) Generics (provides balance 56% of Divis revenues)
Having partnership with 20 out of top 25 pharma companies of the world.
Undergone with capacity expansion of around 450 Cr in last two years…fruits of which will ripe in next 2-3 years
Targetting fresh investemnts of rs 150-200 Cr to further increase its generics manufactuirng capacity.
Robust revenue growth of around 20-35% in last 3 years and the same is expected to contibnue atleast for next 4-5 years. Management has guided 20 per cent revenue growth for FY13E and 25 per cent growth for FY14E.
Topline may grow 20-25% over the nextthree year and EPS may grow with 25-27% for the same period.
Margin expansion is possible because of good prodcut mix and better currency realisation from exports. Q2FY13 gross margin stands at 66.1.
Hope it helps.
Regards,
Krishna Agrawal
I am bumping this old thread to get the perspective of of our senior members on the latest developments and valuations. Today, the stock crashed 20% on recent FDA observations on its Vizag plant.
Company Overview
Divi's Laboratories Limited started off during 1990 as an R&D and consultancy company for development of commercial processes for Active Pharmaceutical Ingredients ("API") and intermediates. During 1994, the Company forayed into manufacturing operations for API and intermediates by settingup a multi-purpose manufacturing facility near Hyderabad with a modest initial investment of Rs.71 crores. Divi operates from its Head quarters and Registered Office at Hyderabad. The company now has four multi-purpose manufacturing facilities with all support infrastructure like Utilities, environment management and safety systems.
Manufacturing Facilities
Unit I:
First facility is located at village Lingojigudem, Nalgonda District near Hyderabad (Telangana) comprising 13 multipurpose production blocks with clearly defined finished product areas for APIs with clean air and purified water systems that operate under full cGMP as per US-FDA guidelines. Spread on 500 acres equipped with around 362 reactors totaling a capacity of 1744 m3 supported with all utility and service units.
Export Oriented Unit (Unit II):
Second Facility is located at village Chippada,Bheemunipatnam Mandal, about 30 KM from the port cityof Visakhapatnam (Andhra Pradesh) on the east coast
situated on a 100-acre site which went into commercial operations since March, 2003. The Unit has 8 production
blocks with around 192 reactors totaling a capacity of 1622.55 m3 with all utility and service units.
SEZ Unit:
Third facility is located at village Chippda situated on a sprawling 267-acre site which went into commercial operations since November, 2006.Unit has 9 production blocks with around 420 reactors totaling a capacity of 3053.4 m3 with all required utility and infrastructure.
DSN SEZ Unit:
Fourth unit is located at the company's pharma SEZ at chippada village. The Unit has 5 production blocks with around 254 reactors totaling a capacity of 2389.46 m3 with all required utility and infrastructure.
According to the following report this plant is its largest facility and accounts for 70% of revenue. US contributes 32% of company's overall revenue. not sure about it's authenticity though.
http://www.moneycontrol.com/mccode/news/article/article_pdf.php?autono=8091321&num=0
Company is one of most consistent performer financially. I pulled the following details from screener.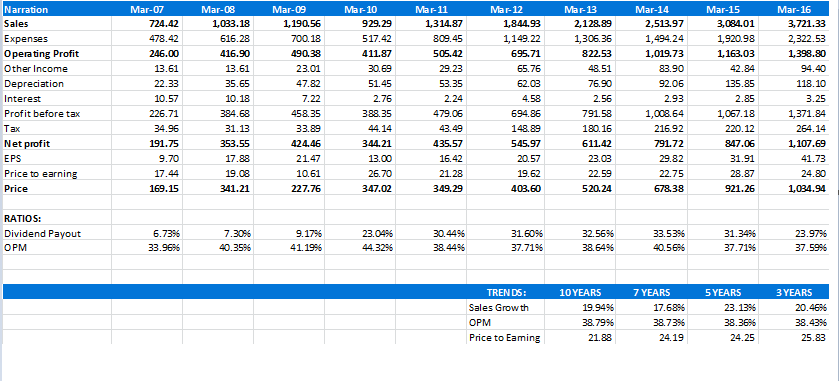 promoter's hold 52% of equity. Company completed 25 years of operations recently.
Some uncertainties to watch out for :
Recent FDA 483 observations on its largest export plant.
Company's recent expansion plans in AP landed in some trouble with locals and political issues.
I invite senior's views on the company's as long term investment option at present valuations.
Currently, it is trading at at 52 week low and at a trailing PE of ~21 post this crash.
disclosure: Invested, 3% of portfolio, planning to add more
In my opinion this is a systemic risk for all pharma stocks. Given the sharp reaction today it is time to get in. Company has proved itself and I am sure 6 months down the line things would look different. Many Indian manufacturers are still miles away from US standards. But that is a risk which all of them needs to cross to survive profitably
Company clarification raises more doubts than it answers. They are silent about the nature of observations. They have not denied the CNBC report. They have not given any reasons for not disclosing all facts earlier. Much to be desired from the company on Corporate governance front. In the reply they have referred to their earlier communication to the exchanges where they stated that they were pleased to announce that they received 483 with five observation. I don't understand what is so pleasing about it except misleading gullible investors. SEBI should investigate who were privy to this information and who were the large sellers between 7 Dec and today.
If we observe the price pattern between 7 Dec & now, the price remained more or less consistent despite bears being active on major markets. It rules out corporate governance issues. In previous filling with regulators they confirmed receiving the observations & as per laid practice they will file their replies. No company files the replies against notices/ observations in a hurry, moreover its a procedural improvement which need to be addressed, records prepared & then submitted to USFDA for re-evaluation, If the organisation fails to do so they receive warnings etc. I understand that Divis has enough time to revert to observations & we must give it due time as the company & management have been consistent performer for more than a decade
I draw some comfort from the fact that same plant was successfully inspected several times in the past in November 2006, in April 2009, in July, 2012 and in June, 2014. I'm just hoping that they will correct whatever the issues raised by FDA in due course of time give their experience. This is just a hope since I'm not sure of the severity of the issue this time.
I heard that there was "data integrity" issues noted in observations in form 483. If this is true, I would say "run for cover". I don't want to scare investors in this stock. But I have very bad personal experience with Wockhardt which I am holding for past 3 years with no end in sight:sob:
US FDA is getting very tough on erring companies and best of Indian pharma companies are under lense. It seems the remediation process scrutiny is much more elaborate than original inspection. So once a company gets in bad books, it takes a lot of time to get out of it. So I would advice caution to all investors in this stock.
Disc - Not invested
Entered Divi's Lab today at sub 800 levels. I have nothing more to add to all the recent points made by members here except that I recall Madhushudan Kela saying in an interview that he admires the Divi family/group. Willing to hold and buy on substantial declines from here on.
disc - invested
Let's look at worst case scenario. As per the latest annual report, They have very diversified customer base. company derives around 32% of their revenue from US.Most of the revenue(43%) comes from Europe and Asia(22%). In the worst case entire US revenue is may be lost due to this issue.
( which I think is highly unlikely given the company's past experience.Agree that it will take time to resolve and it will cause some reputation damage and revenue loss in short term).
With 42% correction already in last 3 months, I think the market already factored the worst case at this level(I hope so).
It is currently, trading around trailing PE of 18 which is historically low for this company with great historical return ratios.Honestly, I believe it can be resolvable issue in the long run. It will not be a permanent damage. But there seem to be a short term panic in the market.
Please let me know if i'm missing something.
Company historical P.E range from ratestar.in.


Discl: Added more today. I am not a certified financial analyst.this is not a buy or sell recommendation.
Well said. Recent experience from other pharma companies that got 483s seems to validate this point. Once a company is flagged, it takes a huge efforts to satisfy regulators and that can take time. there is simply no way around it. It can take months to get rid of this issue until then stock will be volatile.
As far as I know, company will now have to respond to this letter and if the regulator is not satisfied, they will issue a warning letter. If a warning letter is issued, ANDA applications will not be approved or imports restricted. This is a big issue for companies in the formulation business as they need to constantly replace old drugs with new ones to maintain and grow their revenues. Since Divi's is mainly a CRMS and API player the impact should not be as severe.
However, other companies who got warning letters in the past had to spend huge money to put compliance procedures in place and that will depress earnings in the next 2 to 3 quarters. This is just based on my observations of other companies getting warning letters. Impact will not be seen in 3Q results so we will have to wait until 4Q results in May.
"According to the document seen by Mint, the five observations are: lack of proper controls over computer systems to ensure drug quality, improper maintenance of facility and equipment, R&D division allowing activities inconsistent with manufacturing norms, failure to investigate batches of products containing impurities and improper maintenance or falsification of records."
Is there a way we can get access to the actual letter from FDA? I searched little bit. FDA seem to be publishing only select observations for public domain.
No imports are not restricted based on warning letter. Some companies do voluntarily stop exports but for imports to be stopped, USFDA needs to come out with import alert. Warning letter does not imply enforcement by USFDA.
disc - invested
@bhaskarjain…that's not a sound reason to hold a stake in a company. Usfda issues can be quite serious. Look at ipca and wockhardt history. Even I admired divis but this issue is serious and i would wait before buying.
This lapse in compliance is a serious matter and looking at historical valuations is not of much help. If a company had divis as its core vendor and let's say one of the two suppliers of a commercialized drug, then the whole supply gets effected. That company will surely re think its strategy for future contracts. On top of that, once the reputation is damaged, new clients could be hard to come.
Thanks rohit for cautining. Will wait and watch how the situation develops. Have seen many well known pharma companies getting 483s and correcting them in due course. Hope divis will also come clean in the long run.