Highlights from the video ,
Potential takeover target…
IT findings are not out yet…
Trading at 5pe levels

Stock has come down from 350+ in FY18 to 120 prior to raids…raids dealt a knock out. This one has been a real puzzle with only factual issue standing out is Goodwill and associated tax implications…mgmt has hinted in last con call as well so wasn't unknown.
Brokerage houses are clueless as well…being second largest player in CRAMS… valuations are absurd…screaming buy at these levels…250+ institutions on concall yesterday including big pharma players…mgmt could do some buybacks…even if small amounts… unless they themselves are here to sell - willingly or otherwise
Such incidents pose a big question mark on credibility of promotor and in view of almost hundred companies market cap vanishing in the last one year, companies having slightest corporate governance issue needs to be avoided to protect capital
Given the high amount of debt on the balance sheet, wouldn't it be better to repay the debt rather than please the market on borrowed money?
Buyback is done to stop one sided fall after IT raid, buyback amount is only 72cr
And lower circuit still stays on post buy back announcements…Earning details to be watched out…Trust and quality is indeed a big deal
Just wondering who is accumulating large delivery in last month or so…no bulk/block deals either…
L&T Mutual Fund bought 51 lakh shares in Dec.19
Dishman Carbogen Amics has a DE of approx 0.2 and an interest coverage ratio of >6. Why are you of the opinion that they have high debt? Am I missing something?
While calculating DE, you may want to adjust for goodwill. Also, Debt/Ebitda is pretti high
Does the company still mfg disinfectants - If so, what % of topline?
Tax raids have been weighing on the stock - Is it fair to expect that any real issues will be resolved by the company using the many tax resolution schemes launched by govt. The risks seem to have been factored in the price.
The increasing stake of FIIs + DIIs gives some comfort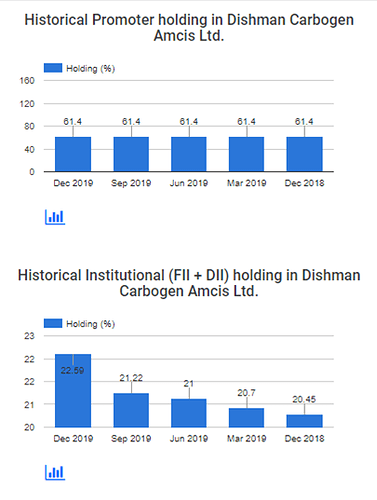 Will this be a turnaround story?
Evaluated due to RJ Purchase as per June'20 shareholding pattern :
| CMP | 182 | | | 52week High/Low | 218/46 |
| --- | --- | --- | --- | --- | --- |
| Market Cap | 2860 | | | Debt | 1000 |
| Sales | 2000 | | | PE | 15.9 |
| PAT | 180 | | | ROE | 3% |
The Co has 2 verticals - CRAMS - 75% of Revenue, - API - 25% of Revenue

In terms of therapy, DCAL focuses on high-value added areas such as oncology, which accounts for more than half of the total revenue

Other key focus areas include cardiovascular, central nervous system and orphan drugs.

It has a clean USFDA Track record till now, but recently in June itself they got Regulatory Action from European Pharma Regulator
ROE is an Abysmal 3%
This is mainly due to Large goodwill of 3400 Crores sitting on Books (60% of Net Block)
(this appeared due to an expensive reverse demerger of Promoter Private Entity with Dishman Pharma).

Apart from that there is a perpetual CWIP of 200 Crores since 4 years

After Merger stock had got listed at 350, but due to Income Tax Raids the stock fell down to 80 even before Corona - Income Tax Raids were reportedly done due to Bogus Billing of 1770 Crore

The market participants in general do not have a very high view about Promoters son
This is mainly due to Large goodwill of 3400 Crores sitting on Books (60% of Net Block)
(this appeared due to an expensive reverse demerger of Promoter Private Entity with Dishman Pharma).
Can u explain this part for a novice like me to understand?
Thanks
I was going through this company for reading purposes and found that the EC have been approved for setting up a plant.
not invested in this company. Looked attractive at the price, but too many complications.
the following is the EC approval.
dishman.pdf (478.9 KB)
This company got into some troubles recently
Bad reputation
Wealth destroyer
Change in management needed
For better wealth creation.
RJ has recently bought stake in this company