Forbes demerger finally got the NCLT approval
Is anyone tracking niit ltd demerger?
Could people guide , how can i evaluate it step by step…i am a newbie for demergers
what will be the debt and cash position for the listing entity , I mean Eureka Forbes…do u have any idea?
I have written a note on this.
Borosil is demerging its scientific division Klasspack from the consumerware division. 3 shares of Klasspack FV 1 will be issued for 4 shares of Borosil Ltd FV 1.
GMR POWER AND URBAN INFRA LIMITED#NEW EQUITY SHARES WITH FACE VALUE RS.5/- AFTER SUB-DIVISON
Shares credited in dmat…when will be listing?
Listing date is not announced yet. It should take around a month.
According to price discovery, around 90% of total business is Eureka Forbes. Expecting Eureka Forbes to list around Rs 350-360 in 1-2 months time followed by promoter change.
Thanks for this! I am a newbie in demerger investing. Can you please help me understand what is happening in this scenario? As an investor, should I be looking at Eureka Forbes when it is listed or the Forbes co that is listed right now? Also, what is the ratio of shares one would be getting in the newer company? Would really appreciate as all of this is confusing.
The record date for demerger was 11th Feb. So, there is no point of buying Forbes and co since it doesn't have the Eureka Forbes business now. That's why the price dropped by 92%. Those who were holding the shares till 9th Feb will get 15 shares of Eureka Forbes for each share of Forbes and co.
Great thanks! Do you have any working numbers/valuations for Eureka Forbes and how do you look at it? Not asking for advice or anything, just your opinion. Trying to learn here!
I read ' You can be a stock market genius'. Now, should I wait for listing of Eureka Forbes, and the selling by FII/DIIs and then buy maybe? Any help is appreciated.
FII/DII do not hold much stake and there is no reason for them to sell it. Selling by FII/DII typically happens when the category(large/mid/small) of company changes. That's not the case in Eureka Forbes. Valuations will be more clear when Eureka Forbes starts reporting its numbers. Currently, the valuation is around 3x sales. It can go up or down depending on the performance.
From Neil Bahal newsletter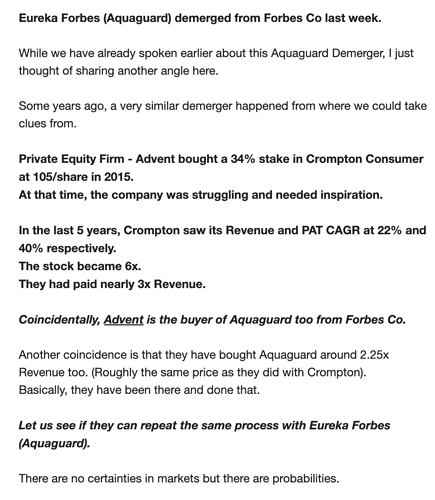 Yes I am aware of his newsletter. That is why after reading I came to this forum.Do you hold the company and will you be buying/selling post listing?
Also, how can I track when the new company would be listed?
Also, are there any good sources to read about demergers and spin offs? I am aware of the following resources -
You can be a stock market genius book (by Joel Greenblatt)
itsTARH twitter account
Neil Bahl Newsletter
Dashboard on special situations by investkaroindia
Sorry if this is a spam and an earlier resource list exists. And if anyone can guide to me it, I shall be thankful.
I will be buying more after Eureka Forbes lists. You can check the Forbes and co announcements to find out when Eureka Forbes will list.
I would suggest you to go through this thread. You will get a good idea of special situations and references that can help
As per a recent announcement in the NMDC conference call, the new steel plant demerger should be completed by March/ April, unless an approval is to be sought by creditors in which case it will be in a couple more months.
As I understood,17000crs worth of equity is to be given to the current shareholders of NMDC in the new company. Could anyone shed some more light on any possible value unlocking for NMDC shareholders, assuming a purchase price of Rs. 140-145 (which is the average stock price of the company)? or would it be too early and we should wait for a swap ratio to be determined?
Disc. : Invested
Steel plant: coke oven will start at the end of March or beginning of April, and hot metal in May or June, finished product by June end or July.
I have a doubt here and it would be great if someone could clear this. I am also invested in Sandur Manganese and there they have already setup a coke oven for their integrated steel plant and are already selling coke from it. Can NMDC also do this?
Secondly, there can be massive increase in margins of the steel plant as they will increase production from 2 MT(FY23) to 2.5MT(FY24) and finally 3 MT(FY25). This is just debottlenecking and rampup and thus doesn't require much capital.
Additionally, the management mentioned that there is land to increas the steel plant from 3 MT to 6 MT. This provides a lot of longevity. for the steel plant.
According to some analysts the Steel plant will be valued at around 20000 crs (very conservative ly). This is just at 1 times book value. Right now steel plants are trading at higher valuations.
Is anyone playing the arbitrage on the following cases from other side :-
GMR - Power & Infra
Forbes Residual value
I basically want to knw if someone has done detailed valuation of these cases. My ballpark is
(1) GMR - Power & Infra - Thr stake in GEMS which they are planning to sell is worth arnd 3000 crs. The corp net debt will be arnd 2000 crs. So net 1000 crs. here plus the power & road assets with roughly 900 crs. EBITDA shd worst case be arnd 4000 crs.
(2) Forbes - The revalued land assets mentioned in the AR was 600crs. Current mkt cap is roughly arnd 500 crs - rest of the biz free
Love to hear views on these.
Aprt from above, Motherson Sumi spin-off is on the radar as of now. I moved out of GHCL arbitrage & shifted to Ujjivan as potential IRR seemed greater in that case.
Disclosure :- Small position in Forbes(post the demerger) & GMR Power ( due to GMR holding)