The BEPL chart in your prsentation is mine. I think it would be a good practice to give credits to the source. Just saying
Best
Bheeshma
I received the pic from whatsapp and have mentioned the website in the references. But if its you who prepared this then definately deserves credit for the same
Lets collaborate further to find such opportunities in the market. BTW your find is at all time high today…you must be proud to have found this at correct time
Genus power…having a good name in manufacturing of electricity meters…and held by quite a few big names from the investing world…the monthly charts when analysed with Bollinger bands and momentum indicator, shows that the stock may be about to embark on a long uptrend…the Bollinger bands are in expansion mode…the momentum indicator is up…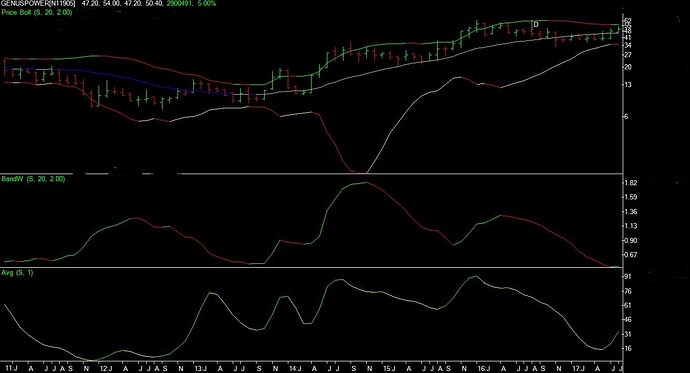 The uptrend looks even better when viewed through quarterly charts …it even indicates to us the possibility of the stock going up to around 85 to 90 in the next few quarters

which site you use for quarterly charts?
Another fundamentally good stock in which I have started building up position is NIIT ltd…with huge demand for reskilling of software professionals, NIIT may do well in the future…even the last quarterly results were good…and if we apply the Bollinger bands to monthly charts, then it appears that the stock may start trending up in the next few months…as of now, the stock is under band contraction…but the momentum indicator has already turned up, thus the probability of stock going in an uptrend is quite good…
But since we are dealing with monthly charts, it may take a few months for the positive price action to play out…thus as of now, this stock is only for proponents of slow investing only…
@sujay85…have a look at the above NIIT chart…today may be a breakout day…the stock becomes very bullish on close above 120…
When the whole of banking sector is looking weak…IDBI is displaying interesting possibilities…have a look at the daily chart with RSI index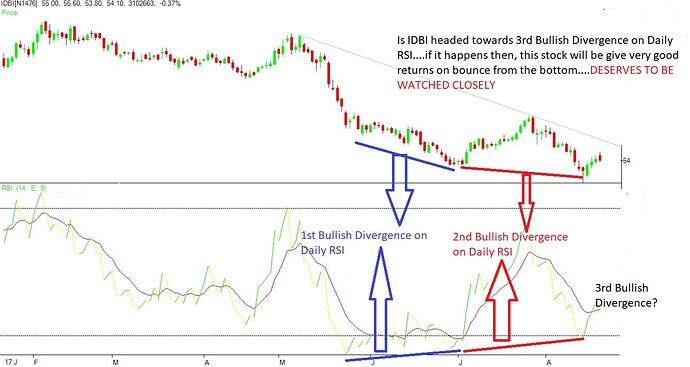 Wonderful observation. Thank you for the chart
Newbie to technical analysis. Identified that the below chart of Bank of Baroda indicate a bullish divergence in RSI. Is this valid?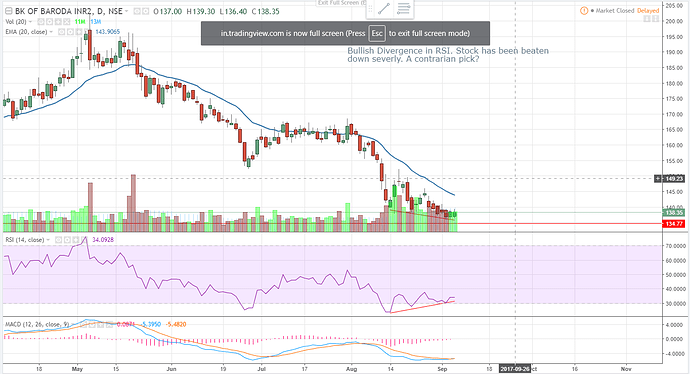 yes, plus 135-137 is a strong long term support. other indicators are also turning up. good to go long with a 4 point SL.
@Mehnazfatima @j2eeprofession_ picked up this chart from www.waveanalytics.in. Do you concur with their observation?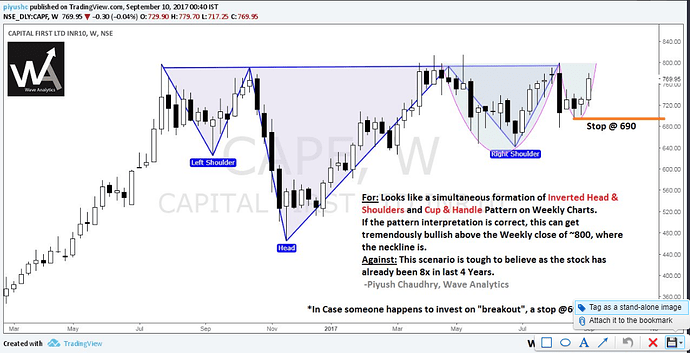 yes. In my books a weekly close above 796 (or atleast two consecutive days close above 796) or a weekly RSI triangle breakout above 61 triggers a buy signal and it will then will get good momentum on the upside. So right, i concur with the given chart of bullish momentum above 800 weekly close.
right.this is the kind of price volume and momentum action that breaks strong resistances. Weekly RSI trendline also breached. Its now a strong stock.
Hello experts, here are my observations on Canfin's tech chart.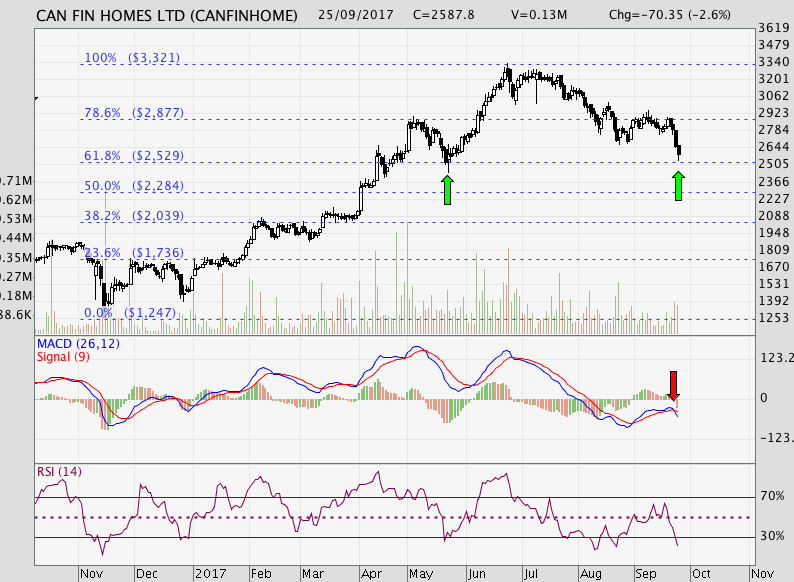 I have taken Nov-2017 low for Fibonacci retracements. Today it bounced from levels of 38% retracement from highs made couple of months back. And same level forms a support line as well.
Though MACD doesnt look in favour however RSI seems to have gone to oversold zone.
With split date announced ( 13th Oct) and fundamentally strong stock, I feel it has good chances of bounce back from current level.
Please provide your expert analysis incase I am mis interpreting something.
Disc : Invested in Canfin. At a beginner level in Tech Analysis.
I am no expert and you should check with others on the forum but i can see a distinct head and shoulders formation