Bit baffled by what's happening with Nalco.

Current price levels are at FY12 levels and also the tops of FY15 so its a very familiar, congested zone. A further breakdown from here should point to Aluminium cycle ending prematurely. Other than the Rusal drama and Trump trade war in general, nothing much has changed with the Aluminium cycle other than maybe a fear of global growth and/or fear of Chinese capacities dumping Aluminium in places other than US. This is reflected in the Aluminium prices which are down 12% from the top made during Rusal sanctions.
Coming to Nalco, its divergence with Hindalco is interesting. Today Hindalco was up 2% while Nalco was down 4%. This is pointing to expiry week volatility more than drastic deterioration in fundamentals.
Exports data for May is very positive (87% growth) with Aluminium exports at all-time high and so is the price realisation which is at all-time high.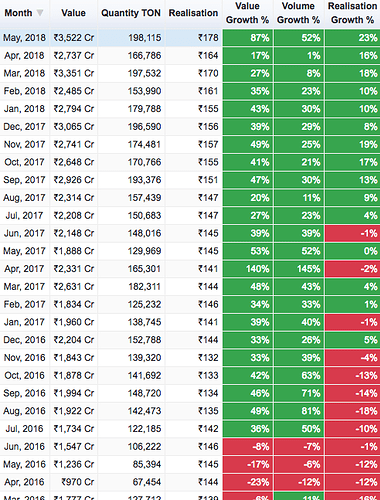 So at these prices, Nalco seems to offer decent Risk-Reward for long-term bets on Aluminium. The current book value is close to Rs.55 and of a EV of 11,500 Cr it is backed by about 9700 Cr in Plant and Machinery (7000 Cr) and Bank Balance of 2700 Cr so downside should be limited.
Trade war is definitely a real risk but its yet to play out while the price is already perhaps reflecting the worst outcomes. Another thing which is a big risk is input costs - i.e price of energy, be it crude or electricity. This could put a spanner in the works if Crude heads higher than $80.