The way I understand coffee can method is that you buy good companies and then forget about it for a long time (10 years or more) hoping that these companies deliver good returns over a long time.
Not a fan of this approach. To me it sounds like a leap of faith that can land you in a soup. What if after 10 years you realize that you had filled your can with junk? Can you go back 10 years and fix it? Or make adjustments and take another 10 year leap? Not a sensible approach IMO.
What is sensible to me is to try few investment approaches with short testing cycles of few months to see what works and what doesn't and then make delta adjustments in every cycle. Over time you will device a strategy that works for you. Your hit rate i.e. % decisions that turned out to be correct should increase over time. Once you reach a high %, you will make fewer and fewer decisions with higher and higher conviction. For me, annual review of portfolio is better than coffee can portfolio.
Our economy is dynamic and market is dynamic. Here is a list of companies that made up Sensex at the time of its creation in 1978.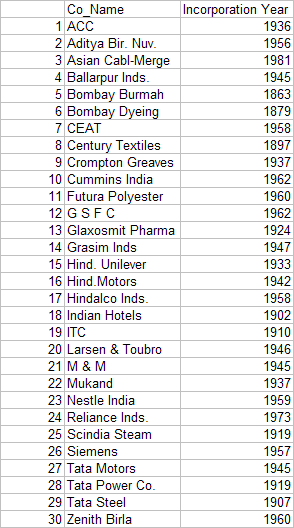 Source: BSE
These were suppose to be blue chips at that time. Many of these don't even exist now and several others have given poor returns. Only a few have beaten the market in the long run. Your probability of choosing just these handful is very low unless you are extraordinarily talented investor (in which case why would you become an ultra passive investor?).
Coffee can will work if you put an index fund in the can. The fund itself will be active even if the can is passive.
I agree that constantly tinkering the portfolio is not a good strategy but IMO leaving it in a can and hoping for a happily ever after ending is not a good strategy either. You are just trying your luck and there are far better ways of doing that.