Hi everyone,
Starting this thread on Cochin Shipyard.
Cochin Shipyard Ltd. (CSL) was incorporated in the year 1972 as a fully owned Government of India
Company. Now Govt holds some 75% share. So assume it is a PSU and will not comment further on management attitude towards minority shareholders
Products & Services:
It builds and repairs ships - Merchant ships, navy ships, off-shore vessels and structures
Building ships - 70% of turnover
Repairing Ships - 30% of turnover
Totally CS has built about 125 ships in its entire history and delivered it to USA, Some european countries and middle-east also.
Current order book:
Vessel Type - Nos
Indigenous Aircraft Carrier for the Indian Navy, P-71 - 01
Technology Demonstration Vessel (Special Purpose Vessel) for DRDO- 01
500 passenger cum 150 MT cargo vessel for A&N Administration - 02
1200 passenger cum 1000 MT cargo vessel for A&N Administration - 02
Tuna Longliner Cum Gil netter Fishing Boat (3 boats delivered) for Tamil Nadu - 16
Ro-Pax vessels for Inland Waterways Authority of India for NW1/ NW2 - 08
Ro-Ro vessels forInland WaterwaysAuthority of India for NW3 - 02
Brows & Pontoons for Indian Navy 02
Marine Ambulance Boat for Kerala Government - 03
Mini Bulk Carrier of 8000 T for Utkarsh
Advisory Services Limited (JSW group) - 04
Floating Border Outpost vessels for Ministry of Home Affairs - 09
Employees are just 1700 (I thought shipbuilding needed lots of people)
P&L history from screener: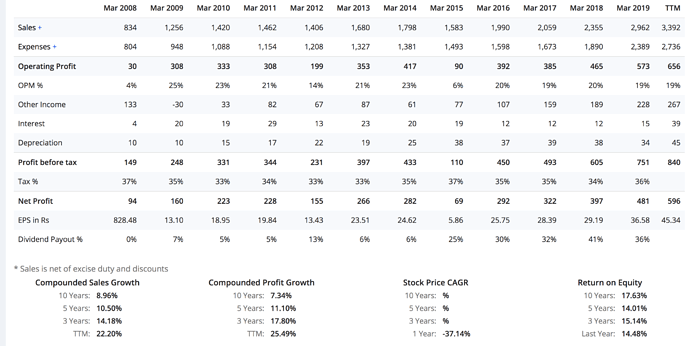 Other key metrics(All good. Low debt. Good cash, Reasonable ROE)


Commentary:
Pros:
- Screaming low valuation. EV/EBIT is 1.1 as per screener… => If I am able to buy the company, I will get the entire money back in an year
Is of strategic importance to govt. This is helping the navy. They are building an indigenous aircraft carrier
Has lots of cash and hence will not go bankrupt
Cons:
Don't really understand the business, competition etc.
A good report - http://www.lkpsec.com/Admin/Research/637221352449268276COCHIN_SHIPYARD__IC_LKP_April20.pdf
I am planning to buy at this valuation primarily as this feels like a heads I win and tails I don't lose much kind of stock (Dhandho investor philosophy).
Views on stuff not apparent to me at this surface level analysis are welcome. My purpose of posting here before buying is to understand why the market undervalues this so much! What's the catch? Grateful if anyone knowledgeable on this can throw some light.