Anyone participated in the Concall?
Any updates?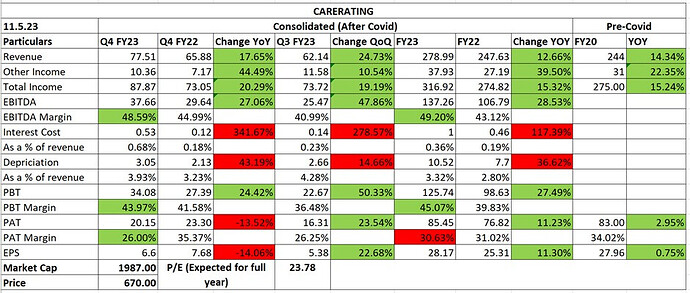 Growth Drivers: India is the preferred investment destination for foreign investments. Corporate Balance sheet is getting stronger which provides opportunity to invest through debt. Revival in Capex in private sector shows green shoots in investment. Credit demand is accelerating and bond issuances are picking up. The rating business is expected to grow due to government push on infra CAPEX, focus on green areas, improving logistics efficiency, and deleveraged balance sheets for Indian corporates.
The company is open to acquisitions for faster growth in non-rating business.
The company is considering a share buyback after the one-year timeline is over.
CARERATING Q1 FY24 Result Update:
GST collections, bank credit growth, fund raising activities had been positive, indicating a strong growth trajectory.
In June 2023, the gross bank credit growth has accelerated to 16.2% as against 14.5% in the same period last year. This growth was driven by the services segment followed by retail. Credit to industries increased by 8.1%; while credit growth to large enterprises improved to 6.4% as against 3.2% last year.
Corporate bond and commercial paper issuances picked up pace in Q1 FY24. Fundraising through corporate bond issuances has more than doubled from the same period last year. Fundraising through commercial paper also witnessed an increase during the period.
Foresee some moderation in growth during FY24.
Government Capex/Private Capex both are increasing.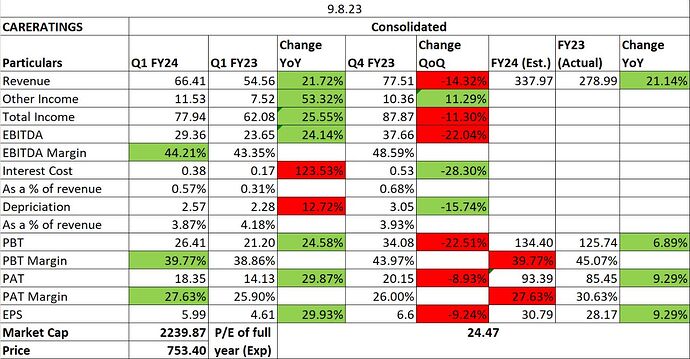 Since last many years, I see that credit rating industry has failed to grow its topline. This
applies to all 3 players (CRISIL, ICRA, CARE) that commands majority share of the market.
Note that I am talking about only Credit Rating Business (not other businesses like research and advisory).
CARE Topline - Last 10 years

ICRA Topline - Last 10 years (Little growth driven by business other than Credit Rating)

CRISIL Topline - Last 10 years (Good growth but again driven by business other than Credit Rating)


I was under assumption that this business grows roughly in line with growth in economy that's tied to growth in credit. But looks I am wrong with this assumption, and probably missing something.
@dd1474 - Would you like to share your thoughts here please?
Thanks for seeking my view. In my opinion, credit rating business in India is primarily depend on credit demand. In direct segment, it is bank loan rating or Debenture/bond rating which are borrowed by the companies. In indirect way, it is influenced by NBFC rating which also indirectly depend on retail credit and unsecured SME demand for credit in Indian market. If one look at FY2000 to FY2010 period, aggregate Scheduled Commercial Bank loan and advance (soured from various RBI Trends and progress annual report), the growth in 2010s was 23% CAGR which declined to 11% CAGR during 2020s.

That could have major impact on Credit rating demand as Bank account for significant portions of Credit demand. Further, in addition to credit, increased demand from SME/small corporates would also be better growth driver from Credit rating agencies perspective, as most of large Corporate are strong negotiator and try to cap their maximum fees. So even if bond raised during the years, increased from 1,000 Cr to 5,000 Cr. in a year, credit rating fees would constrain by cap in the agreement.
These two factors could be main factors behind moderate credit rating revenue growth in my view. However, increase capex, rising working capital demand and revival of SME could result in higher credit rating demand growth for next 3-5 years as compared with last 5 years in my opinion. My track record in forecasting can be defined best as pathetic which only 1 of 10 forecast being correct. So please read this para with bucket of salt and do your own analysis/due diligence.
Disclosure: No major investment in credit rating sector, expect AGM pass holding in Crisil. My view may be biased. I am not recommending any investment action.
I think this is the important point.
Economical growth which we have witnessed in 2001 to 2012 is completely missing in the past 10 years due to various wrong policies.
I personally may be wrong but the current slow GDP growth rate will harm the larger population in next 10 years. Massive efforts are needed at an individual level to lift the GDP growth rate towards 10% at least to see some progress.
No investment in Credit Rating aganecies.
Higher growth in the earlier period was more due to increasing penetration. Since BASEL II norms were implemented, more and more companies were going for rating gradually, which led to very high growth. Proportion of new business as compared to surveillance business was higher that time. Now, majority of companies, which had to be rated, are already rated. Also, jumping from one rating agency to other has become cumbersome (more for NCD issuers) due to change in SEBI regulations few years ago, which has marginally reduced new business opportunity for all rating agencies.
While credit growth does lead to rating business growth, the same can not be similar, due to pricing cap and fee negotiation with increased quantum of debt. In my view, future growth in rating business will be lower than credit growth. CRISIL was visionary to understand this much earlier and aggressively expanded other business areas. CARE has been trying to do so for many years, but no success so far.