Massive loss. High finance cost, low income.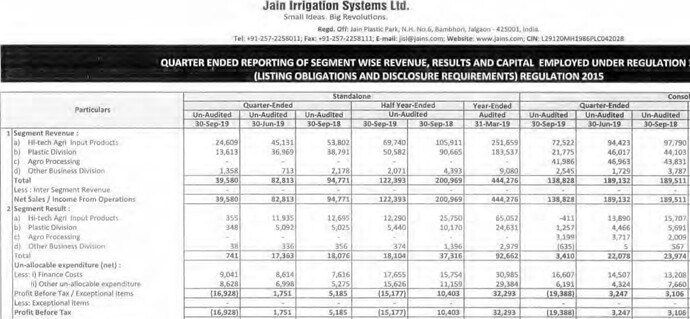 https://www.bseindia.com/corporates/anndet_new.aspx?newsid=35dcfa97-0a0d-4fc2-ac0c-9d1b870807d3
The Concall lasted for around 55 min, in which Mr Jain spoke for 45 minutes. He spoke the same things which he had been speaking in the last 20 Concall. Only two questions were taken from the participants.
Mr Jain realized his mistake and told that they will not be taking any infrastructure projects in future. (but i think its too late to realize).
This is the classic example of incapable and inefficient management.
Just read the body language of Mr. Jain , he looks so defensive and low in confidence.
I have heard that many Banks have already classified the Account as an NPA
The classification as NPA is not upto the banks, if I follow the news correctly, they have to follow RBI guidelines. Since rating is "D", of course payments have been missed and likely the situation remains illiquid. Question is whether NCLT is possible or will re-structuring work here?
Does this show confidence of promoters/board or that they are cuckoo?
AGM considers and then rejects dividend (worth 60 Cr) by a narrow margin.
I sure hope confidence and not just callous/stupid management sending companies to NCLT.
This dividend was recommended in May based on previous FY results, should have been re-tracted.
At current record date, it would have meant a 12-13% return! Though share anyway moves daily in UC/LC range of 5% manipulated by operators.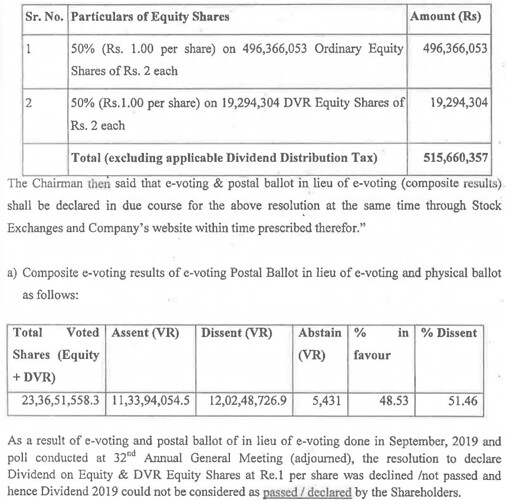 That's the problem with this company, too much debt fueled growth with ambitious 3x Interest/EBIDTA coverage target, in management's own words mentioned in this thread. Deutsche Bank predicts a debt-trap since about 6-9 months ago and the situation looks like it.
Next 3-6 months are crucial but they deny any NCLT case, maybe the matter mentioned is still pending acceptance by the tribunal bench or some thing else happened to defuse the situation. Exchanges should have been notified if this case was admitted, IMHO.
I am betting on restructuring exercise to work. But there is going to be bad news for Q3 soon before any good news starts.
Disc: Invested since 3 years, averaged down to Rs 11, 6% of portfolio.
Historically Q4 is good quarter for Jain. But i am not sure about the management capability . Company was once in the verge of bankruptcy 10 years before because of the same debt trap and later came out . Again they have not learned their lessons . Mandela capital which is one of the shareholder of Jain farm fresh want to sell their stake through IPO 2 years before itself but yet that is not finished .

Yeah, these guys look like idiots, actually 3rd time now in same debt-trap if you follow this thread. The only hope is that drip-irrigation may have good future, their food business is in profits, they are internationally spread and the pipes business may just turn lucky with "jal jeevan" project etc.
Bad/worse results as expected.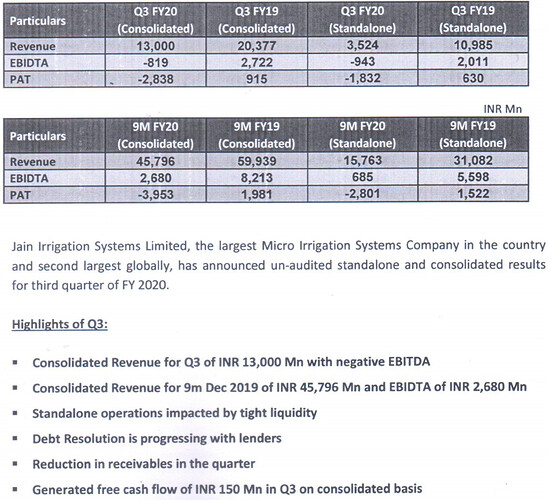 Management commentary:

Media release:

CON CALL:


My opinion is that somehow all business segments are loss-making now, by a wide margin. Only tax charges helped reduce the losses. This thread is quite wisely titled with a question mark

Mahindra EPC is tiny compared to JISL but it is actually improving its numbers!
QoQ Revenue is less by 10% but RM cost is up 10%. Financing costs are up 10%. So they did 2x the PBT loss on Q2.
Overall conclusion: They really are testing faith, and will continue to do so for 2-3 quarters more. As before, I think there is light at end-of-tunnel.
Full results:

Vicious debt cycle, in con call they mention that problem is lack of working capital. At least guidance was for decrease in debt and govt receivables situation improving since Q3.
Only selling for cash now, a major reason for low sales. Q4 will be better they see already.
Debt resolution plan to be ready by end of March and approved by lenders in a month after that I expect. Maybe this should make some credit available in Q1 FY21.
Debt will be cut in half by 3000 Cr by mainly by sale of foreign business, more info by April possibly. The buyers wait first for the resolution plan.
Salaries were paid but with delay.
Link to con call:
https://www.researchbytes.com/webcast.aspx?WID=207262
Promoter stake is constant since 5 quarters. Pledge has very slowly reduced by 1% in past 2 quarters.
https://trendlyne.com/equity/share-holding/682/JISLJALEQS/latest/jain-irrigation-systems-ltd/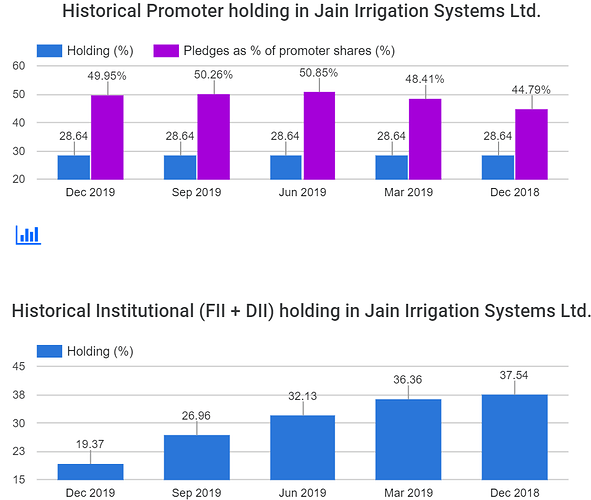 in todays newspaper… raids on jain irrigation
please go thru those whoes marathi is good. mine is bad…
Yes, these things happen all the while nowadays. Tax/other dept is under tremendous pressure due to huge shortfall in collections. They are just checking. Avanti feeds was checked in November, stock fell from 560 to 470 in 2 days, then went to 750 in January. Marathi is quite close to Hindi, at least script is same. Rough translation by Google Lens: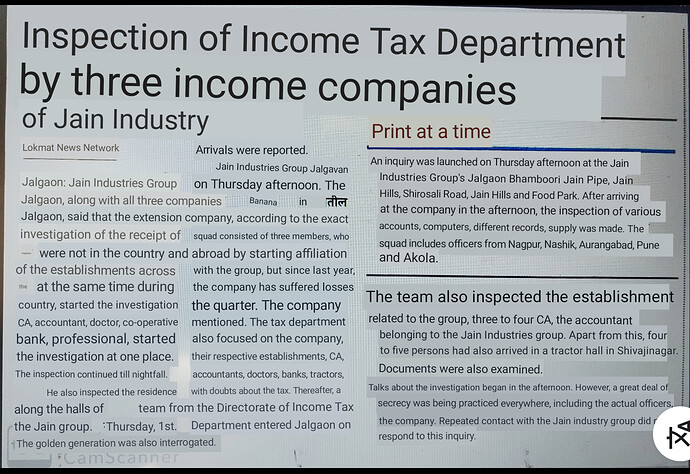 Tax dept. now is demanding full sales money on demonetization day from jewellers.

They are so desperate that even they admit it is for the 20% upfront payment of demand pending the dismissal of case. At least the year target will be met, that's the reasoning.
Extraordinary curve of this share, almost back to Dec 2019 levels after touching historic low past few weeks. Maybe the moratorium on loans helps, agriculture is evergreen and lowest ever crude is positive as RM.
Even if loans are discounted by asset sales planned, book should remain at half the current value, a price target at a conservative estimate of half of that seems reasonable.
Hmm, just noticed, it is now in 100% delivery segment, to curb volatility hitting much of the markets, even Dmart is in same category. Hence, the constant UC, maybe.
Disc: averaged since past 3 years, no trades in past 3 months, 3% of portfolio
As per the news lenders will meet up this month end to discuss on Debt restructuring …Hopefully it will come out with a deal . But with severe liquidity crunch and no working capital and with upcoming bond redemption not much steam left out
Honestly speaking no company has ever come out of such huge crisis and one should never bet their hard earned capital on companies which are headed to get delisted from exchanges.