What's EW thread? Can you share a link…
Thyrocare, Monthly - Hasn't run up as much as Lalpath. Valuations have remained attractive for awhile now but perceptions can change with price. Appears to be breaking out of the long-term resistance trendline. Fundamentally while chronic could do badly in the short-term, the company has added Covid RT-PCR and antibody testing to its arsenal and I expect the latter especially to contribute in the future as people get curious to see if they have encountered and have the antibodies for Covid-19.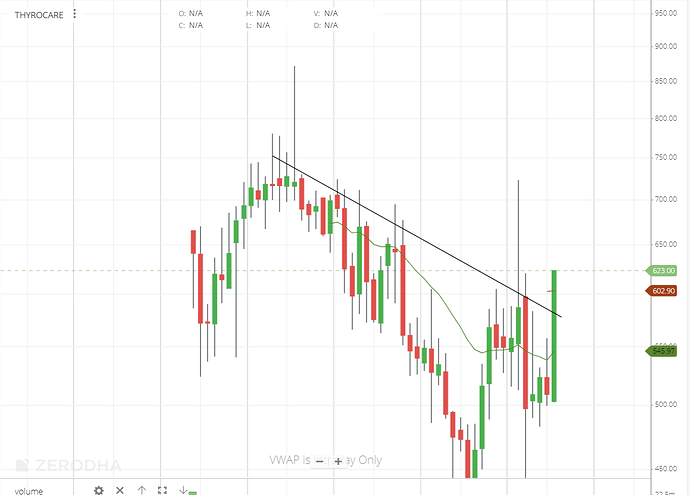 Disc: I have fundamental positions from 450 and added some as technicals improved.
Dr reddy is making reverse head and shoulder pattern.
Bullish sign and the sector is also trending.
Near crucial zone above 4100 for targets around 4350.
Started some positions with strict stop loss.!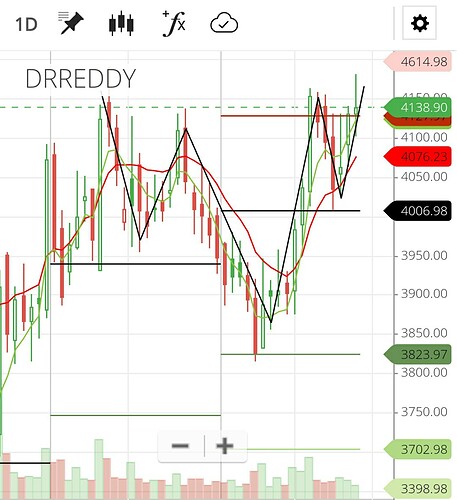 Going through the chart of bharti airtel. Same type on pattern on daily as well as weekly charts.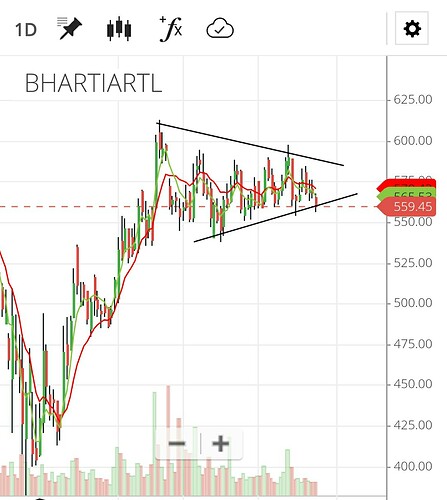 Look for the breakout above 590 - 595 levels with good volumes. Taking support near bottom trend line. 52 week high is also 612.
I think telecom sector is having good tailwinds and with vodafone regularly loosing customers airtel is bound to benefit from that. Best ARPU in sector with practically 2 players.
Recently I have been to mobile shop and no mobile was available (even old models) due to huge demand arising due to study from home. Every parent is buying mobile phone as it is very cheap alternative to laptops. Also each smartphone will require internet connection and hence more revenue for sector. Even poor villagers are forced to buy smartphones for study of their children.
Recently with the type of rally seen in reliance based on jio platform even though it is not separately listed, if any good investor information comes in airtel that would be a huge trigger for next round of rally.
Here is the chart. Watching for breakout.
Respected seniors may please share their views and comment on chart.
I was looking at airtel on monthly charts …I can see a negative divergence in rsi …and this is happening very near to the 12 year resistance …I think going long above 630 monthly close would be safer
Need suggestion to learn.
Deepak nitrite seem to have broken out with big volume. Can we enter with SL at 540 or shall we wait for retracement or confirmation?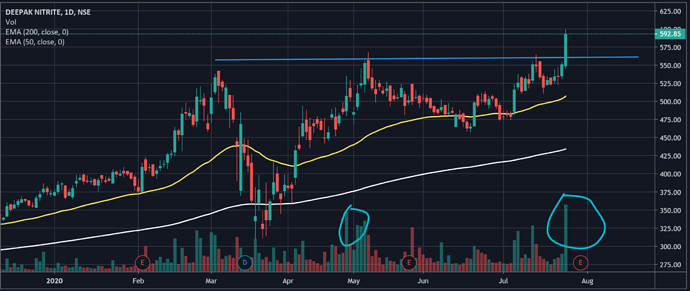 Breakout on heavy volumes is a strong confirmation…im entering on monday
That's a cup and handle Breakout …looks like u can add some at cmp and add some if it retraces
What about hle glasscoat. Looks like further high to be achieved. Not high volumes but everyday making high and then retracing.
Hi. On what indicators or parameters it's looking good. I think breakout is still pending. And it has been a Laggard stock since years in Pharma pack. Even when pharma was performing really well during 2015 I think it has reached 80 or so. Unable to cross 100. This time their new plant needs to be operationalized soon which could add to revenues in coming years. Let's see at least in this pharma bull run it performs well
Hi Alkem has lost weekly support and hence to say correction is over is little bit tricky here. I have given the chart it needs to show strength above red line.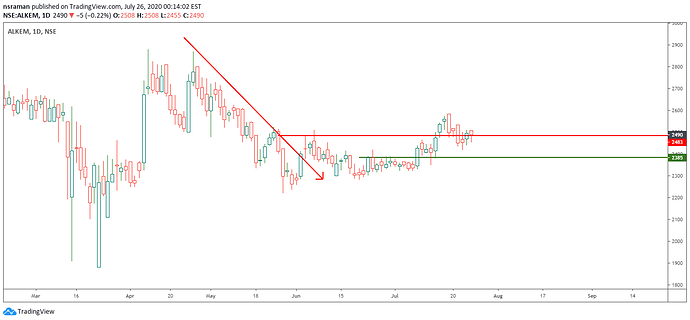 InfoBeans breaking out after quarterly results
The Nifty's P/E is at 30, and the EPS is around 365. With a lot of money moving into gold and silver, and the US Fed refusing to raise bond yield rates, does it look like a correction in the Nifty is coming? Also, the geopolitical scenario is in turmoil, the economic macro indicators aren't too strong both in India and the US. And corona is just messing up all long-term projections and plans.
I just wanted to put this out there, to invite opinions. I don't mean to spread doom and gloom, far from it. Do comment,
Thanks.
Sugar has been in news for some time:
1.https://www.devdiscourse.com/article/business/1138369-govt-notifies-10k-tonne-of-sugar-export-quota-for-eu-at-concessional-rates
2.https://www.financialexpress.com/economy/gom-recommends-hike-in-sugar-msp-to-rs-33-kg-asks-food-min-to-move-cabinet-note/2025054/
Some interesting sugar stock charts to track: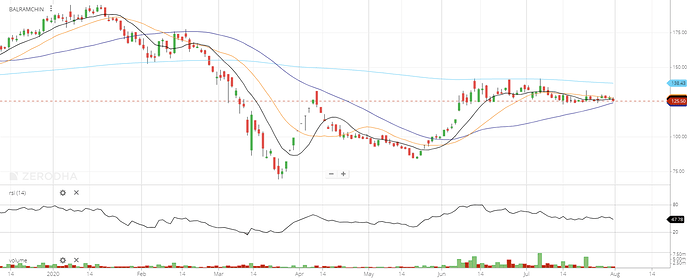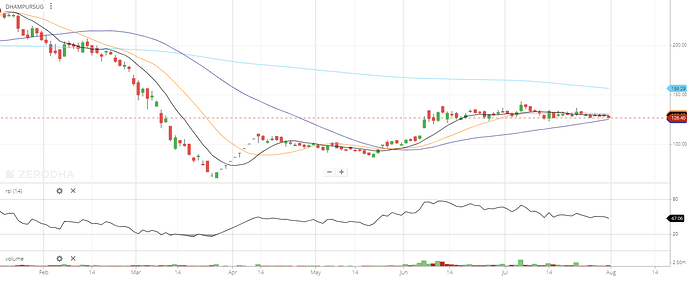 Disc: Charts only for study purpose.
It has a resistance in 119-121 range, it gave almost 20% return in 4 days, 50% of profits can be booked
Tata Consumer, Monthly - Sort of a C&H breakout on the monthly. Very good performance by the company in Q1 driven probably by some one-offs in Coffee and Tea stocking worldwide. There could be some near-term margin pressures on tea as well. However the India Foods segment which the company acquired from Tata Chemicals is doing extremely well. The Tata Sampann range is gaining handsomely (growing at 50% in Q1) in a very under-penetrated segments like branded pulses, spices, ready-mixes etc. Out of the 30L Cr market size in the Foods and Beverages in India - only 10% is currently Organised. So the pool size is very large to grow into and the lockdown appears to have given it some impetus as they are gaining market share through e-Commerce.
This could be a bit more structural and the business has grown very well digitally under lockdown as seen by its traction on Amazon Pantry (Bestsellers in most categories) and BigBasket. There is very good margin expansion this quarter which the management thinks can be sustained and bettered as the integration synergies between Foods and FnB businesses kick in over the coming quarters and the company aspires to become a full-blown FMCG company - can see this in lot of references in the ARs and concalls regarding the same and its showing in their inspirational expansion into new categories and brand-building.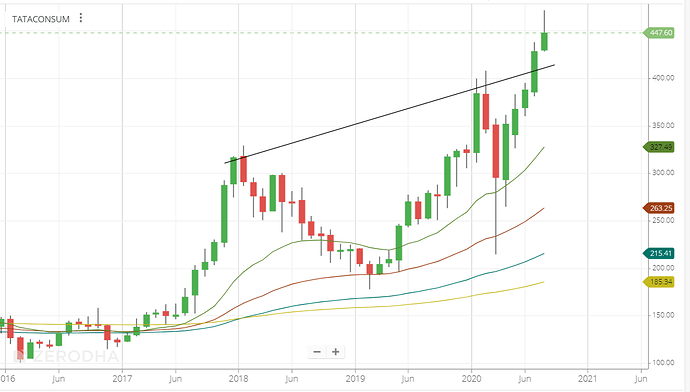 Disc: Invested. Looking to add over time.