I am a newbie in Technical analysis, have noticed cup and handle patterns in IOLCP and Gmm Pfaudler .
IOL Chemicals and Pharma Ltd
The stock was going though a consolidation face in long term (weekly chart) and breakout happened with the cup and handle pattern.
Height of the cup =140.Target price will come near to 420.
Stop loss can be near to 270 (in case the pattern is not working).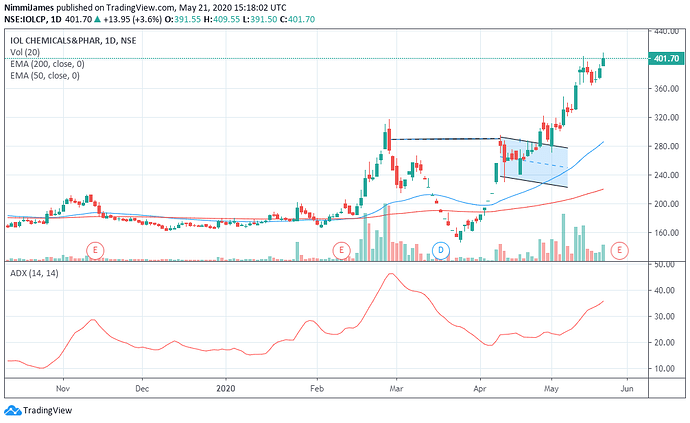 Fundamentals Triggers:
Company has just started paying dividends and has reduced debt.
Good profit and sales growth.
Few of its products has increased demand due to coronas crisis.
Disclaimer : Not Invested ,but tracking
GMM Pfaudler ltd
Cup and handle formed during an uptrend.
Height of cup =1600
Target price will come near to 4800 to 5200 .
Stop loss if the pattern wont work out will be near to 3200.

Fundamental Triggers:
Order backlog increased.Not much effected due to lock down.
Finalized few large orders recently.
company is setting up another facility Hyderabad(after lock down), which will help to get better reach of its customers.
Disclaimer : Not Invested ,but tracking