Hi,
They follow a different segmentation method in their investor presentations and annual reports. I used the Q4FY19 presentation to match the figures with FY19 annual report.
The data to match is on Pg. 28 of the IP and Pg 139 of the AR. Both are consolidated figures.
So as per Q4FY19 IP other operating income in FY19 was 65.2 cr. As per FY19 AR, this totals the sub-segments of Data dissemination fee, training institute and software license sales.
As for the other income of 35 cr, as per the note 25 to the on Pg 189, this consists of rental income,website income, interest on income tax refunds, misc. income, incentive from govt. and excess provision written back.
Commercial Papers:
In less than a month, 50 issuers have done 258 issuances of commercial papers and listed CPs of Rs 1,05,795 crores on BSE. The weighted average yield of these issuances is 6.09 per cent with an average tenor of 138 days - Chauhan
BSE Ebix Insurance Broking receives certificate of registration from IRDAI; plans to be operational next month.
BSE results declared. Earnings call transcript here.
https://finance.yahoo.com/news/edited-transcript-bsel-ns-earnings-030711187.html
Mr. Ashish CHauhan is asking investors to use BSE to boost equity volume.
He is clearly accusing NSE of acting anti-competitive using mcx-sx case as an example.
It is clear, BSE is trying to make up most of the newer markets compared to what it is losing in equities.
BSE Q3 Results!

Q3 FY20 IP: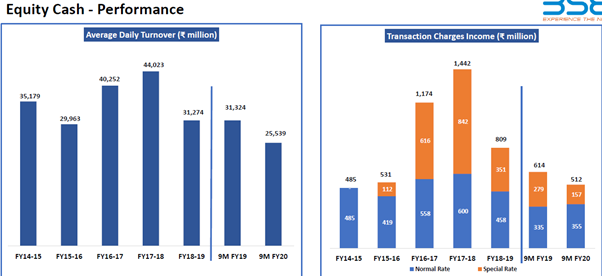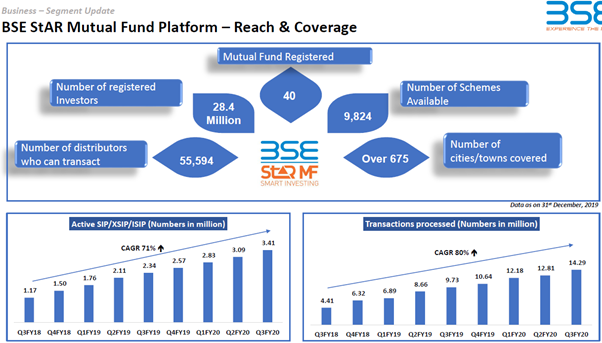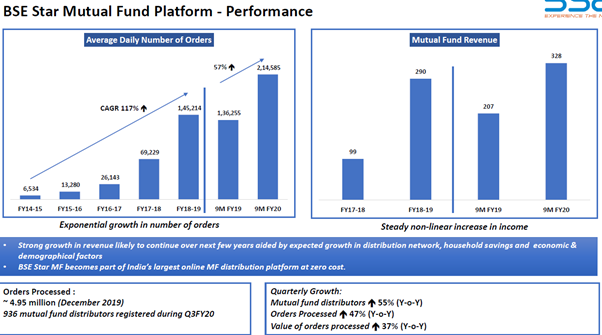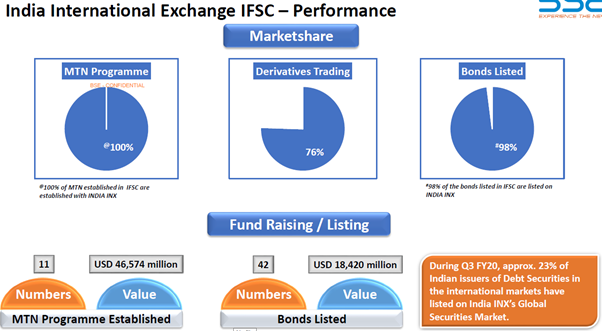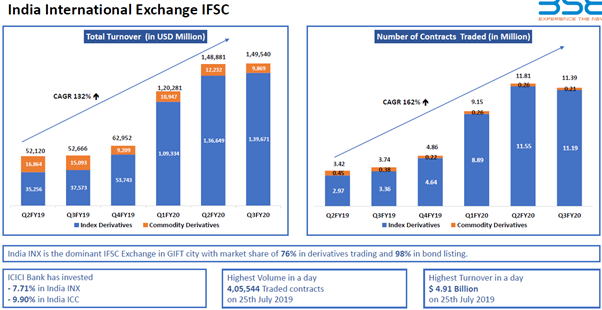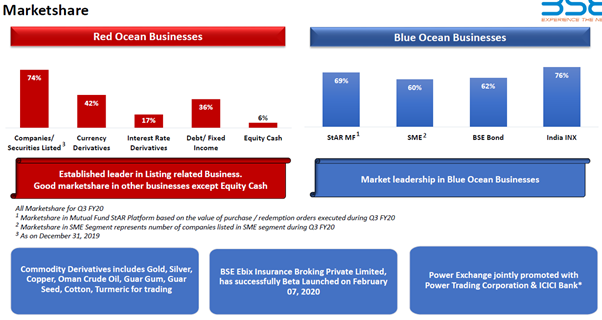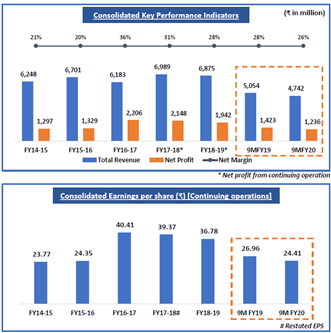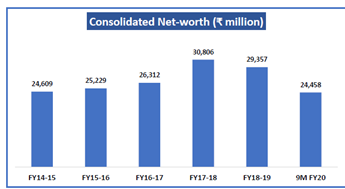 Q3 FY20 CC:
BSE Star MF: BSE continues to march ahead in its growth of business in StAR MF platform. [Whole] number of orders processed has risen by 55% to 393 lakhs during the 9 months ended October 31, 2019, as compared to 253 lakhs in corresponding previous 9 months. The platform received a record 53.65 lakhs orders in the month of January 2020, surpassing the previous best record of 49.56 lakhs order in the month of December 2019. The total number of orders received in the month of December 2019 is higher by 51% as compared to orders received in the month of December 2018. The net income earned after considering provision for receivables in the StAR MF segment increased by 58% for the 9 months ended 31st December, 2019. Income earned in this segment has contributed to 12% of the revenue from operations for the 9 months ended 31st December, 2019, as compared to 7% from operations for the 9 months ended 31st December, 2018. Seeing it differently, the income earned in StAR MF segment now is equivalent to 64% of the income earned by BSE's Equity segment during this period. BSE continues to remain positive on growth of the segment. BSE's market share in this segment for the 9 months ended 31st December stands at 71%.
Insurance: You would be glad to know that BSE-Ebix Insurance Broking Private Limited, a joint venture of BSE with Ebix FinCorp Exchange Private Limited has obtained insurance broking license from insurance regulator, Insurance Regulatory and Development Authority of India, IRDAI. The company is in the process of appointing its intermediary network and commencing its business. The company has successfully launched – beta launched operations on 7th February, 2020. The venture will enable distribution outlets, wealth management advisers, point of sales persons to sell life and nonlife insurance products on the single platform. It is expected that network of insurance broking business and mutual fund distribution platform shall complement and leverage and either both strong growth over time.
Market Scenario: In our budget speech on February 1, 2020, Honorable Finance Minister, Shrimati Nirmala Sitharaman stated that in recent years, there has been a surge in trading volumes of Indian rupee in the offshore financial centers and that the government and RBI has taken various measures to permit rupee derivatives to be traded in the international Financial Service Centre at GIFT City Gujrat. On 3rd February 2020, the Securities and Exchange Board of India, the regulatory board of stock exchange and (inaudible) approved all recognized stock exchanges and trading corporation in IFSC, launch currency futures and options contracts. Government also in the recent budget allowed for 1% concessions in withholding tax on the bonds listed on India International Exchange. The IFSC Centres Authority Act 2019 came into force from December 20, 2019. The act inter-alia provides for setting up a unified authority, regulate all financial services in IFSC in the country, been approved by both houses of parliament. It aims to set up a world-class unified regulator for International Finance Service Centre, combining power and functions of RBI, SEBI, IRDAI and PFRDA amongst others. Currently, the banking, capital market and insurance sector and IFSC are regulated by multiple regulators such as RBI SEBI. The dynamic feature of business in the IFSC is necessary of its high degree of inter regulatory coordination. It also requires regular clarifications and frequent amendments in the existing regulations. Government regulation services – financial activities in the IFS. The development of financial services and products in IFSC would require focused and dedicated regulatory interventions. A unified financial regulator for IFSC and India would be able to support the growth of global financial markets in IFSC.
Currency Derivatives: The current derivatives segment at BSE continues to provide a very liquid platform for trading in currencies. The average daily turnover of currency futures for the 9 months ended 31st December, 2019 was INR 11,192 crores. And the average turnover in the options for the 9 months was INR 17,867 crore. Our Market share for the period of BSE was 43%.
Commodities: In the Commodity Derivative Segment, BSE facilitates trading and derivatives of gold, silver, Oman Crude, copper, guar seed, guar gum, cotton futures, turmeric, castor seeds, chana and soya bean. In a short span of a year, BSE has become the dominant action for trading in derivatives cotton with a market share of 30%, and guar seed, the market share of 30% for the – 32% for the quarter ending December 2019. The total number of the member admitted in this segment is now 276. Average daily turnover for the 9 months ended December 31, was INR 203 crore. On 27th January, 2020, BSE signed a licensing agreement with Intercontinental Exchange, which is listed on NYSE, a leading operator of global exchanges and clearing houses and point of data and listing services for the use of ICE Brent Index as the final settlement price for BSE's rupee denominated brents which is contract.
BSE SME Platform: BSE SME platform has 315 companies listed on its platform on 29th January, 2020. Further, the number of companies listed on SME platform has grown by 12% over the past 1 year from 280 companies to 315 companies. Of the total number of companies listed in BSE SME, 75 companies migrated to the BSC Mainboard as on 31st December, 2019. The total market capitalization of companies listed on BSE SME platform was INR 18,289 crore. And total fund raised was INR 3,279 crore. Number of market makers with BSE as on 31st December was 129. The companies listed on BSE segment, SME segment have shown outstanding growth over the past 7 years. The SME IPO Index, which was launched on 14th December with 100 the base has increased to 1,770. It measures the performance of any IPO for 1 year only. BSE's market share in listing of company and SME segment stood at more than 60% as on December 31, 2019. BSE launched platform from electronic bond distribution mechanism, BSE Bond on July 1, 2016. This platform facilitates issuance of debt securities on private placement basis as well as on public basis. Issuers in this segment include renowned corporates from public as well as private sector in India. During the 9 months ended 31st December, 189 issuers successfully raised over INR 2.3 lakh crore through this platform. The total debt raised under this platform till date has crossed INR 10.44 lakh crore. BSE's market share stands at 61%.
Future Efforts: BSE shall continue to make further efforts to increase its business in Equity Derivatives Segment. Interoperability amongst Clearing Corporation facilitates the efficient order execution by enabling any order to be executed at more than one actions and thus reduce the slippages in execution without the need to maintain margins at multiple clearing corporations. As more and more members of the investment community are insisting on base price execution across exchanges from their trading members, a positive impact on the liquidity and turnover on liquidity and Derivatives Segments is possible. BSE along with PTC India and ICICI Bank filed a petition with the power market regulator, Central Electricity Regulatory Commission, CERC on September 7, 2018 for grant of license for setting up a new power exchange. The CERC approval is currently awaiting. This proposed institutional exchange, subject to necessary regulatory approvals, would leverage on the experience of expertise of its stakeholders in their respective fields, knowledge of the power sector, funding of power projects and associated infrastructure, setting up and running various exchanges and platforms in India and offer the market participants a credible power trading alternative. BSE has a stake of 41% as of 31st December, 2019 in the proposed power exchange, which wholly owned subsidiary BSE Investment Limited. Same stake would have to be brought down 25% for the receipt of grant of license or for products before that. With respect to listing securities, the number of companies registered with the equity and capital on our exchange are – and available for trade, are 4,015 as on January – as on February 6, 2020. On 26th November 2019, BSE has announced the framework for listing of commercial paper, enabling the listing on BSE for commercial paper issued on or after 27, 2019. Housing Development Finance Corporation Limited, Tata Steel Limited, Reliance Jio Infocomm Limited, [BFS India Limited], IIFL Wealth Finance Limited made an application to list their commercial papers at BSE for issue size [INR 50] crores, INR 2,500 crores, INR 1,000 crores and INR 300 crores, INR 200 crores, respectively. Post process, the effective date of listing for the same and BSE 17 Jan. The total listed CP on BSE has now gone about INR 2 lakhs crore. The weighted average yield of this issuance is 6.52% with average turnover of 148 days.
Consolidated Results: On a consolidated basis, the profit attributable to shareholders of the company for the quarter ended December 31, has grown by 24% to INR 45.57 crore as against INR 36.69 crore for the previous quarter. The operational revenue for the quarter ended December 31, has grown by 1% to INR 109.92 crore as against INR 108.89 crore for the previous quarter. The percentage of operational revenue to total revenue for the quarter ended 31st December, 2019 has risen to 74% from 68% in the previous quarter. Total revenue for the quarter ended 31st December decreased by INR 10.92 crores to INR 148.66 crores because of investment income by INR 11.17 crore. It may be noted that the main reason for the decrease in investment income compared to previous quarter is outflow of INR 476 crore on its buyback of shares undertaken by BSE in the month of September 2019, in addition, the dividend payout, which was also large.
Disclaimer: Invested
After sale of CDSL, there was no announcement by BSE for declaration of dividend. They, porbably may do during FY21. However, I found many opportunities more attractive as compared with BSE. Hence, sold my holding in BSE during last two days. I would be now closely moniroting ITC to deploy that fund. Since I was regulator contributor to forum, I thought it was my duty inform the fellow members. While BSE is trading currently at attractive dividend yield, I am concern about sustainable dividend during FY20. ITC is trading at lower dividend yield but has more robust and sustainable business in my limited understanding.
Discl: My view may be biased due to my recent investment decisions, Not a recommendation, Not a SEBI registered advisor, Investor shall do their own due diligence before making any investment decision.
HI Dheeraj,
Many thanks for sharing your thought process, really appreciate that. I was thinking on the same line, BSE was a value buy for me and was never a growth stock. Div yield has been attractive but given the dip in earning that might not be sustainable. I have not sold my holding yet though but given attractive valuation of ITC and Marico I was thinking to switch.
ITC I have been holding since sometime however my question is - is ITC a value buy or it turns out a trap (or significant opportunity cost if does not start moving up)? After lots of reading and analysis I have not been able to figure that out yet and hence still in double mind. Would be good to hear your thoughts out on that and possibly your direction of thinking for ITC.
I am buy and hold kind of investor and have been holding a few stocks since more than 15 years.
Apologies to clutter this thread with ITC discussion.
Many thanks
Darshan
Thanks for sharing and being transparent. Im sure forum highly appreciates it. Im also invested in ITC and I do think it has value. Somone is contannaly offloading the shares and that is weighing on the price. Otherwise how can a cash cow like ITC trades at this valuations.
Coming back to BSE:
Removal of DDT at source should compensate for dividend. Someone asked this in the con-call if my memory served right. And Mr. Chauhan said 95% of profit will be shared as dividend and that policy will continue.
Im also pretty disappointed with fall in profit ( of course I should have calculated the fall in treasury income after buyback).
I still have a big position in BSE, reasons are
BSE star mf is growing consistently… Last month it did about 57 L transaction in a month. I expect it to grow 20% in Q4 compared to Q3. that would give additional 2.5 Cr profit ( it was 12.5 Cr in Q3 I think ). month on month they are growing at about 5%… so I expect them to double in 10 -12 months. BSE star mf became very popular after they rolled out additional services for IFA. They were paying for it before.

New venture BSE-EBix will start operations soon… Insurance is still under penetrated in India and I expect it to grow like Star MF. BSE has 56000 IFAs in their MF platform. They will leverage it and scale up quicker is my expectation. Of course it will take time to yield profits… but its a good seed to plant now.

Derivative volumes have picked up… ( of course they are doing LES and that will dent the profits further in Q4). Average daily turnover stands at 4000 Cr now. it has grown consistently from 18 Cr in Sep 2019. BSE is also putting tremendous effort in asking derivative players to participate. Even PR Sunday has tweeted about it.

NSE listing… Im not counting on rerating but I hope NSE will start charging at GIFT city Gujarat after listing. BSE INX has about 75% market share and recently the turnover went close to 5 Billion dollar on a expiry day of course. INX has been eating about 30-40 Cr rupees every year. They will also start USD INR and other currency trading soon…
I have listed the reasons here to my knowledge. Im happy to discuss and stand corrected if my assumptions are wrong. Also my investment horizon is about 10 years and I don't mind the corrections…
Disclaimer:
My views are heavily biased as I hold a large chunk in BSE. please do your own research before buying.
BSE has paid out a dividend per share (DPS) of between Rs. 28 and Rs. 36 over the last three years (FY17 - FY19). I believe that a DPS in this range is possible this FY too for the following reasons:
Mr. Chauhan has committed to payout 95% of operating profits as dividend.
BSE has bought back more than 10% of shares this FY.
StarMF is likely to contribute substantially to operating profits for this year.
Removal of DDT.
Of course, the dividend will be taxable at slab in the hands of the investor - but that is a different story.
Disc: Invested and adding; views biased.
@Rezang_La @Lajja_Shah @enelay BSE StarMF has been showing great growth in March ( only 12 days so far and they already did 31 L trxns… Is it due market falling and more units being bought ( due to units getting cheaper)… or is it really a growth ?
Point to note is that In Jan also they showed great growth but market was stable… so just wondering if its true organic growth or is it due to market fall. Thanks
This might be due to market fall…
This is Mr. Chauhan from the concall last month.
My understanding is that Star MF is increasing it's market share for the MF industry as a whole (as distinct from just the NSE / AMFI platforms).
I do hope its organic growth and volume is moving from other platform to StarMF. The entire industry saw de growth but starMF picked up… I expect starMF to reach 1 Cr trxns per month by end of this year… They have been growing about 5% m-o-m. This market fall could halt it as well… lets hope for the best.
The real growth started after starMF offered additional serviced to IFAs… Now IFAs can their AUM and all clients PF using starMF website.
what could be the size of this Start MF market ?
Also, How folks here think about INX ? Its really hard to open a exchange and make people shift to you, Its almost impossible.
So, far i am seeing only some new bonds are getting listed in the exchange and these are not very traded products.
BSE - is hopeful of moving Forex trading into it -
An exchange in India is preparing to launch a suite of Indian rupee derivatives, four months after the country's central bank relaxed the rules on onshore trading of currency derivatives settled in foreign currencies. The move has been met with scepticism from market participants, who expect the majority of Indian rupee derivatives activity to remain offshore. The India International Exchange is, nevertheless, hoping for a rapid rise in rupee derivatives trading on the exchange once new
That too i am very skeptical as there is no incentive / reason again for people to move from one exchange where they have been trading to INX.
I have a feeling that it may remain money losing entity of BSE life long, Would love to know about view of others here.
Didn't we discuss this question here many times about INX when you raised the question last time ?
you posted this
either derivatives or USD/INR logic remains the same. If a new bourse cannot take away market share from an old exchange… how NSE which was not even existing before 1991 has 90 % market share now ?