Same case… looking at Satin Creditcare, Capital first now which look promising
Yes., Stellar Results.
It is one of my best holdings.
Attended the AGM today.
Exclusive innovation & execution by the CEO Rajeev Jain in operating the company.
It is always a treat to hear him.
It is rare to find the highest growth with the lowest NPA.
Disc : Invested.
Missed sating around 315 (wanted to enter @305) and look where it is now. Will wait patiently now for good price. This is going to be tough when prices are moving daily by 5-6% points.
My notes from the concall for Q1 2017:
Link to shareholder presentation - https://www.bajajfinserv.in/finance/downloads/IP-Q1FY17-Final.pdf Read from page 17 onwards for this quarter's details.
Customers acquired in Q1 has gone up by 48% yoy to 25 lakhs in the quarter
Digital Finance segment can be as twice as big as consumer durables. The main driver in this space is mobiles. It is low ticket but high churn item.
GNPA and NNPA was 1.47% and 0.41% respectively
Auto sector has still not picked up significantly as yet.
Lifestyle finance and REMI are new innovative segments of BFL
Salaried personal loan is going direct. Expecting to move to 75% direct by end of the year.
Expecting home loan to hit 250 cr/mon by end of year
Ecommerce tie up with Flipkart was extremely successful. BFL got front page visibility during the sale week.
FD is 7% currently. Can go up to 15-18%. Disintermediation in deposits side as well.
Co is strengthening own distribution network. Is currently present in 250 cities / towns, whereas DSAs are present only in top 50.
I just bought 10 shares @9890 (incl. brokerage). Will I be eligible for Bonus Shares & subsequently any stock splits if I hold till it is voted by Shareholders in Sept. 2016? Please advise. Thanks.
Yes. You will receive 100 shares in all. Post split and bonus
One can also save your tax outgo by booking STCL for the initial purchased quantity.
Amit
Bajaj Finance (SELL): Holders beware, risk-reward unfavourable
Bajaj Finance's 1QFY17 net profit was up 54% YoY to Rs4.2bn, ~11%/4% ahead
of our/consensus expectations primarily driven by higher-than-expected fee
income. Key trends indicate that risks to BAF's earnings growth continue to
increase as: i) declining growth and profitability in mortgages (28% of
AUM) are driving BAF to grow faster in riskier unsecured loans (up from 28%
in FY13 to 47% currently); and ii) falling yields and bottoming out of
credit costs could pressurise BAF's profitability in unsecured loans (click
here for "Steep valuations and rising risks"). Watertight valuations
(5.7x/31x 1-year foward PB/PE) imply current earnings growth to sustain up
to FY25E, which is very unlikely as competitive intensity is increasing and
asset quality is bottoming out in unsecured loans. Our revised target price
of Rs4,500 implies FY17E P/B of 2.6x and P/E of 15x. SELL. (Aadesh Mehta,
CFA, +91 22 3043 3239)
Some scuttlebutt on this: Big chains like Vijay Sales in Mumbai which had only Bajaj Finance to fund purchase of white goods, have also tied up with Capital First.
When I visited Vijay Sales to buy an air-conditioner two months ago, the sales executive asked him whether I would like to choose BF or CF. Since I had used Bajaj Fin to fund another purchase a few months ago I chose the former.
The paperwork required by both companies are similar: PAN Card, Aadhar Card, Bank Passbook and Salary Slips.
What bothered me was the type of people employed by Bajaj Fin to staff its desk at the Vijay Sales outlet. These are slightly better educated than the workers you find at any mall. Bajaj Fin seems to be depending entirely on software to do background verification.
Now the company has tied up with Future Retail where the customer base is from the lower-middle class aspirational types. Wonder what will happen if a large number of people default on payments during an economic downturn.
disclosure: holding the stock in long-term portfolio. may also book profits periodically.
Concall Notes from Capital Market (highlights by me):
Expects to shift to 90-days overdue NPA recognition norms by April 2017
Assets Under Management (AUM) increased at accelerated pace of 40% to Rs 49608 crore at end June 2016 from Rs 35557 crore at end June 2015. The company continues to maintain an AUM and PAT growth guidance of 20-25% for FY2017.

New loans acquired galloped 48% to 25,40,540 in Q1FY2017 from 17,19,125 in Q1FY2016.

Loan losses and provisions increased 75% to Rs 180 crore in Q1FY2017 as against Rs 103 crore in Q1FY16. The Company continued to strengthen its provisioning policy. During the quarter, the Company made an additional provision of Rs 19.1 crore in its Mortgage portfolio. Adjusted for this, loan losses and provisions have grown by 56%.

During the quarter ended 30 June 2016, as required by RBI guidelines, the Company has moved its NPA recognition policy from 150 days overdue to 120 days overdue. Gross NPA and Net NPA as of 30 June 2016 stood at 1.47% and 0.41% respectively.

The company expects to shift to 90 days overdue NPA norms by April 2017.

The company expects expense ratio at 40-41% in FY2017, which may improve to 38-40% in next 3-5 years. An improvement in operating leverage, lower dealer commission with higher direct to consumer focus is expected to aid improvement in expense ratio.

Two Wheeler financing business disbursed 175 K accounts in the quarter (30% YoY). Three Wheeler financing business disbursed 12 K accounts (106% YoY).

Consumer Durable business had a strong quarter disbursing 17.75 lakh accounts (37% YoY). Retailer finance business disbursed Rs 1655 crore (49% YoY). The business has expanded to 76 new locations in Q1FY2017.

Digital product finance business disbursed 244 K accounts (154% YoY) during the quarter. Geographic presence increased from 75 to 100 locations to diversify and realize the potential of this business.

Lifestyle finance business disbursed 47 k accounts (70% YoY). The company has entered Life Care finance segment, financing elective medical procedures like dental procedures, eye care surgeries etc. Business continues to expand into life care financing space. It added more than 450 clinics across India in Q1FY17 taking the total count of clinics to 860.

The urban gold loans business has started gaining traction and crossed AUM of Rs 100 crore, which is operating from 60 urban branches. The product is expected to be distributed from all branches in next three years.

Salaried personal loans disbursed Rs 665 crore (21% YoY). The business has expanded presence to 72 cities with addition of 17 new locations in Q1FY17.

Salaried home loans disbursed Rs 393 crore (152% YoY). The company has expanded presence to 20 locations.

Under EMI financing business, the number of card in force has increased to 6.1 million.

Retail EMI business disbursed 6.8 k accounts in Q1FY2017, which is operating in 15 cities and 2400 stores. Business announced a strategic EMI financing partnership with Future group. Retail EMI financing is expected to be 2X of consumer durables in 5 to 7 years.

Rural lending business expanded to 445 locations. The company launched 19 new branches and 22 spokes in Q1FY17 in Tamil Nadu and Andhra Pradesh and plans to launch more branches in Andhra Pradesh in Q2FY17.

Business loan disbursements increased 40% to Rs 1170 crore, while professional loans disbursements also galloped 59% to Rs 375 crore in Q1FY17.

The loan against property (LAP) disbursements declined 26% to Rs 864 crore, while the self employed homes disbursements rose 6% to Rs 423 crore in Q1FY17.

Loan against share business had a good quarter with a net assets addition of Rs 284 crore.

Corporate Finance and Financial Institutions Group (FIG) disbursed Rs 140 crore in Q1FY17. The AUM has touched Rs 900 crore within one year of launch.

Infra financing business continues to remain in pause mode due to sectoral stress, while outstanding portfolio declined to Rs 306 crore. Construction equipment finance business now has an outstanding of only Rs 38 crore and is winding down as per plan.

Fixed deposit business garnered Rs 665 crore of new fixed deposits during the quarter taking the total deposit book to Rs 2924 crore (161% YoY).

Interest cost for the company continues to remain significantly lower amongst its NBFC peers. Borrowing mix at the quarter end stood at 45:48:07 between banks, money markets and retail deposits respectively. Retail and corporate deposit share is expected to increase to 20% in next 3-5 years.

The company has raised Rs 972 crore of Tier II capital in July, while expects the capital position to be comfortable for growth till March 2018.
Sorry, I keep asking the same question every time stock goes up. At P/E level stock looks cheap and P/B level it is most expensive after Gruh. Your thoughts?
The stock is richly valued, no doubt about it. The business is fantastic. But can the business sustain at these valuations in the million dollar question.
Disclosure: Invested
Just noticed on the chart that there is a bearish pinbar setup on weekly chart. this might suggest some correction is on the card. more at the link:
http://trade-and-invest.com/content/bajaj-finance-–-are-corrections-card
Disclaimer - not invested, this is not any recommendation for anything, it is just an observation from the charts.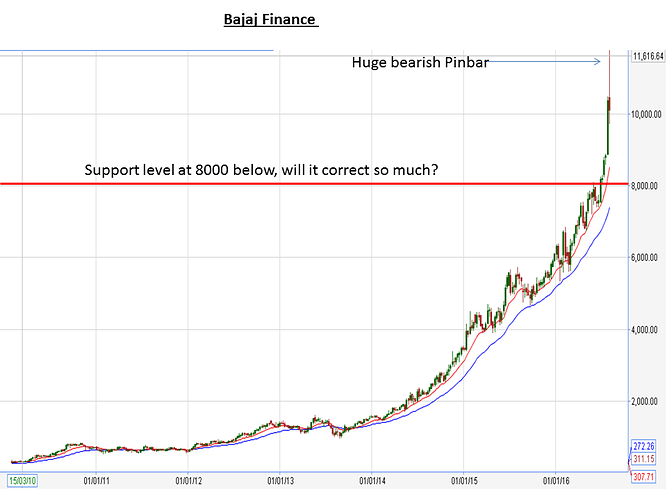 Disclaimer - not invested, this is not any recommendation for anything, it is just an observation from the charts.
Thanks of rthe observation Prabhakar. Its already down ~15% from the high. Another 20% and will be at 8k levels that you mentioned. Will also coincide with Fibo retracement from top?
I am attaching the chart with Fib's as well.
the 23.6 Fib level is at around 9000, usually there is not much reaction at this level, but this being Bajaj finance - another league of stocks, price might react.
the first level of support is around 8100 level. and then the 38.2 Fib level and other level of support between 7500-7200.
all of this only if the stock will correct… Usually with such kind of pin bars it does, but will wait and see…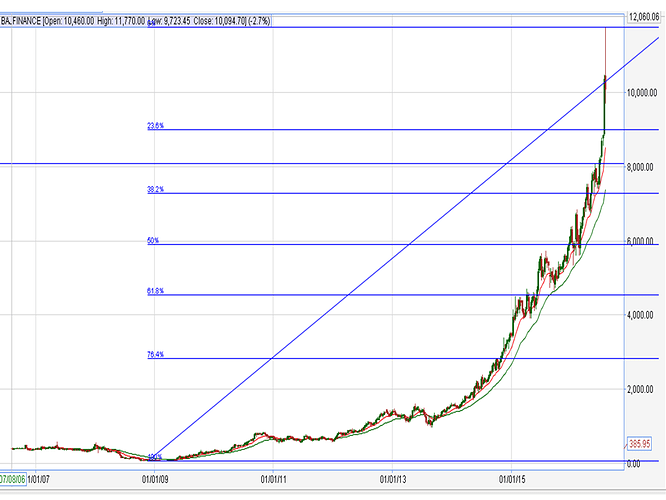 Yes., Amol., I agree, the recent sharp run-up in price makes the market valuation outperform the fair value.
But this is how Mr. Market behaves.
Flipkart has started offering "No Cost EMI" on all credit cards alongwith Bajaj's EMI card. It is only a matter of time when this will be replicated in the offline world. Does it mean that a significant part of BFL's moat which was expanding will start getting eroded? Will a large segment of EMI card users stop using it as they will find it equivalent to their credit cards which have a much wider acceptability. Is the self-reinforcing biz model under threat?
Disc: Invested
This is what Other credit cards offer " I understand that on choosing No Cost EMI payment option using Credit Card, I will get a discount upfront equal to the interest cost due to the bank making it effectively no interest cost. * I understand that No Cost EMI payment option is available on select products sold by select sellers only. * The discount applicable on opting for 'No Cost EMI on Credit Card' is being offered exclusively by brands and does not amount to EMI/interest waiver extended by the bank * I understand and confirm that I will need to pay applicable EMI and interest on total value of the order at the time of payment to the bank in accordance with the terms applicable to the credit card. The interest cost charged by the bank over time is being given back to me upfront at the time of this purchase and netted off in the Invoice amount. * The discretion to allow the payment lies with the bank issuing the credit card. Flipkart will have no obligation or liability in the event the bank refuses to process the transaction for any reason * The Bank charges annual interest rates according to the reducing monthly balance. In the monthly reducing cycle, the principal is reduced with every EMI and the interest is calculated on the outstanding balance * I understand that if I fail in timely payment of EMI, there may be additional interests/penalty which may be levied by the bank which may be higher than the discount offered under this scheme * I understand that in a single transaction, payment through 'No Cost EMI using Credit Card' can be made for a single product purchase only * The minimum order value to avail the EMI payment option is Rs 4,000 * Any returns/cancellation will be as per Flipkart's return/cancellation policy. In case of any kind of return/refund in an EMI transaction, interest already billed in a particular transaction will not be refundable under any circumstances * Flipkart will not charge a processing fee for availing EMI option. Bank may however charge processing fee or cancellation charges as per the banks policies. Such charges shall be paid by me and will not be refundable even in the event of return/cancellation of the order * You may check with the respective bank/issuer on how a cancellation, refund or pre-closure could affect the EMI terms, and what interest charges would be levied on you for the same * Flipkart retains the right to modify or cancel this scheme at its sole discretion * I understand that for these products the constraints on number of transactions per credit card is one."
This is what Baja Finance offers " I understand that payment through the Bajaj Finserv EMI Card is available on select products sold by select sellers only
I understand that in a single transaction, payment through Bajaj Finserv EMI Card can be made for a single product purchase only.
I understand, agree and accept that upon selecting the product for purchase and completing sale transaction using Bajaj Finserv EMI Card option, I am submitting a valid loan application to Bajaj Finance Limited (BFL) governed by the Master Terms and Conditions applicable to Loans for Consumer Durable, Digital, Life Style Products and EMI Cards available at www.bajajfinserv.in/finance. By completing the product purchase through the Bajaj Finserv EMI Card option, I will be deemed to have read, fully comprehended and accepted the BFL Loan Terms
I confirm having read and fully comprehended the various available EMI schemes for the purchase of this product including the total loan amount, the EMI payable to BFL, the loan tenure.
I understand that BFL does not require any down payment for processing the Loan, unless expressly specified.
I understand that if my purchase transaction date is before 23rd of a month, first EMI will be charged in 1st week of the succeeding month."
In my view two of them are different proposition. There are several obvious constraints in the credit card option.
Thanks Butun
Thanks for the effort, Butun.
This terminology is used to adhere to RBI guidelines that banks cannot offer zero-EMIs. From an existing credit card user's standpoint, there would not be any change in the two options - using BFL's EMI Card or his Credit Card, as long as his EMIs remains the same. He would prefer using his credit card due to sheer convenience.
So, this is definitely a negative for BFL and was expected. I was wondering why it took so long for banks to copy this model. And now given BFL's success, banks as well as other NBFCs like Capital First will become far more aggressive in matching BFL's EMIs.
This is not to say BFL will be a big loser as they have many other competitive advantages in the biz model. But since this was one major advantage, as competition intensifies, the leader will take some hit. I hope BFL will now multiply it's efforts of increasingly converting the non-credit card/cash users to it's EMI card and will also need to come up with attractive offers to push increased usage of the card to make it a habit for the users.
Rgds
RR