AURO got 2 approvals
Ibandronate for osteoporosis
Omeprazole for Peptic ulcer treatment

http://www.accessdata.fda.gov/scripts/cder/drugsatfda/index.cfm?fuseaction=Search.DrugDetails
http://www.accessdata.fda.gov/scripts/cder/drugsatfda/index.cfm?fuseaction=Search.DrugDetails
Closely following and invested in Aurobindo for almost 2 years now. Few notable points:
FY 14 numbers/margins/return ratios got a boost as company got day 1 approval due to a large drug (Cymbalta) and company did well to capture good market share in 180 days of exclusivity
Markets were not expecting the good show to continue in FY 15 and beyond due to large base of FY14, but still company delivered good y-o-y growth last year and sustained decent margins even after acquiring loss making operations in EU from Actavis.
Valuation multiples of Aurobindo compared to other similar peers have narrowed down to a large extent in last 2 years, however it still trades at discount compared to other mid cap peers.
Valuations also factor in margin profile, debt, pipeline, management's past record, etc. Aurobindo does not screen best among all these parameters but when compared to other mid cap peers it does screen very good.
Some charts to put in context where Aurobindo stands
Revenue from US: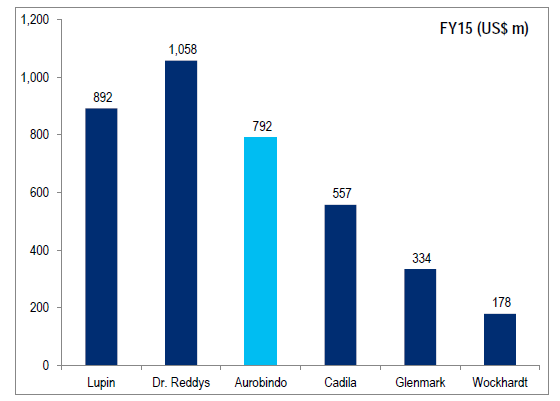 US revenue ramp up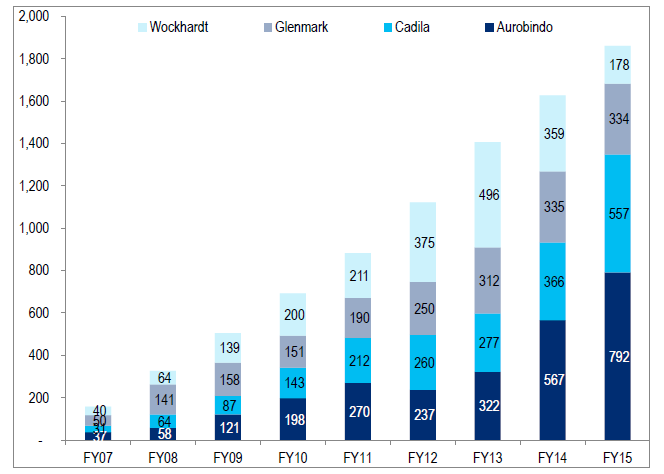 Lastly, this tables sums it all
Overall, after N Govindarajan (current MD) came at Aurobindo around 2010 - the company went onto a different growth path. Street is still cautious about Auro's sustainability of earnings and management quality (one the reputed broker on street have Auro's TP at 414 vs CMP of 800+). One more reason for low valuations can be promoter group being closely related/linked to a political party in Andhra, which I believe is Ignorable. They recently hired Sanjeev Dani who was previously associated with Ranbaxy (google to find out about him)
I believe Auro clearly stands only behind Sun and Lupin in terms of scale/operations. Aurobindo have significant pipeline of ANDA's (and backward integration) as can be seen from the charts and its injectable's pipeline is also expected to contribute in a meaningful way in next 2-3 years. It should be noted that its current EBITDA margin of ~21% is including acquired loss making operations in EU, adjusting for that the EBITDA margins would be 25%+ (way above mid cap peers and comparable to large cap peer group). They target $3bn in revenue by FY18, read latest AR to find out more.
If USFDA plays no havoc - Aurobindo should do earnings CAGR of minimum 15% for next 2-3 years - that's my take.
Disc: Invested and views will be biased.
Aurobindo Pharma receives USFDA Approval for Entecavir Tablets
Entecavir tablets are used to treat hepatitis B infection.
Aurobindo Pharma has received the final approval from the US Food & Drug Administration (USFDA) to manufacture and market Entecavir Tablets, 0.5mg and 1mg.
IMS data suggest, entecavir has an estimated market size of $294 million for the 12 months ending June 2015.
The company has now a total of 209 ANDA approvals from the US FDA.
entecavir approval.pdf (74.9 KB)
Aurobindo Pharma receives FDA Approval for Raloxifene Hydrochloride.
29 Aug 2015
Auro received the final approval from USFDAfor Raloxifene Hydrochloride Tablets 60mg.
It has estimated market size of US$404 Million for the twelve months ending June 2015 according to IMS.
This is the 45th ANDA to be approved out of Unit VII formulation facility in Hyderabad, India for
manufacturing Oral Non-Antibiotic products.It now has a total of 210 ANDA approvals.
Raloxifen.pdf (76.2 KB)
Hi @drrakesh
I was Searching the orange book of Pharma and for below two months found below approvals for Aurobindo Pharma:
TELMISARTAN
CETIRIZINE HYDROCHLORIDE
ALPRAZOLAM
RALOXIFENE HYDROCHLORIDE
ENTECAVIR
IBANDRONATE SODIUM
OMEPRAZOLE
Could you please help me in below points:
How to get Estimated Market size as you have mentioned for Raloxifene Hydrochloride in your post.
Also how much competition is there.
Regards,
Kapil
hi kapil,
Data about estimated market size you can find in company announcement section at bse & nse sites. Also IMS gives details about it.
About competition, what i do is reading various brokerage reports, company presentations, and of course google.
Also sites like pharma compass, drugs.com can help you.
I suggest you to go through this thread…
ValuePickr Generics Pharma Dashboards - Focusing on asking the right questions!
regards,
Rakesh
Anyone with technical analysis on Aurobindo please! What the charts say? Lupin showed resistance near 2100 3 times this year and we see bad Q2 results! How is Aurobindo looking on charts?
Aurobindo Pharma receives USFDA Approval for
Risedronate Sodium Tablets.
Aurobindo Pharma Limited announced that the company has received final approval from
the US Food & Drug Administration (USFDA) to manufacture and market Risedronate Sodium TabletsUSP, 5 mg, 30 mg and 35 mg (ANDA 200296). This approval is an extension of tentative approval received on 10th October 2012.
This product is ready for launch.
The approved ANDA is bioequivalent and therapeutically equivalent to the reference listed drug product
(RLD) ACTONEL® Tablets of Warner Chilcott Co., LLC Risedronate Sodium Tablets are used in the treatment of Osteoporosis.
The approved product has an estimated market size of US$113 million for the twelve months ending October 2015 according to IMS.
Aurobindo now has a total of 219 ANDA approvals (191 Final approvals including 10 from Aurolife Pharma LLC and 28 Tentative approvals) from USFDA.
http://corporates.bseindia.com/xml-data/corpfiling/AttachLive/C9A2652B_FA0E_46A3_8A02_5A172AAC9CFC_140840.pdf
I am holding Aurobindo from very low level. Multi-Bagger now. I clearly say management is still a suspect due to political affiliations (if not fraud) and still need to watch out for. I am alert and ready to bolt at the slightest pretext. If management does not screw up then the business should do well for next 4-5 years. They have many ANDAs in pipeline and that should help. The stock should compound froom here on for some more time. But in the next 2 years we will have to take a call on sell when the stock is fully priced and factors in all good things.
Anyone having insight into the recent slump?
The stock was holding up pretty well despite gloomy market but slided around 25% in a span of 6-8 trading sessions!
Their pipeline still looks decent and Q3 results didn't disappoint either.
We have to be very careful with the words used by the companies. The wordings in Aurobindo disclosure are is eligible for. The words does not mean shared exclusivity has been granted by US FDA as far as I understood.
Critical comments invited.

Another important word in the press release is shared exclusivity. What does it mean?
The below link might be the reason of the word in the Press Release
eligible
US FDA happened to approve the ANDA filings of 3 pharmacos (Aurobindo Pharma, Glenmark Pharmaceutical and Sun Pharmaceuticals) for the bio-equivalence CRESTOR drug manufactured by IPR Pharmaceuticals Inc.
Though all 3 pharmacos have received the ANDA approval, Aurobindo Pharma was the generics manufacturer (Generic drugs approved by the FDA have the same quality and strength as brand-name drugs. Generic drug manufacturing and packaging sites must pass the same quality standards as those of brand-name drugs) eligible for the 180 days exclusivity. This was because Aurobindo was one of the first ANDA applicants to submit a substantially complete ANDA with a paragraph IV certification
shared exclusivity
Watson Pharmaceuticals Inc. of Parsippany, New Jersey was the first company to receive the approval to market generic rosuvastatin calcium. A settlement in a patent infringement suit gave the Watson the sole rights to start selling its version in early May, 67 days before the exclusivity ended on 8 July.
Auro AR: Key points
vertically integrated its APIs with finished dosages for 75% of its formulation products
to commission three new manufacturing facilities in India
making investments in dermatology and inhaler products at a new facility at Raleigh, NC, USA
The oral, solid dose formulations sections of oncology & hormone manufacturing facility has been completed and commissioned.
The injectable areas of the oncology facility are expected to be commissioned in the later part of 2016.
A new block to manufacture oncology API is being added. The manufacturing facility is expected to be operational in 2017-18.
plans are to complete the product filings for dermatology and inhalers by early 2018
Speciality injection products: to file 1st product in 17-18. to launch 4 identified products; market size of around USD 3 billion.
OTC products seeing significant traction in US
Thru Natrol, have exposure to 38b$ nutraceutical industry.
Single minded focus to develop differentiated, difficult to develop, complex products.
In the last 1 yr, US FDA approval activity has picked up significantly.
at the current approval rate, annualized approvals are likely to be 700 versus historical approvals in the 400-500 range.
The higher approval rates are likely to benefit the large pharmaceuticals companies that have strong
US pipeline.
Germany's pharma spends constitutes more than 25% of Euro pharma market.
India's pharma industry likely to grow at 14%. patents of at least a dozen blockbuster drugs in the US expire in the next 3 years
Overall, This year's AR was a fascinating read! Would highly recommended reading this to anyone interested in gaining some insights into the Pharma generics industry.
Aurobindo Pharma gets FDA nod for Linezolid Injection
Aurobindo Pharma Ltd has announced the following Unaudited Standalone results for the quarter ended June 30, 2016:
The Company has posted a net profit of Rs. 3910.30 million for the quarter ended June 30, 2016 as compared to Rs. 4079.50 million for the quarter ended June 30, 2015. Total Income has increased from Rs. 22443.70 million for the quarter ended June 30, 2015 to Rs. 23995.40 million for the quarter ended June 30, 2016.
The Consolidated Results are as follows:
The Unaudited Consolidated results for the Quarter ended June 30, 2016
The Group has posted a net profit after taxes, minority interest and share of profit of joint ventures of Rs. 5849.60 million for the quarter ended June 30, 2016 as compared to Rs. 4724.50 million for the quarter ended June 30, 2015. Total Income has increased from Rs. 33283.00 million for the quarter ended June 30, 2015 to Rs. 37417.90 million for the quarter ended June 30, 2016.
http://corporates.bseindia.com/xml-data/corpfiling/AttachLive/43474F98_36B6_419D_B864_059565D391B7_193110.pdf
Excellent set of numbers from Aurobindo. Topline grew by 13%(slightly below expectation), EBITDA margin improved by 175bps, PAT margin by 138bps.
Disc: Invested
Aurobindo Pharma Q1 net profit rises 24% to Rs585 crore