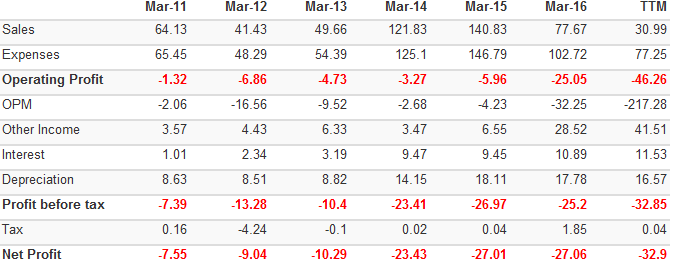 I came across this company Asian Oilfields which is into oil exploration like Alphageo.
From the past record it looks very horrible to me.
But there is something which caught my eye. The Orderbook.
Recently in dec qtr they have got big orders from indian Oil and and a Nigerian company.
Indian Oil gave project worth of 142 cr (time duration not given) and $ 57mn (380 cr) from Nigerian company for 3 yrs.
http://corporates.bseindia.com/xml-data/corpfiling/AttachHis/21CD8FCF_D279_49D4_9A6B_39B80DE7FBD9_110443.pdf
http://www.bseindia.com/xml-data/corpfiling/AttachHis/7F9D7E70_D2AD_4708_89AF_12F9FEDBABCE_133038.pdf
One more thing noticeable thing is Infusion of money from new promoters (which got changed in Nov 2016) 95 lakh (50+45L) warrants to 2 entities out of which one is promoter entity, has been issued at 80/-. So around 76Cr coming in will help the company having 110 cr debt.
I don't have much idea abt the capabilities of the new management, whether they will be able to execute it or not.
hence with new money coming into the company and around 180 cr orderbook (approx., considering OIL order is also for 3 yrs) for next yr (2016 they did 77cr and TTM is only 30cr) looks very promising. We may see future awards coming in to Asian oilfields as Alphageo has stated that they don't have resources till they compete current orderbook.
Disclosure - not yet invested but may invest in future.