Given the pace of reform which would happen after UP results,Karnataka govt budget (Which happened today) - Positive for Arvind's projects and RERA Arvind smartspaces should be doing incrementally better every years.Its a buy and hold for 3-5 years.Most small and unorganized players are struggling and it's a great opportunity for branded and organised players like Arvind.Since they are yet to prove themselves and in general real estate low,valuations are pretty attractive.
Disclaimer:Have started investing for long term
Promoters stake increased by 5% plus with allotment of 25.75lakh warrants at Rs 88 per share.Its a huge positive with a vote of confidence.Today stock up 7.4%
Excellent results.Great strategic plan and Good corporate governance.Keep a watch on this company.Copy paste the below link to check the presentation on latest results.
file:///Users/sales/Downloads/Review%20Note%20Financial%20Results%20for%20Q3%20of%20FY%202017-18.pdf
[Review Note Financial Results for Q3 of FY 2017-18.pdf](http://Review Note Financial Results for Q3 of FY 2017-18.pdf)
Anyone still tracking this company…called Arvind Smartspaces now. The Q4 results going purely by financial statements were nothing much to write about. However, there seems to be some great transaction in the MIS Sales which are not yet recognized in reported financials due to the company following the project completion method and these revenues may be seen in upcoming quarters from Q2 FY22 onwards (I expect Q1 FY22 to be muted due to the pandemic) .
Their information disclosures have always been very detailed and the detailed Q4 information and project update is here
Their partnership with HDFC Capital has also gotten off the ground this quarter and as per the Concall the MD expects the launch of the project (horizontal project in Bangalore) within a year's time.
Following the past discussions the company has flattered to deceive in previous years …but given the recent tailwinds for the real estate industry, impact of RERA wherein the branded players may be able to disproportionately gain, low debt levels, asset light balance sheet, focus on horizontal projects which may see demand due to COVID, and recent equity warrant issue to the CEO and MD are positives.
On the cons company seems to be very conservative and projects are concentrated in Gujarat and Bangalore. Also although backed by Arvind group this line of business has not featured as a priority for the group as far as recent media interactions are concerned so not sure how aggressively they may grow the business in the next few years.
Notwithstanding the cons, invested given the low debt and looking at their portfolio of executed and upcoming projects. Would love to have others thoughts if any of you are still following it.
Disclosure: Invested.
44dc8c7d-a0bb-47c6-97e4-6a9e643cb0b2 (1).pdf (7.3 MB)
Good set of numbers for Q12022. Looks like the sales momentum continues. Not yet reflecting in the financial statements because of the the accounting standards but should reflect in the next 1 or 2 quarters.
Is there any live thread on Arvind Smartspaces/ Arvind Infrastructure
I thought this is live. As this community driven, if you fel it does not look like live, please make it live with meaningful posts!
is there anything changing? Last 5 years, looks like nothing changed in revenue or profit, rather they deteriorated as per screener when I had a quick look.

Numbers from investors PPT and screener are not matching.
Sales 2021 - 500 CR
Sales 2023 - 800 Crore
They are projecting life time high of 1000 Cr sales for FY24 and are on track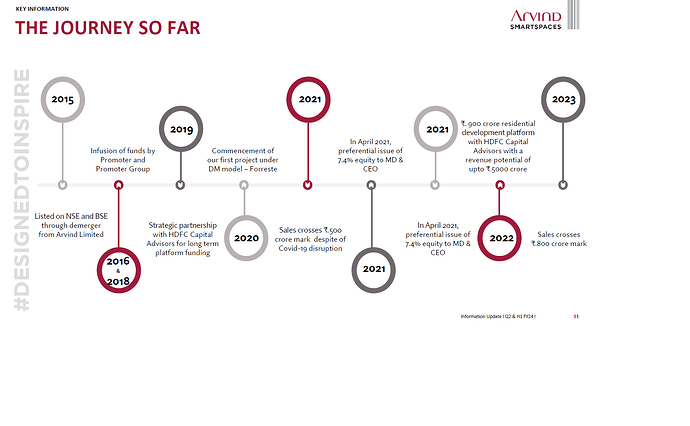 I think this isn't the sales (Revenue or Topline), it is a pre-sales kind of sales
As far as I understand , please correct if I am wrong.
They have three things,
Fresh sales (these are actual value of bookings)
Collections (Cashflow- based advances) ,
Recognised Revenue (RERA compliant- what % of built they deliver).
Ex: If a person books a 10Crore property (fresh sales) and pay 1 crore downpayment ( collections), revenue in this quarter ( zero).
Revenue Recognition: As per they deliver built as approved by RERA
The focus should be on Sales and cashflow, the recognised revenue is lagging and hence the entire Ebitda and statement doesnt give the right picture.
it is true and correct. They have an unrecognised revenue of 1900Crs
They usually deliver within 36-48 months, This 1900 crore will be recognised in next 3 years,at an EBIDTA of 20%, its ~400 crore in next 3 years, at a MCAP of 1600 crore, and Debt to equity of negative 0.3, Backing of Arvind group and HDFC as a 8-9% share holder. The operating MD was alloted 7-8% holding via warrants last year @110 last year and stock took off from there.
The way I see, If I can find a real estate company, where I trust the Management and also which has good DE ratio and I am sure it will not go kaput, I am comfortable investing.
This seems to be safe bet in terms of Price compounding at 25-30% CAGR for next 3-5 years.