To consider bonus shares.
Apollo Tricoat Tubes | Fumistic Gaming LLP bought 2.43 lakh equity shares in the company at Rs 1,644.41 per share on the BSE, the bulk deals data showed.- Money Control-29.7.21
What is the merger status with APL Apollo?
yesterdays rally/interest shows it is near by but not sure about official happening
MD mentioned the timeline as March April 22 in last call but In India NCLT cases deadlines not certain.
Raipur plant which majorly focuses on value added products is the key trigger.
Its rare to find such a workaholic yet visionary promoter with great adoption of latest technology from world over like Sanjay Gupta who had to move to Delhi from Bihar due to law & order issues in 90s & executed so well in a life span.
Astral is the only example which comes to mind besides APL Apollo of creating brand from commodity… He is still in 50s & has lot of working life .One should stay put as long as he is at helm. Now Vallabh Bhansali also there to constantly improve the CG.
Discl- Invested since last few years.
It's a drop from the Q4 of last year. Markets won't be kind to fast growing companies with a decline in any quarter
Any news on merger progress? When is the announce of record date? This is from the con call in May.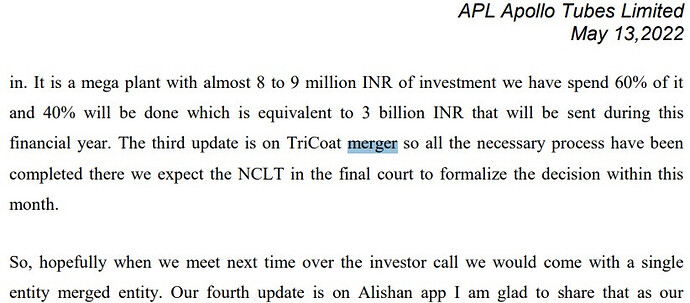 Disc: invested
Hi Vikas… any further info on this at your end ?
Also, is there any specific reason why it's listed only on BSE ?
Tia
Can someone please mention the current status of merger?
The record date for the merger is November 4, 2022.
Hi folks, any idea by when shareholders will get credit of APL Apollo shares for their corresponding Tricoat shares?
I have not got it yet. Have anyone else got it?
Not yet. I think we need to write to investor relations to know the likely date
Thank you for suggesting. I called their corporate office. They said they will credit before 10th December. Let's see.
Many thanks. It should happen. In takes about 1-2 months to complete all the regulatory formalities.