Now allcargo comes up with a delisting proposal.
The reason given to de-list is not so clear. While going through credit rating reports. Crisil Rating of July 21, 20200. Clear picture emerges:
Allcargo has completed the acquisition of ~46.8% stake in Gati at the price of Rs 375 crore and is working on integration with Gati.
Allcargo entered into definitive deal with Blackstone group to monetise about 4 million square feet (sqft) of completed, leased warehouse assets at about Rs 800 Cr. As part of this All cargo will shift its debt and other liabilities to SPV and then slowly reduce their stake in CPV.
Due to Gati acquistions and may be earlier debt, Debt on March 31, 2020: Rs.2000 crore (Rs 625 Cr). Debt/EBITDA became 3.63 (1.41). Hence management would be looking ways to sale non-core assets and might be eyeing to de-list to easily do such deals and re-structuring.
As per de-listing regulation, floor price would be approx. Rs 80 / share (last 6 month average traded price). Would be announced by company.
For de-listing, they need to buy 90% shares, currently they have 70%, 20% more to acquire. 16.7% stake is with institutions (both FII and DII). There is a good chance of de-listing going through, if they can convince institutions. One of the FII and its group entities may be, seems to be holding 8-9%. Acacia Partners
As per the indicative price of de-listing, reverse book building would occur and actual price normally is 40% above of offer price. Rs 112 per share.
At Rs 112 per share, not sure if any institutions would be making good money. Rs 112 per share was hit in June 2014. As institutions are involved, having a fair value of the business would give better idea about de-listing price.
The stock can be tracked as special situations by one, if one has an idea about approximate valuation.
Not sure if it is apple to apple comparison but let us compare recent deal of Gati acquisition with de-listing.
Allcargo bought Gati's ~46.8% stake in Gati at the price of Rs 375 crore, valuing Gati's market cap at 801 Cr. Gati's Operating profit of 80 Cr (excluding Mar quarter number) and Loss at profit level. So 10 Times OP. Doing the same calculation for AllCargo, 503 Cr (ex. Mar 2020), Market cap should be 503 * 10 = 5030 Cr (Rs 203 per share). As per OPM and ROCE, AllCargo seems a bit better business than Gati. So, if the management is serious about this delisting, they can pay around Rs 150 (30% discount to Rs 203 per share).
@harsh.beria93 and others can you please point if i am broadly correct on deal valuation? Don't have fundamental understanding about this business. Looking for special situation opportunity.
Came across this article on business line with regards to possible motive for delisting -
Disc - Invested
I think retail investors might turn out to be losers considering the current price.
Hi @Rajkamalpol - Can you please elaborate your thinking around this? I think the 20% institutional shareholders would at least expect some premium over Rs. 129 price
"The SEBI delisting regulations prescribe a floor price, which is an average of 26-week traded price quoted on the most liquid exchange. As per this, Allcargo's discovered floor price could be at around Rs. 82, which is a significant discount to its current market price. After the fixation of the floor price, the final offer price would be decided by reverse book building process. The role of the institutional investors holding 16.72 per cent stake would be vital in the final fixation of the floor price. "
This is from what I have been reading so far. Also remember the stock has not moved much in the last 4 years and have actually fallen quite a lot from the highs of 200 seen a few years ago. Again it depends on what price the stock has been bought and definitely someone who might have bought it after the recent crash on March would make a decent profit.
what i have seen from last few months when new delisting rules have come that its very difficult to delist the company unless price is good, FII and big investors knows that without them the company cant be delisted so they offer shares at good premium only . they hold the key to delisting. as company has to reach minimum 90 % shareholding to delist.
so small investor dont have to worry about losses if company is really worth.
Whatever the Company plans for delisting, I think that the scrip has formed Rs. 111.45 as rock bottom for the present, looking to the past three months Charts and once it crosses Rs. 139.75 which is three months high, the next Target would be Rs. 175.00. This is not an advise or recommendation to invest but just for educational purpose only. I may be wrong in my thoughts.
Is the delisting still happening? It's really good company to hold onto otherwise.
From my understanding, delisting at the all time high of 220 would itself be a significantly undervalued price point (no wonder promoters intend to list in an European exchange instead). For me, anything above 300 would be a satisfactory exit point. Can anyone share the timeline of delisting? Would be really helpful. Thanks in advance.
Disclosure: Bought shares before the announcement of delisting.
Some insights from Shashi Kiran Shetty on plans for Allcargo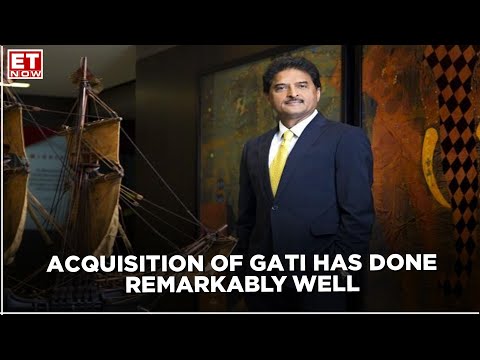 No plans to go for delisting again, both for Allcargo and Gati
Talks about various business models under which allcargo and its subsidies operate
Although management is talking about various prospects, but at the same time repeatedly commenting on share price. Management should be focused in business progression and not on stock price movement.
Disclosure: Invested from lower levels and no transaction in last 30 days
@manish100 I think the commentry was more on lines of management expressing their inability to raise funds due when the stock price was around ~70 and that being one of the reason they wanted to delist.
Surprised to note that NONE of allcargos global competitors are listed. I fail to understand the 8500 crore of Revejue from NVoCC business - all negotiations and pricing is a black box - all the company provides is data on volumes. Apart from that little is known as to how this NvOcC business functions
What's more uncomfortable is that companies of scale like RIL and LT have 120-125 subs + associates. All cargo has 175!! This is a business where a lot of shit that goes on is garbed under that revenue figure these guys report. In a scenario where I'd ask you to project revenues, it'd be difficult as there are no variable factors we are aware of. How does the company make a /TEU realisation of 1.1 Lakh INR? Till one can understand these softer events, I feel Allcargo would continue to remain a black box with the big money mostly staying away - the Shareholding pattern tells you that .
"The demerger is expected to be completed over 9-12 months."
Good execution on stated strategy by Allcargo
Source: J M Baxi Heavy Pvt Ltd | VCCircle
M Baxi Heavy Pvt Ltd has signed a definitive agreement to acquire Allcargo Logistics Limited's Project Forwarding & Logistics Business for Rs 98.64 crore

Adarsh Hegde, Joint Managing Director, Allcargo Logistics, said, "At Allcargo, this exit is aligned with our strategy to focus on Allcargo Group's core business.
AllCargo came out with the results
The results seem good in terms of revenue growth and cash flow. Any one else who follow this business closely, can please comment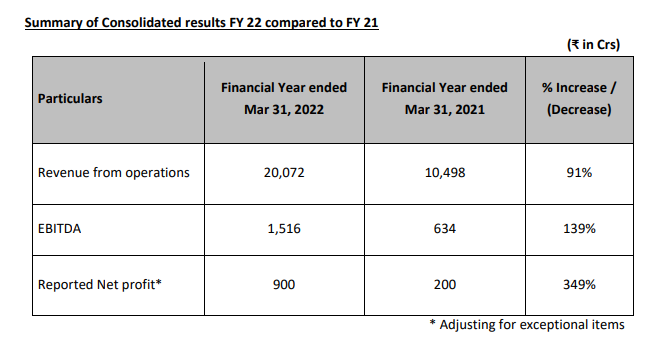 QoQ numbers are muted. YoY growth is phenomenal. Segment wise - only the multimodal segment seems to be growing. CFS remains flat to slightly neg. Project loss has narrowed YoY
with good 90% utilization. Logistics parks is flattish.
Allcargo is severely weighed down by its complicated structure. Segments other than international ECU and Gati surface freight are not growing, some are loss making.
A radical corporate reorganization of Allcargo + Gati separating out asset heavy low Roce units from asset light high roce units may lead to dramatic value unlocking. This is my primary motivation for holding this for now.
It is my thinking that the messy conglomerate structure is the direct cause of sub 10 PE whereas all other logistics tickers are trading at 37x or even higher.
Monitorables 1 - continued mgmt focus on the core profitable asset light segments and rapid divestment of other directions. Timely approval process for divestment. Continued high CAGR in ECU and Gati kwe segments.
Monitorables 2 - Allcargo is raising additional debt of 1000 Cr which will raise DER to over 1.0 if I am not mistaken. I am hoping this capex is spent on the high growth units judiciously.
Monitorables 3 - Is there some cyclical it that has lead to high top line growth in multimodal segment? Is the 5000 Cr consol top line sustainable in fy23? Could it become 1B usd per quarter in fy23?
DISCLOSURE - Invested at 367 level. Standard disclaimer, hobbyist investor not professional,
Not a recommendation by any stretch… Your money is your responsibility.