Interview of Dr. Velumani… says 20% CAGR growth is a conservative estimate.
What happened to interim dividend? Agenda for 9th Feb meeting included it but don't see anything about it. Did I miss it?
Finding it little odd that he is declaring / announcing the price of a product that he intend to launch in April which is 1/3rd of current price
Why would some one do such thing and gives time and opportunity to competition to plan there strategy 2-3 months in advance
Commentary from DLPL, Thyrocare and Metropolis CEOs.
Pricing pressures and its impact

As Kanade pointed out that India is a price sensitive market, and the Indian government is now determined to regulate the sector in order to bring the one lakh odd labs all under the purview law and order. The introduction of Essential Diagnositcs List (EDL) is a step towards it. Industry experts feel that EDL will bring in price cap for diagnostics which is a much needed regulation in order to ensure price standardisation.

In a conversation with Dr A Velumani, CEO, Thyrocare, he had shared his views on EDL and said that according to EDL, these tests should not be charged more than the listed price. Unfortunately, stake holders have no knowledge or control on them. Contrarily, Dr Avinash Phadke, opines that EDL allows for a key development: Amplification of the importance of pathology testing. It creates a setup that promises changes in the right direction. 70-75 per cent of all clinical decisions are taken as a result of pathology testing. Without diagnostics, the identification of ailments is impossible.
Express Healthcare is covering a Diagnostics Summit being held on Feb 22 and 23 in Hyderabad. Searching the below hashtag on twitter would give u highlights of sessions held during the summit.
https://mobile.twitter.com/hashtag/DxSummit?src=hashtag_click
Posting some of the interesting highlights:
Dr. Velumani participated in above panel discussion
7 min video with the session highlights from day 1 and day 2.

Metropolis business is similar to Dr Lal's (wide range of diagnostics).
Thyrocare is focused on biochemistry and PET CT.
Skimmed through the IPO prospectus
Offer price is 800. EPS was 20 last year, so PE of 40??
Dividend paid was 15 last year. No debt.
Growing at about 18% in the last 3 years. But, there was no growth last year?
Thyrocare Tech insider trade: Acquisition of 12,054 equity shares worth Rs 62.15 lacs by promoter group…promoters buying continuously
Acquisition of 10,000 equity shares worth Rs 50.00 lacs by promoter group…Promoter increasing their stake.
Interesting the total volume on nifty was 11k .Means no one else wants to buy
Is Pavilion Commercial pvt ltd part of the promoter group?
No they arent a part of the promoter group , Pavilion Commercial Pvt Ltd is inolved in Wholesale on a fee or contract basis. [Includes commission agents, commodity brokers and auctioneers and all other wholesalers who trade on behalf and on the account of others.]
their recent insider trade buy of 10,000 shares was on behalf of one of the promoters.
weird thing is the official email id of the company is [email protected] (same as THYROCARE TECHNOLOGIES LIMITED). Pavilion Commercial's directors are ANAND VELUMANI, SUNDARARAJU AROKIASWAMY and SELVARAJ KRISHNASWAMY NAIDU who are also directors in the thyrocare companies. ANAND VELUMANI and SUNDARARAJU AROKIASWAMY are promotors in THYROCARE.
Poor result for sure. Dr Lal and Metropolis are growing but thyrocare… Let us see what Dr V has to say.
DR V
Doing more talking and less on delivery .
He also keeps changing story / strategy every time he discuss about growth plan/strategy etc.
I think this will remain like this only and volatile when it comes to growth etc.
However over a long term 5-10 years it will continue to grow so no point in looking results of every qtr etc
Disc - 10% of my PF ,
I would suggest folks to watch Ms. Shah's ( MD of Metropolis) interviews during its IPO. She never boasted about super growth and in fact told us that the overall market was never growing @30%. In fact Metropolis has achieved pricing gains in FY19 vs. decline for Dr Path Labs and Thyro. I find Metropolis' strategy much more mature and steady compared with Thyro. This sector won't have more than 15-18% CAGR on steady state basis but would throw good amount of cash.
Disc: No holding in any but Metropolis in the watchlist.
Topline is still growing at 10% for diagnostics and 30% for PET CT business. Employee expenses are increasing (40% increase this quarter) along with the reagent costs are also increasing (20% increase in this quarter). This resulted in 40% reduction in PAT for the quarter!! Employee number has increased to 1200 from 900 and average salary/employee/month is Rs 39,000 (14 crores for 3 months/1200 employees)
I agree Dr V should under-promise from now on. Markets don't like those companies who over-promise and under-deliver. He also should be consistent in his commentary about future prospects and plans
Rs 20 dividend will not help the share price though!!
Discl - 15% of my portfolio currently
As far as i remember , he sold his Nuclear Business to the Listed Company Thyrocare Tech at Rs.1 which was highly appreciated. He took Rs 1 salary which too was appreciated.
Is it the same Business (Imaging Services / Radio Pharmaceuticals) which he sold to Thyrocare at Rs 1. The business has made a Sales of 8 Cr this quarter and a loss of 4 Cr. If it is the same business , it looks he has shifted this loss to the Company which otherwise would have been occurred to him personally if he hadn't sold it to the company at Rs 1.
Promoter makes lot of stories , visits lots of trade carnivals , promises over and deliver under. Once i made a positive criticism on twitter to him about focusing more on Business and less on trade Carnivals , i was blocked for that. Anyway
One more interesting thing is that If one Searches on Google " Thyrocare Share" , most of the times it shows the another company Share price (Attached Below). It shows Thyrocare Parent Organisation as Westfield apparels.
Looking for the Westfield Apparels , one finds that this Westfield has acquired a Company EINS Edutech Ltd. The current name of EINS Edutech is "Apalya" which is a listed Company in BSE and Calcutta Stock Exchange and previous name was " Thyrocare Laboratories Ltd".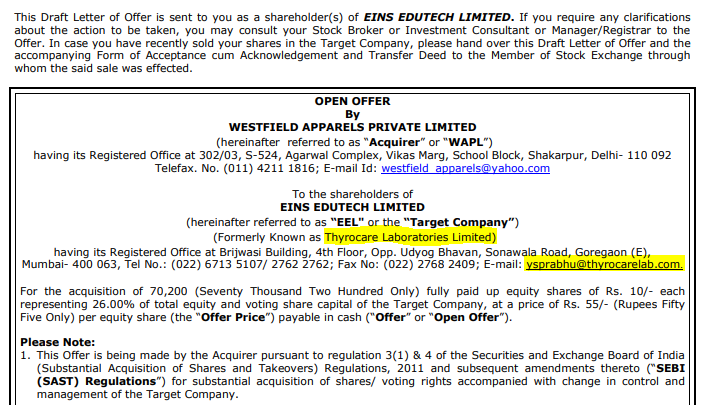 The company was earlier registered in Kolkata and later shifted to Bombay. There are some shareholders of Current "Thyrocare Technologies" which are registered in Calcutta .
Good thing is i did not find Mr. Velumani name anywhere in Westfield or Apalya in my limited search. Possibly some misconnection by Google results which shows Apalya on Searching Thyrocare. Do not know whether the "Thyrocare Lab" is linked to "Thyrocare Tech" or not.
Valuations looks expensive for such type of growth. During Feb , Mr. Velumani in an interview told to end the year with 15% growth which too is not there after the March results. Good thing is promoters are buying at intervals. High dividends reflect nothing wrong on Cash. Promoters may get good money from dividends and can see more buying in future.
Lets see how the story unfolds.
Disc: Invested Earlier , had booked out on 21st Feb when it bounced to 600 for No reason.! No Positions currently.


Bharat - Re Nueclear PET CT business - the business was always under Thyrocare. He transferred the "Nueclear brand name" to Thyrocare for Rs 1.
Dr V is very ethical for sure but naive when it comes to dealing with the expectations of capital markets (over promise during con calls/meetings, grandiose statements in media about his business).
Buy back for example - it was completed in a hurry for such an illiquid share and resulted in average buy-back price being much higher than the current share price (it should have been done very gradually and in small quantities). And now this dividend of Rs 20. 50% dividend and 50% buyback would have been much more tax efficient for the owners/shareholders…