Standalone:


Consolidated: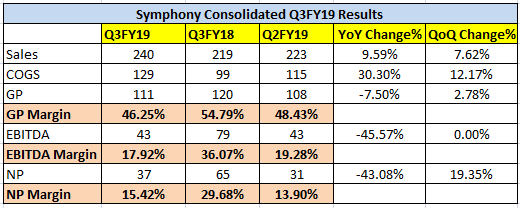 Yet another excellent talk given by Prof. Sanjay Bakshi at India Investing Conclave. Link - https://indianinvestingconclave.com/alpha_series
He gave example of Symphony in the section where he talked about fragality of business on account of high competitive intensity, caused by low entry barriers, new entrants due to high margins which eats into the existing player's margins. This has happened to Symphony in the last few years. Though he started with a disclaimer that he has sold out his holding in Symphony, however not for the reasons he was going to talk about

Might be intersting for the followers of this thread. It is an excellent talk anyways and worth listening a few times.
Which margins is he referring to? They seem quite consistent and steady to me (please refer to screenshot from morningstar below). If he is referring to gross margins (fall could be due to product mix (more lower value products were sold) or maybe the company is unable to pass on costs due to bad summer as there is lack of demand)
Furthermore, Symphony hasn't lost any market share as per the management infact they've gained market share due to bad summers (at least the management has been talking about this like a broken record for the last couple of years). Unless, channel checks suggest otherwise I'd like to understand what is Prof. Bakshi seeing that I'm missing?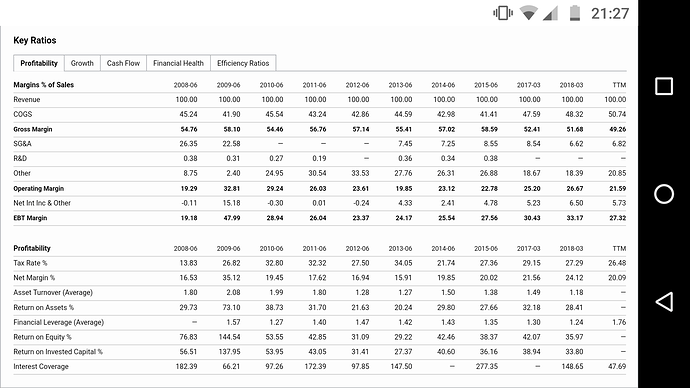 Source: Morningstar
Yes. He made it evident in the talk that high margins are like an open honey jar. The fact that the glossy annual report of Symphony added fuel to the fire and the relentless focus on outsourcing key aspects of the business also was not a good idea. However, this is very tricky and is mostly apparent in hindsight.
However, his reference from the book on Hidden Champions on various examples was interesting. Some people may remember a report by Ambit where the hidden champions in the Indian context were discussed. I only remember KRBL and Garware from that report.
Yes, you are right. Saying all this now after you exit the business (referring to Mr. Bakshi) seems supremely intellectual and full of insight!
And come to think of it, the same outsourced model was being praised by the entire investment community a few years ago and being labeled as asset light, great for the return ratios, money being returned back to shareholders etc etc.
Smacks of absolute double standards to me.
Disc: Invested and biased (and still an investor that believes in the company, its prospects and the management. Yes, call me that fool who wasn't smart enough to see the margins erode by a few % points, who didn't realise after a few years the outsourcing model will not be viewed favourably by "experts" and the onslaught of high competitive intensity which I'm wondering is coming from which company considering Symphony still holds 50% market share by value!)
Safe to say, I'm not wee bit interested in watching his video anymore. He is the same guy who was super bullish about Kitex - take a look at where that company is today. It has eroded wealth like nobody's business. Anyways, who am I to question Mr.Bakshi?
True. Here is my view on the stock and I will stick to fundamentals:
I don't understand why there is a question abt shrinking margins. If you look at any other AC/Coller company they have fallen to a larger extent. Its just because of two continuous bad summer.
Are people going to stop buying coller? I don't see that happening in next 15-20 years.

Is Symphony facing competition? I don't see that in organised space (Symphony sales are flat in last 2 yrs and the industry has degrown). And my view is that Symphony in a way doesn't compete with unorganised sector (also they can't compete even if they try…GST won't make any difference… those tin coolers are available at ~2k vs ~6k of Symphony)

Where will the growth come from? Residential Coller as a segment has a long way to go. Also there is industrial cooling (it will take 2-3 yrs time to show any meaningful impact). Also I believe the mgt. efforts to diversify into different geography is a very smart move (those acquisition were very cheap and from next year they would be contributing 50% of the top line)

Is the business seasonal? YES. that is the only thing that has impacted the stock. But diversification into other geography and industrial cooling will help 2-3 yrs down the line. From a short term perspective it is highly unlikely they there will be a third bad summer in a row (but winter has already extended now)
I still believe having a asset light business is the best thing about the company. I am an investor and my opinion may me biased.
With respect to competition, I saw quite a few brands in shops at tier 2 and 3 towns. There are lot of brands who seem to have a lot of variety.
Example cooler at my relative's house in a tier 3 town
There are product cycles in every business, its the ability of management to steer through these cycles,is what makes a great company. There are many variables which matters during these cycles. If we study different companies which lasted for years they too have faced competition and margin pressures. eg (nirma, HUL Story). Maruti has also relatively high competition for the market segment there are in and its increasing also ( Kia and few companies coming in, also EVs may hit big time. Still Maruti is leading the pack (1) capacity (2) innovation in products.
Symphony while has maintained market share, they have started good work on global front and in industrial cooling which again is niche area. Lets hope they steer through this.
I generally use my personal experience as a customer or potential customer as test ground before investing in any consumer facing company. Last week, I was interested in buying an air cooler for my home.(Disclosure - we never owned any cooler or AC ever…in our life time ). I had a choice of visiting a store (where nowadays one gets confused by plethora of brands and push by sales people without much valuable information) or do my research online.
Considering ease of information (mainly end user reviews), I decided for the latter. On Amazon, I could see 10+ brands of coolers with ratings from 2 star to 4 stars. I got disappointed by reading reviews of various brands, including Symphony. After listening to Prof Bakshi and reading about Symphony, I had expected much better product and service reviews (and hence maybe higher price, which I was willing to pay

). But I was truly disappointed with what I read about all the companies and mainly their service attitude.
In the end, I decided not to buy any cooler as I hate to think about calling customer service post bad quality product and hence decided not to invest in Symphony as I felt there is hardly any differentiation and competitive intensity has gone up a lot in last few years. This is my personal experience and not a stock recommendation.
Generally hundreds of coolers are sold per day. Few % will fail and only those will complain. On line * ratings from amazon or retails are not reliable. It acts as input in overall decision
The percentage of feedback to the quantity sold may be very low. But Can the Seller / Company not cater to these issues and reply online? Something similar to Big Brand Hotel chain on tripadvisor where a negative review is usually responded and acknowledged. Investment decision based on only the Online review can not give a clear picture.
Note: I am using a symphony product since 3-4 years , bought it offline with extended warranty. I am happy with the product, does the job.
Cooling from Baba Ramdev ashram to Makka Madina Symphony released its industrial cooler segment for central air conditioning A move ahead of peers …

added feather the Patent on Wall mounted Cooler They filed in 27-3-15 but haven't yet finalised ,Let see how these fare in the Market
Disc Not Holding It is in watch list sitting on the side lines I am not any sebi approved Analyst This is not any sale or purchase recommendation
FY19 Results announced.
Here's the Symphony FY19 results.pdf (3.1 MB).
The investor presentation can be found here: FY19 Prsn
Few points from the results:
100% provision made for ILFS investment (Rs.21.5Crs)
Standalone, full year: Revenue down 24%, net profit down 45%
Consolidated, full yr: Revenue down 6%, net profit down 53%
Co to buyback shares worth Rs.165 Crs, details on this is yet to be finalized
Even if we consider ILFS provision as a one time item, poor set of numbers from standalone angle. On consolidated basis, PAT numbers are lower than standalone (PAT loss for all subsidiaries put together)
Disc: Invested since 2016, views may be biased.
If ACs are available cheap, this may impact business of amber enterprise, sharp and others engaged in this business. As per the article the ACs will be cheaper by 20 to 30 % and also energy efficient, claims better than 5* ac. One year guarantee and 5 year warranty for compressor
So this is reason symphony moved in the last hour - good move by govt -
How are cheaper ACs good news for cooler companies? The news itself is nothing more than a speculation as there is no formal plan or announcement. What capabilities does the Govt. company have to be able to produce a 5 star AC which consumes lesser energy than other 5 stars and still be able to price it cheaper? Even if it is true, I doubt how many people would like to buy an AC from the Govt. to save 15-30%. Buying a bulb is different from buying an AC which also include factors such as quality and post purchase service.
This is not good news, I my opinion if this experiment is successful then ac companies and cooler companies will face the heat.
Also, cooler companies have now introduced high end coolers which are really pricey. These coolers will either become reasonable or extinct.
Ofcourse the quality is important, but I feel these AC will capture sizable market when introduced. I dont see no reason why they will not succeed despite being average quality.
These will prove to be good option for budget hotels coming up and the replacement market.
It is a negative for existing AC and Cooler companies but impact will mostly be visible in 2020-21 as the current peak season is already over.
I hope it all translates to good robust sales and profits. Of course with margins remaining intact.
The results for the June quarter will be interesting to see. I think closer to their AGM they may provide more thoughts on the buy back too (my hunch).
Disc: Invested