SML Isuzu Limited (SMLI) is a trusted and reliable commercial vehicle manufacturer since 1985. It has over 25 Years of experience in producing Light & Medium commercial vehicles to meet the Indian customer needs. SMLI is a first company to manufacture and supply state of the art fully built Buses, Ambulances and customized vehicles.
Sumitomo Corporation, Japan and Isuzu Motors, Japan respectively holds 44% and 15% shareholding in the Company.
This is very good CV cycle story with added benefit newer Vehicle launch.
Recent Observation:
 Company is highly ignored as we have better results coming from other players.
 They have faced recent profit growth issue's due to Bharat Stage norms & supply issue.
 Newer model & marketing related expense.

Pros for Trigger:
Good vehicle inventory
Expanse of delivery network is going on nicely
Good price points entries & they can complete properly in SUV & HV segment.
Industrial activity demand improvement will be visible.
Good ROE 
Good Capital allocation
Good Dividend History
Share holder friendly Management 
Vehicle scraping policy will be big boost.

Cons to Consider
Competition from large player
Raw material Spike 
Demand for Vehicle can dampen, but highly unlikely 
Pick up in CV cycle is not happening at desired pace, keep watch on it.
profit was depressed as sales was depressed due to GST, Demoney & Bharat Stage norms, So once we start seeing  good result it will be in Investment radar

Financials: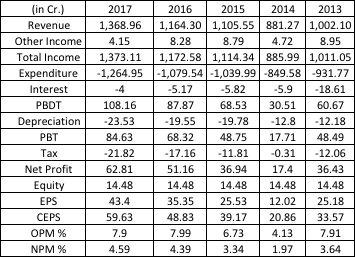 As on 19-Dec-2019 :
Return on capital employed: 21.92%
Return on equity: 16.95%
ROCE3yr avg: 18.71%
Reserves: ₹ 388.04 Cr.
Debt: ₹ 38.64 Cr.
Book value: ₹ 280.52
Net worth: ₹ 402.52 Cr.
Operating cash flow 3years: ₹ 175.02 Cr.
Cash Conversion Cycle: 44.18
Average return on equity 3Years: 15.65%
Market Cap to Sales: 1.1
Wide Range of Products Both in Cargo (5 – 12 ton) and Passenger Categories (13 - 52 seats)
Installed Capacity
18000 Vehicles
4000 Bus Bodies
Disc : Little bit of investment done .
I would be monitoring vehicle sales & if we see it moving north side then keep adding.