Sales and profit up 60%. Trade receivables down, good cash on hand. Good set of results
Paushak Ltd is out of ASM list w.e.f. 7th Jan 2019.
Sorry for a stupid question, what happens when the company is on asm list ?
I am very surprised to see today's date on that article. Jan 21st, 2019.
When was that happened?
Guess its automatically taking the date on which you open the article. I just tried it just now and it was showing todays date.
Yes, but then website is not bankable.
Disc: not Invested.
just rechecked, the original article is on 13 Sep, 2018. Maybe there is a software issue which is why the current date is showing up.

Good results by paushak on that back of a higher base last year. Sales up 29% , PAT up 45%.
any specific reason for this fall despite good results.Appreciate your inputs.
look at the margins. they hav fallen from 28% to 25%
Hi Hamir,
I got to know from the post that you are tracking the stock. I am interested in this stock and It will really help me if you can answer few question as you own the company
Is Company is Cyclical - Looking at PAT degrowth and margin distortion it seems like company is cyclical
Alembic Promoter of Company Sold 22,806 shared during Buyback in May 2016 -

@1465

So is it safe to assume that value of share is not worth more than 1465 to hold on
Company got the approval of Phosgene gas or yet to get ?
Hi, thanks for reaching out … will let you know as I understand this business.
Cyclicality - Dont think this business is cyclical, they produce highly niche products. Biggest plus point or moat is that there are very few in the world that can produce this chemical primarily due to inability to handle this product ( it is very hazardous) and requirements of high safety standards in mfg beside it being a niche category. Am specifically saying it because its a niche business. In India Atul Ltd is the only other company which can compete.
Buy Back - They had a buy back recently in which 1700 is the base price. In a buy back the promoters generally send out a message that the buy back value is the floor price and they would value it much higher.
Phosgene Approval - please go through the link, to my memory it says that approvals have been sought and provided.
I suggest that you also go through the MD&A in the annual report. Interesting thing mentioned in it is that they are now making import substitutes of products which were produced in China and else where. Probably the reason why the capex is underway. They had 120 MT per month capacity which was then increased to 400 MT and now I understand that its to be 1200 MT per month. With this kind of expansion and product profile I would like to assume that the share value would be higher.
Trust that this answers your queries. I have provided inputs as per my assessment and understanding. Happy to get views from others.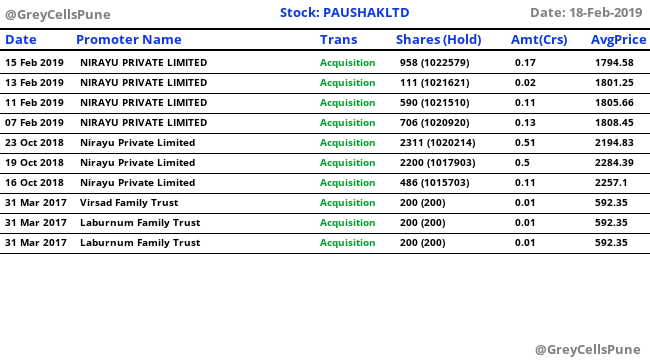 Well they are growing and are building a large capital WIP
It has to be financed by retained earnings
Better to preserve cash
Good results again. 22% jump in revenues ( YoY), 36 % jump in profit before tax and exceptional items. Netprofit optically down, as they had a sale of land worth 10.15 crore as an exceptional item.

lower oil price to benefit them going forward
company largest Indian manufacturer of phosgene based chemicals
also foraying into CRAMS
benefitted by clamp down on factories in China.
tripling of phosgene capacity for upstream. And identified new downstream products.
Risks
crude price
China factor once supplies restart